USB flash drives come in different design, shapes, storage space, and performance. It is never easy to pick the best USB drive because there is always a compromise. Want a USB drive with huge storage space? It'd normally come in a bulkier form.
I find that the Lexar JumpDrive S33 is at the sweet spot. It is small in size that lies comfortably with your keys, has a good read/write USB 3.0 speed, and an improved swivel design.
Most people love USB drives with a swivel design to prevent caps being misplaced (things that you must have experienced before). Lexar adds another improvement by retracting the USB connector which makes the flash drive even more compact (by a few centimeters). It unfortunately comes in plastic material that feels cheap and quite easily scratched.
The flash drive is fairly small overall, yet can hold up to 128GB of data (the Black version). There are other color variants with smaller storage: 64GB in purple, 32GB in green, 16Gb in teal, and 8GB in orange.
With the included key ring and compact design, there is no reason not to have the JumpDrive S33 along with your keys. It will definitely come in handy.
It supports both USB 2.0 and USB 3.0 connections, so you can gain faster read/write speed on a PC that supports USB 3.0. How fast is the read/write speed? Using CrystalMark:
USB 2.0 test
USB 3.0 test
Pretty impressive reading/writing speed for a USB of this size! If you don't understand what those numbers mean, here are some real life tests:
It takes around 7 seconds to write a single 400MB file into the S33.
It takes around 34 seconds to write 291 song files (about 1.2GB in size) into the S33, and 12 seconds to read the same files back from the S33 into my hard drive.
Please note though that those tests may depend on different factors such as the speed of the hard drive and whether Windows is doing any background process without my knowledge.
The JumpDrive S33 is not the fastest USB drives in the market, but the clever swivel design, compactness, and a solid all-around performance make this a good USB flash drive to grab and carry around at all times.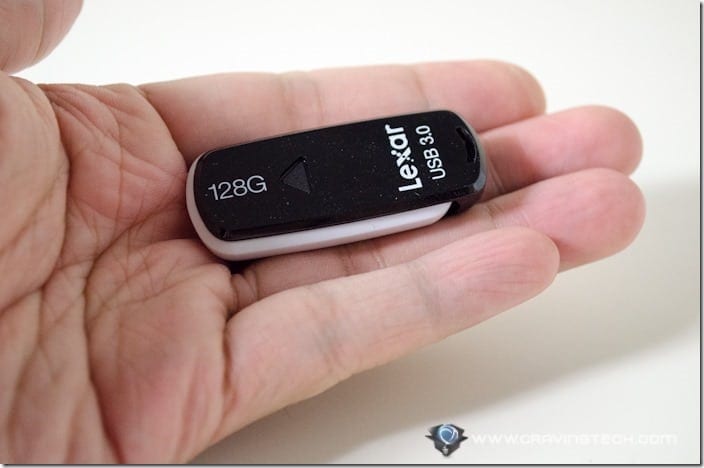 [AMAZONPRODUCTS asin="B00HT5H23M"]
Disclosure: Review sample was sponsored for the review but all opinions are 100% mine