In January 2010, CravingTech had more visitors and earning more than ever (thanks to SocialSpark). Last month's traffic statistics: 49,127 unique visitors and 60,841 page views.
Traffic details:
Referring sites: 9,081 visitors.
Search engines: 35,529 visitors.
Direct traffic: 4,389 visitors.
Other: 128 visitors.
Total money made online: $396.80
Referring Sites Breakdown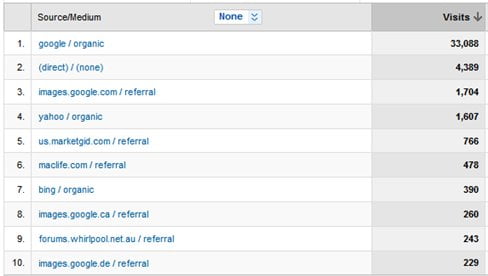 Lots of posts got into the first 5 of Google Search Result Pages, which explains the increase of traffic from Google last month. Not sure if it's because of the Thesis theme (went live in December), but I'm definitely enjoying the stats. If only I'm successful in social media networking (Digg, StumbleUpon, etc) then I might be able to jump the figure even higher (although they are inconsistent traffic).
PageRank: 4, Alexa Rank: 57,302.
Visitor Demographics


Money made online

SocialSpark: $245
Google AdSense: $97.46
Private Advertising: $30
Amazon Associates: $14.30
BuzzLogic: $10.04
Total: $396.80
January 2010 Post Highlights