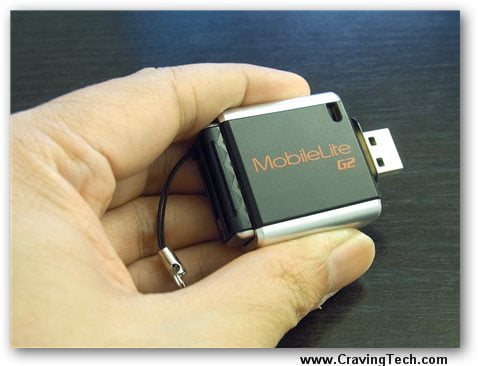 Kingston MobileLite G2 is the 2nd generation of the MobileLite card reader from Kingston to transfer data between Flash memory cards to a PC or a Mac. Supported card formats include SD, SDHC, microSD, microSDHC, Sony Memory Stick PRO Duo, Sony Memory Stick PRO-HG Duo, and Sony Memory Stick Micro (M2). So yeah, no CF (Compact Flash) support, unfortunately, but most cameras nowadays use an SD card as its storage medium anyway (or memory sticks for Sony cameras).
On a side note, since MobileLite G2 is small and portable, it can also become a "USB Flash Drive" to store and transfer data between computers and devices easily.
Kingston MobileLite G2 Features and Specifications
Compliant: with the USB 2.0 specification, SD 2.00, SDHC 4.1 standard, new MS PRO-HG Duo standard
Versatile: multi-functional USB card reader supports SD/SDHC, microSD/SDHC, MSPD, MS PRO-HG Duo and M2
Portable: easily fits into your pocket
Easy: plug and play into any USB 2.0 or 1.1 port
Dimensions: 2.45″ x 1.16″ x 0.646″ (62.15mm x 29.40mm x 16.40mm)
Weight: 18.90g
Operating Temperature: 32°F to 140°F (0°C to 60°C)
Storage Temperature: -4°F to 158°F (-20°C to 70°C)
Guaranteed: two-year warranty
The Kingston MobileLite G2 Card Reader
The MobileLite G2 is small, compact, and highly portable. As you can see from the photo below, it can easily fit into your pocket and handy to be carried around in your key rings.
It also has a unique design to protect the USB head and the card that's sticking into it. Instead of protecting the USB head with a cap or a swivel design, the MobileLite G2 uses retractable parts. You push one end to allow the memory card to be inserted and you push the other end to push the USB head out. It's a bit hard to explain in words but it doesn't sound that complex in reality.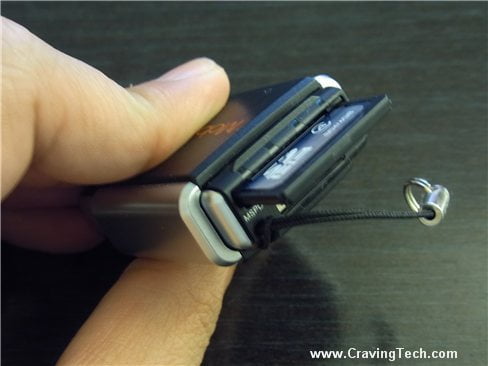 The Kingston MobileLite G2 card reader comes with a short USB extension cable which is really handy because you are going to need this if you have a few USB devices already plugged into your computer. Due to its compact yet thick design, it requires an extra space around the USB slot unless if you use the extension cable.
Kingston MobileLite G2 (Generation Two) Card Reader Review Conclusion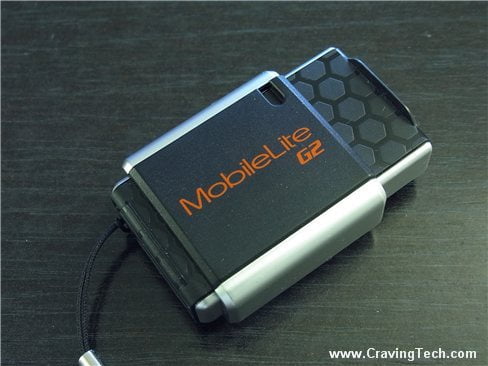 Kingston MobileLite G2 is a compact and unique flash card reader. Instead of using a cap or swivel design, it uses a unique retractable system that safely protects both the card and the USB head connector at the same time. Learning how to use the retractable system is a no-brainer and takes less than 10 seconds without a manual.
Some people like to use their memory card readers as a portable device to store and transfer their data across multiple computers. However most card readers are fairly large and require you to tie the USB cables around the unit. Although the MobileLite G2 includes a short USB extension cable, it is not required unless if you can't plug the MobileLite G2 to your spare USB slot. This is probably the only drawback for the MobileLite G2. It's compact yet a bit thick to plug into a spare USB slot surrounded by multiple USB devices.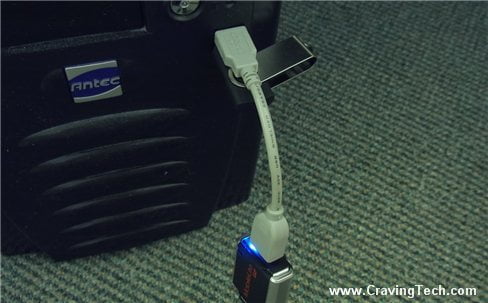 Thankfully, the extension is quite short so it's still easy to carry the cable around.
The MobileLite G2 is also available as a bundle with a 4 GB or 8 GB Class 4 SDHC card. My review unit is the one bundled with a 4 GB SDHC. With the support for reading High Capacity cards, there is no reason not to grab the Kingston MobileLite G2 if you are looking for a small and portable card reader. Not to mention that the price is very, very reasonable.
Kingston MobileLite G2 Pros
+ Compact and Small
+ Support High Capacity cards
+ Easy to be carried around
+ Has a unique protection mechanism
Kingston MobileLite G2 Cons
– A bit "fat" to fit in overly-crowded USB slots unless if you use the extension cable
– Doesn't support CF (Compact Flash) cards
[AMAZONPRODUCT=B002RT69QQ]
[AMAZONPRODUCT=B002S2KTX6]
[AMAZONPRODUCT=B002S2KTXG]