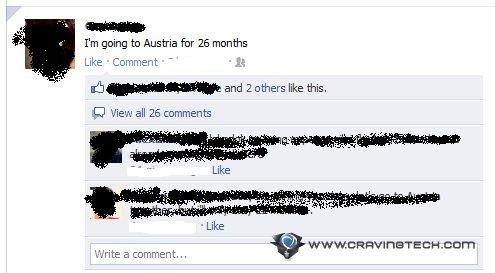 I'm going to [place] for [number] months on Facebook –  Today I saw a few Facebook status from my friends about them going to somewhere for a certain number of months ("I'm going to Austria for 26 months"). At first I thought this was a joke or my friend's account being hacked. We then made jokes on the comments for a while. Then the second person posted a similar Facebook status of "I am going to St Petersburg for 17 months".
Being a curious being, I started googling as this was definitely no coincidence, even when the two know each other.
Apparently, it's because of the breast cancer awareness that has been going around today (not sure where it's originally from) and for how long this will go on. Judging from the previous "I like it on my…" thing from 2010, I'd say it's the breast cancer awareness 2012 month.
To play along, here is what these "I'm going to .. for ..months" Facebook status mean (thanks to Yahoo answer):
"I am going to [month you were born] for [day you were born] months" where month is one of these:
January – Mexico
February – London
March – Miami
April – Dominican Republic
May – France
June – St. Petersburg
July – Austria
August – Germany
September – New York
October – Amsterdam
November – Las Vegas
December – Columbia
Why I bother researching about this I'm going to for months thing? Maybe because of my curiosity. Why I bother writing about this on a blog post? I don't know, guess I'm pretty sure some of you have the same curiosity level as mine and been searching all over the web for this :)

Anyways, I guess after reading this blog post, you shouldn't be confused anymore with all these I'm going to for months statuses on Facebook.