Canon EOS 6D Mark II Review – I've reviewed Canon EOS 80D, Canon EOS 200D and Canon EOS M5 here at Craving Tech and they are all good cameras sharing something in common: they are all Crop Sensor cameras.
But what are Crop Sensor cameras? A digital camera takes a reading from an imaging sensor to be converted to an actual image data. This sensor comes with different sizes. A Crop Sensor camera has a smaller sensor compared to a Full Frame digital camera which follows the standard 35mm film size.
Canon EOS 6D Mark II is an entry level full frame DSLR from Canon and as the model name states, it's the successor of Canon EOS 6D (second generation). Canon EOS 6D Mark II is equipped with a 26.2MP CMOS sensor and DIGIC 7 image processor.
Canon EOS 6D Mark II Review – What are the upgrades from the first generation Canon EOS 6D?
Aside from the megapixels count and image processor upgrade, Canon EOS 6D Mark II also comes with Canon's famous Dual Pixel CMOS AF technology which is proven to be very helpful to keep the subject in focus.
Combines with a digital image stabilisation and highly usable, fully articulated 3-inches touchscreen, Canon EOS 6D Mark II helps getting selfie and vlog easily done.
Canon EOS 6D Mark II is slightly bulkier (144 x 111 x 75mm, 765 grams) compared to the Canon EOS 80D (139 x 105 x 79 mm, 730 grams). However, there's a noticeable advantage on low light performance thanks to the bigger individual pixel size on the image sensor. The overall image quality is similar to Canon EOS 80D and is comfortable to hold for two-handed operation.
Carrying the camera single handedly with a 24-70mm f4L lens could be tiresome after an extended period of time. I'd recommend to use the supplied camera strap or invest on third party accessories.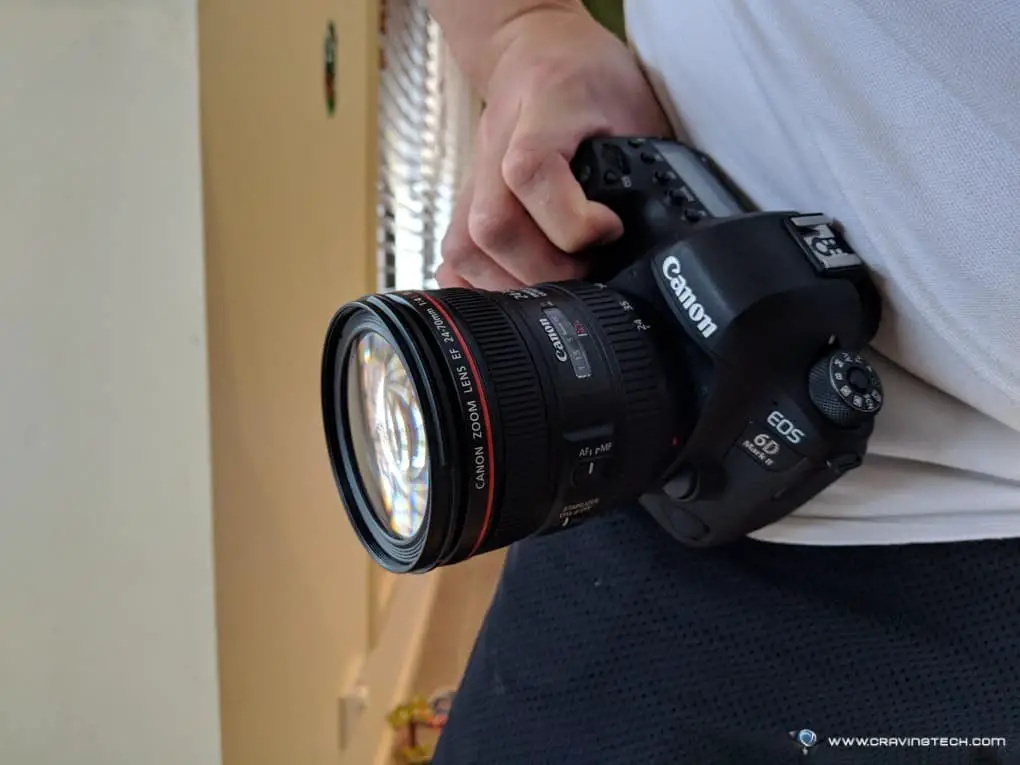 Camera dials are quickly accessible to modify exposure settings and shooting modes. The LCD on the top also presents basic information on the exposure settings and shooting modes, but I tend to use the back LCD more often to look for these information.
A lockable camera mode to prevent accidental switch is a nice addition here. Canon EOS 6D Mark II comes with two dedicated manual custom modes to allow customisations on colour and other settings. I appreciate the inclusion of auto exposure for specific scenes such as Kids, Food, and HDR mode. It's very helpful to snap images quickly.
Auto focus performance is also quick and reliable, which is the main reason why Canon is the top leader in interchangeable-lens digital camera. It's now even better with a dedicated back button focus (AF-ON button) to activate auto focus, compared to pressing the trigger button half way. This allows for a faster and stable camera operation for taking multiple images up to 6.5 frames per second.
I wish Canon can put more than 45 auto focus points in Canon EOS 6D Mark II and spread them out more on the viewfinder though. At the moment, the auto focus points are quite cramped around the center and this sometimes enforces me to recompose the shot. One way to avoid recomposing is to use the Live View mode which completely utilises Dual Pixel AF (no boundary).
The availability of Wi-Fi, NFC, and Bluetooth in Canon EOS 6D Mark II would help greatly for a social media quick share through a smartphone app (available in iOS and Android). The Canon Connect app lets you remotely control the camera as a replacement for the remote camera trigger and allow you to control the exposure, aperture, shutter speed, and ISO values.
The absence of internal flash is replaced by a built-in GPS module that lets you store metadata location on all shots taken. The ISO performance is maxed to ISO 40000 and a with bigger pixel size, it's a great compensation to the lack of internal flash.
4K video recording is only limited to the Time-lapse feature. The general video recording is only up to 1080p 60fps which can be a dealbreaker for hardcore videographers as most 2018 cameras already have support for 4K video recording. At the time this article is written, Canon 5D Mark IV, Canon 1DX Mark II, and the latest Canon EOS M50 are the only Canon cameras with 4K video recording support.
Sample Photos taken by Canon EOS 6D Mark II
Canon EOS 6D Mark II Review – Is Canon EOS 6D Mark II for you?
To those who have already owned a Canon Crop Sensor Camera and some premium EF lenses (note: I fall into this category), Canon EOS 6D Mark II is a feasible upgrade and fully unleashes the EF lens potential and coverage.
With a Full Frame camera, you'll get much more field of view compared to a Crop Sensor's. As a side note, you can use EF lenses designed for a Crop Sensor in Canon EOS 6D Mark II, but it will likely cause dark corners on the image also known as vignette.
However, EF-S lenses are not compatible with Canon EOS 6D Mark II or any other Canon Full Frame cameras in general due to their rear part being closer to the image sensor and may interfere with the mirror.
I enjoy using the Canon EOS 6D Mark II very much. It's indeed a reliable and easy-to-use camera for both daily use and professional work. It comes with a more accessible price tag of AU$2,272 I (at Ted's Camera) or $AU3,273 (bundled with a Canon 24-70mm f4L lens).
I would also like to add that it has been an interesting year to pick up a new camera. This is because mirrorless camera has started to cause more disruptions in the DSLR market.
On a full frame system, Canon, Nikon and Sony are still the major players. The vastly available and highly versatile Canon lens make it the best and safest choice to stay with Canon.