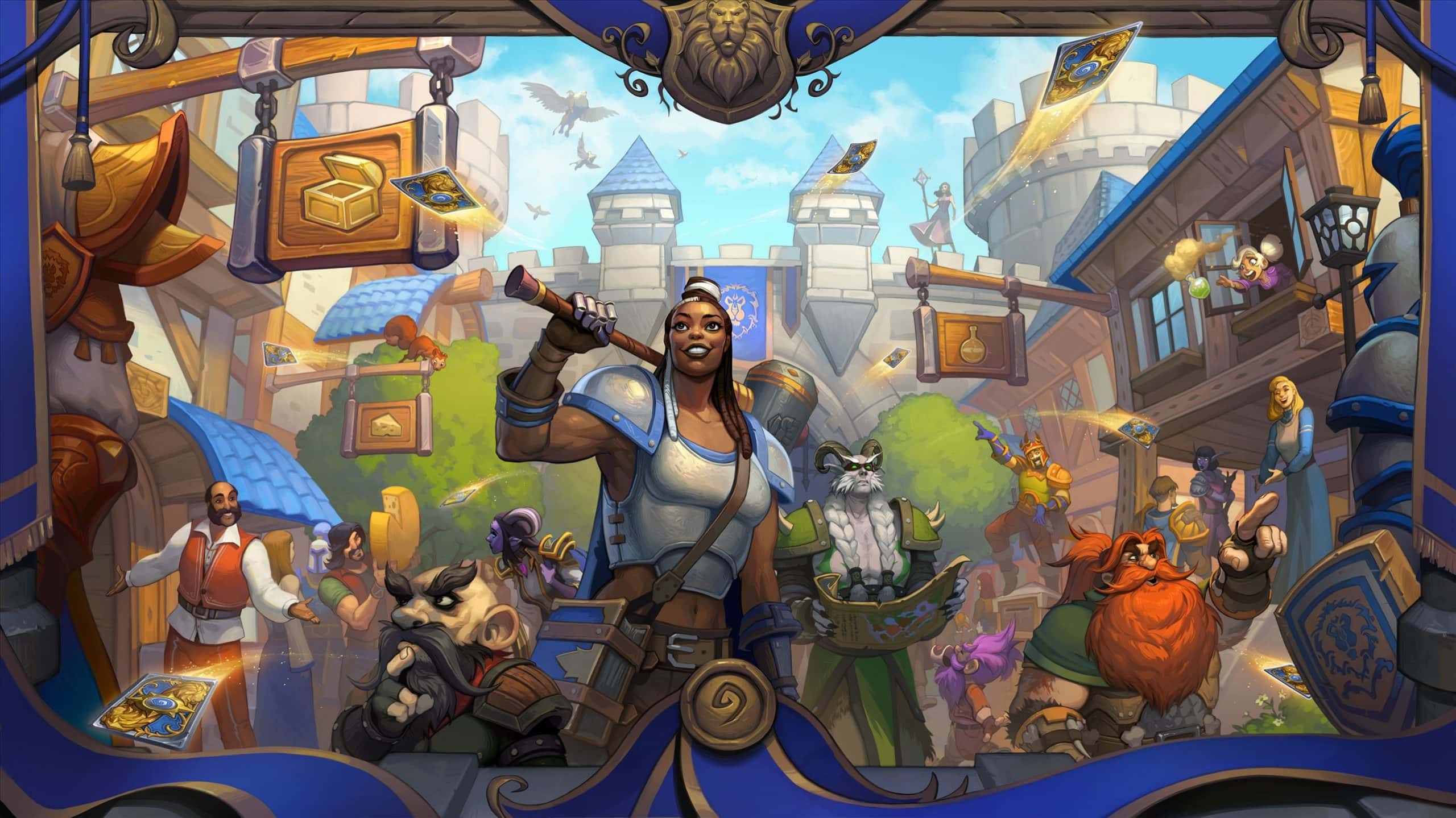 Hearthstone players, be ready for the next expansion! United in Stormwind is coming to you with 135 new cards to browse and use in your decks, along with a new keyword (Tradeable), Questlines, Mounts, and Profession Tools.
These are definitely inspired by Blizzard's World of Warcraft MMORPG and would love to see these in action when the expansion comes out.
Questlines
When you play World of Warcraft and take on a quest, you'll get a reward and sometimes you'll be offered to take on the next quest path (harder, with better rewards). These questlines, if you complete them all, will be very rewarding to your character and progression.
In Hearthstone, the first quest begins in your hand and if you complete it, will lead to another with three steps of requirements and rewards and finishing with summoning a powerful Legendary mercenary minion.
Tradeable Keyword
Cards with the new Tradeable keyword can be played like normal, but you can also trade it with another random card on your deck for just 1 mana cost. This can be done by dragging and dropping the unwanted card to your deck. It's definitely very useful if you don't want the card to be played now (while waiting to have more mana or waiting for a combo).
Profession Tools
It's basically like a weapon card but instead of having attack values, a Profession Tool comes with special effects instead. The idea definitely comes from crafting in World of Warcraft.
Mount
Mount is like a buff spell that you can apply to your minion. However, when that minion dies, the mount remains (as a creature with the effects applied). So for example, the "Ramming Mount" card will give a +2/+2 to a minion and "Immune while attacking" effect. When the minion dies, you'll get a "Tavish's Ram" creature with 2/2 and "Immune while attacking" status.
So, you give a mount to a character and when the character dies, the mount remains and can still attack/defend.
---
You can pre-purchase the Bundle (AU$66.95) or Mega Bundle (AU$109.95) packs before the expansion comes out.
The United in Stormwind Bundle includes 60 packs from the expansion, two random Legendary cards, and the Lady Katrana Prestor card back.
The United in Stormwind Mega Bundle includes: 80 United in Stormwind card packs—plus 5 Golden card packs (containing all Golden cards), two random Golden Legendary cards from United in Stormwind, the Lady Katrana Prestor Alternate Hero, the Lady Katrana Prestor card back, perks for Hearthstone Battlegrounds that last until the next expansion, and the Ve'nari Alternate Bartender for Hearthstone Battlegrounds.
Hearthstone United in Stormwind expansion has a release date of 4 August 2021.