Griffin WoodTones headphones review – Some headphones are made from plastic. Some with a mix of plastic and aluminum for sturdier and lighter feel. For Griffin, the choice comes to real, captivating wood.
Available in variety of wood tones, such as Walnut, Sapele, and Beech, Griffin WoodTones headphones are beauty to behold.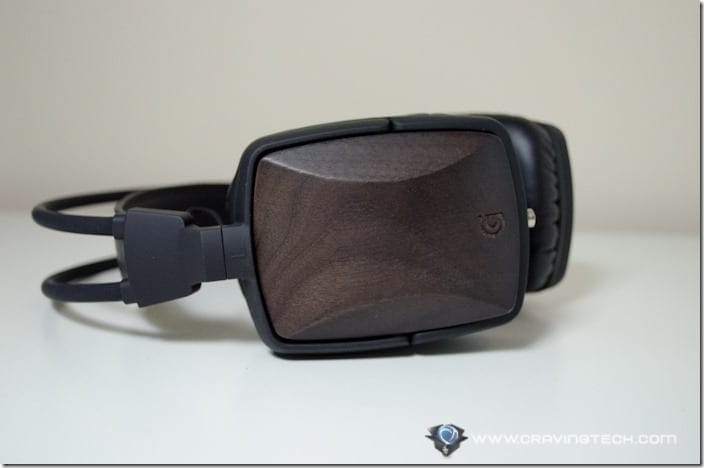 The version I have for the review is the Walnut wood tone, which is a darker tone compared to Sapele and Beech. Whichever wood tone you choose, I'm pretty sure you will not be disappointed.
A letter "G" (Griffin's logo) is crafted beautifully on the wood casing on both ear cups, giving a sense of depth and style. Knocking the wood with the finger gives a sense of satisfaction that this is indeed, pure wood. Not all of the materials are from wood, however, but the black coated finish gives a nice contrast and complements the design really well.
The first layer of the headband stretches to follow the contour of your head. There are no steps or locking mechanisms, so you can just grab the headphones and listen away. It's a one-size-fits-all kind of headband. The headband itself is not padded but thankfully doesn't feel hard on the head.
Have I mentioned that the WoodTones headphones are comfortable? I wore them for 4-5 hours straight at work during my test and I couldn't give any complaints whatsoever. These headphones are extremely light and the leather cups are comfortable to wear. I don't feel them pressing onto my ears and there is enough air to keep my ears cool.
The cable is detachable, which makes it easier to carry when you are travelling. It also means that you can just purchase another cable (for $14.99 on Griffin's website) if you break it. Or, if your dog loves to chew cables for dessert.
A built-in mic means you can wear these headphones and answer calls at the same time. It only has one universal button, so it may take you a while to get used to the call and music playback controls. For example, press the button 2 times to fast forward and 3 times to rewind your music. It also supports Siri on the iPhone and it works well on my iPhone 5s when I tested it. The microphone can pick up my voice without having to shout out loud.
As far as sound goes, the Griffin WoodTones do not disappoint at all. Equipped with a 50 mm driver, the sound is clear, bass is powerful without being overwhelming, and it has a really good soundstage. Different sound of music instruments come to live (drum snares, acoustic guitar strums, etc) and it feels as if you are listening to a music on stage with different instruments all over the place. The Bass is quite strong, so if you are a fan of a headphone with good, powerful, Bass, you will not be disappointed.
I honestly didn't expect much from these headphones when I was offered to review them. Griffin is not exactly a company that focuses on the audio department and the price of the WoodTones makes it feel like a budget headphone. After listening to it for about 2 weeks, however, my initial thoughts have changed. Completely.
The Griffin WoodTones have definitely become my most recommended headphones at the moment for music listening. The design is classy, the headphones are comfortable to wear for hours, and the sound quality is above my expectations. At just AUD 109.95, the headphones give the best bang for your buck. The Bass can be a bit overwhelming for some, but it is solid and not muddy like other Bass-heavy headphones.
They can be bought at Selected Music Stores in Australia, available now.
Disclosure: Griffin WoodTones headphones review sample was sponsored for the review. Opinions are 100% mine.
[AMAZONPRODUCTS asin="B00DWGHTQM"]