The EPOS IMPACT 1061 is an excellent on-ear Bluetooth headset designed specifically for business professionals. With its impressive voice-pickup capabilities and active noise cancellation (ANC), it ensures crystal clear communication, even in noisy environments. In addition, it offers excellent battery life, quick wireless charging, seamless triple Bluetooth connectivity, and durable build quality. If you're a professional or spend a lot of time in calls and meetings, I think this headset will tick all the right boxes.
EPOS IMPACT 1000 Review – Packaging Contents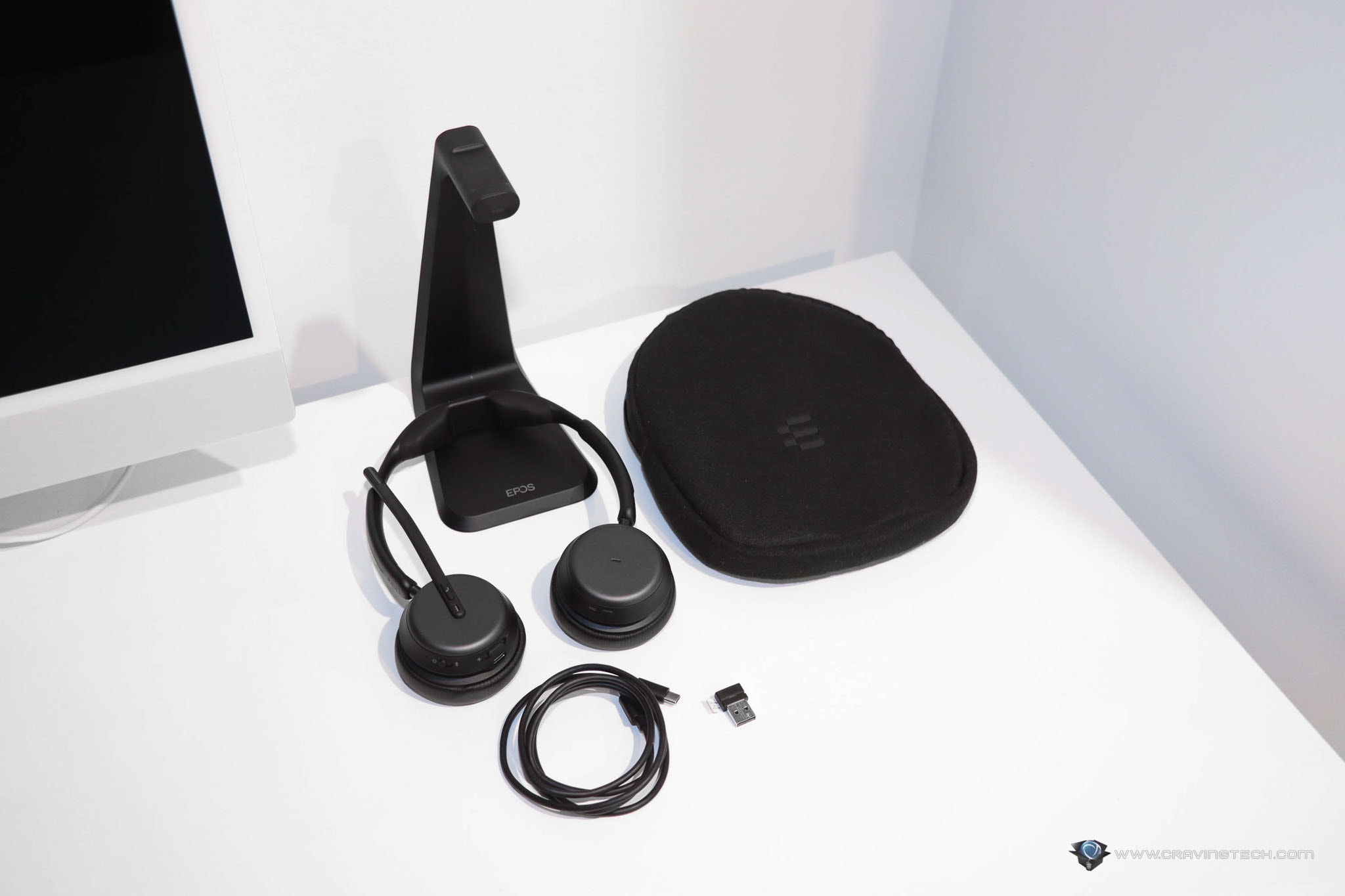 The packaging of the EPOS IMPACT 1061 includes a headset stand featuring a wireless charging dock on top, while the headset itself comes in a simple soft fabric case. The case conveniently holds a Bluetooth USB dongle and a USB-C to USB-C cable in a pocket. Additionally, a visual guide showcasing the various headset functions and button layout is provided on the inside of the cardboard box cover.
EPOS IMPACT 1000 Review – Build and Design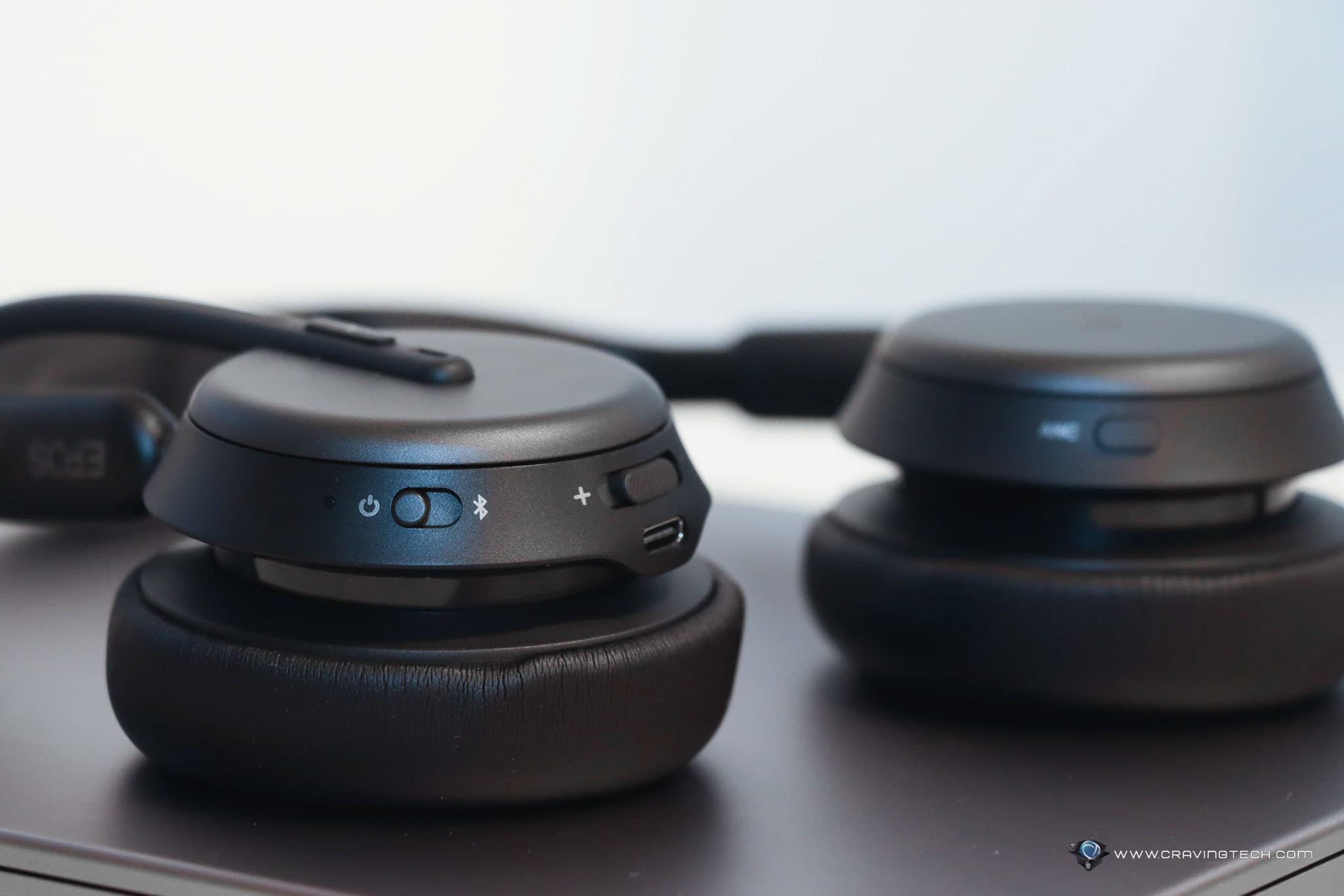 In terms of design, the EPOS IMPACT 1061 is sleek, simple, and functional. As an on-ear headset, comfort is essential, especially for long usage sessions. I found the ear cups to be cushioned and reasonably comfortable, although it can feel slightly tight over time, particularly for users wearing glasses. The soft, cushy rubber material on top where the headset rests on your head adds to the overall comfort.
The headband sliders have quite a sturdy sliding mechanism with firm locking adjustment. The articulating boom arm works excellently and glides smoothly, and the buttons are conveniently located. On the right ear, you'll find an on-off and Bluetooth connectivity switch/rocker, a volume rocker, as well as a pickup/hang-up call button. The ANC button is found on the other ear.
EPOS IMPACT 1000 Review – Features
The IMPACT 1061's standout feature is its exceptional voice pickup, particularly during calls and meetings. Powered by EPOS AI, a machine learning technology that scans the environment 32,000 times a second, it effectively suppresses noise and enhances the desired sounds for the call recipient. This feature proves incredibly useful in public spaces like bustling cafes or train stations, as I experienced no issues with noise interference on the receiving end during my calls.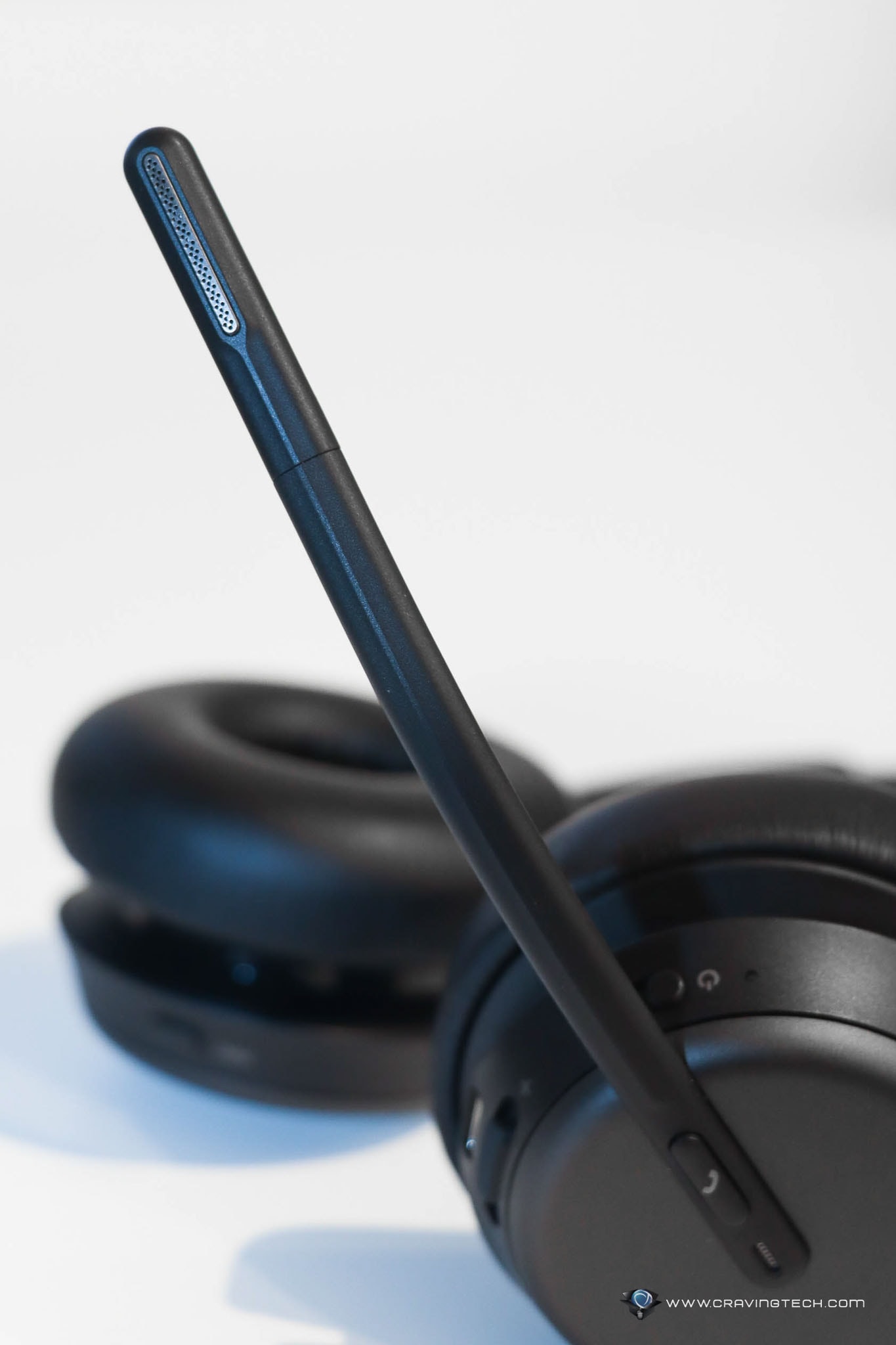 While the noise cancellation is decent, it's worth noting that there are some headsets that offer slightly better noise cancellation at this price range (A$589), but with a primary focus on audio and music experiences, lacking the other features that this headset provides. Considering the intended use of the EPOS IMPACT 1061 (online meetings/calls), the noise cancellation it provides works perfectly fine.
Triple Bluetooth connectivity enables seamless connection with up to three devices simultaneously. I found switching between devices to be quick and effortless. This would allow you to transition smoothly from a meeting on your computer to receiving a call on your phone without any hassle.
At the time of this review, the EPOS Connect app does not currently support this device. However, once it becomes available, the app is expected to offer enhanced functionality for fine-tuning in-call experiences, adjusting audio settings, equalizer customization, and firmware updates.
Charging
The battery experience of the IMPACT 1061 is one of its strengths, with up to 19 hours of battery life. During my testing, I was pleasantly surprised to find that the headset lasted almost 2 full days of regular use without requiring any charging. This included a combination of several meetings, some music listening, as well as media consumption.
With the included headset stand featuring a wireless dock, you can charge your headset by simply placing it on the dock when not in use. This eliminates the hassle of dealing with cables and ensures that your headset is always ready for your next use. Additionally, you also have the option of direct cable charging via USB-C, allowing you to charge when on the go.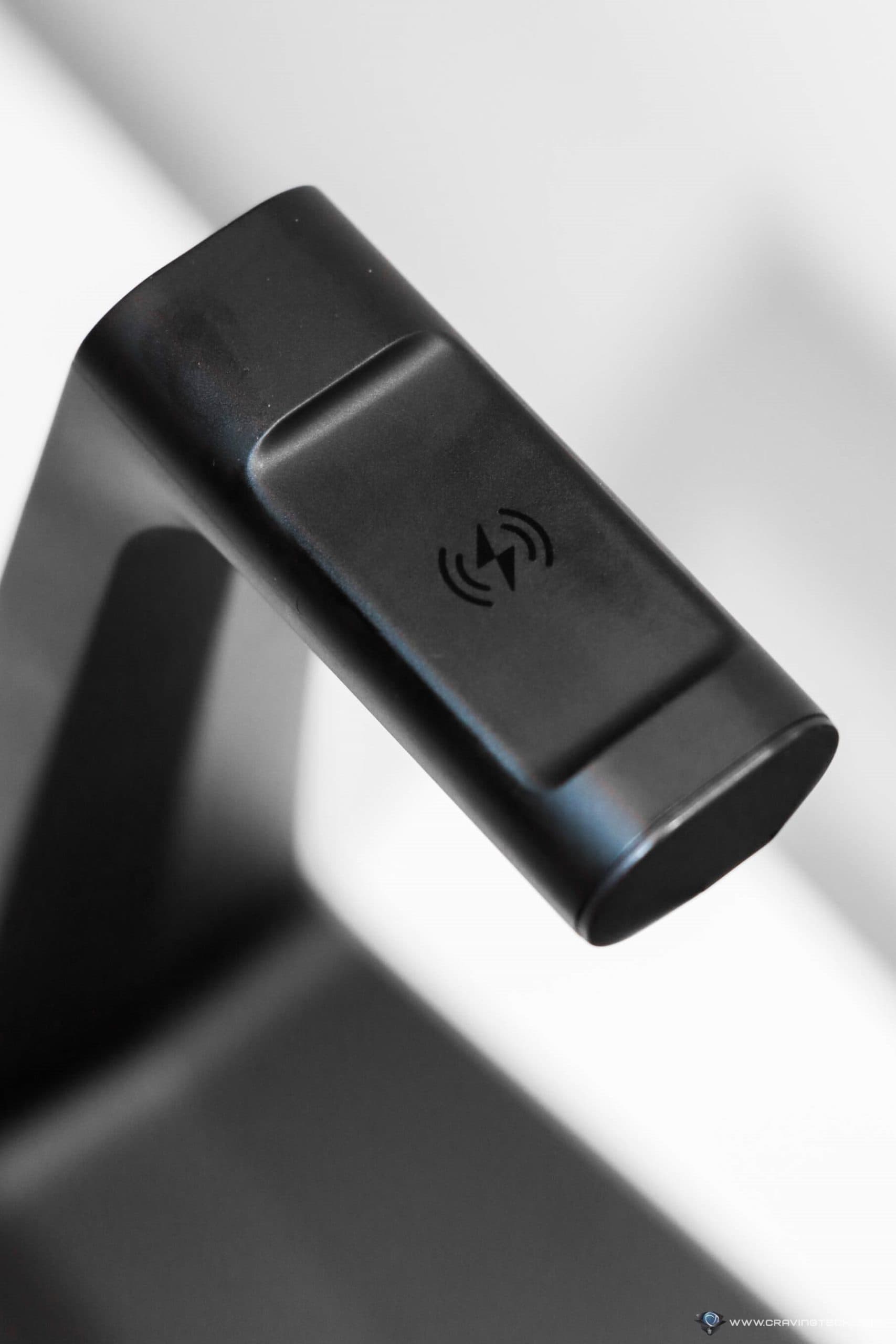 Sound Quality
When it comes to sound quality, the overall performance of the headset is respectable, earning it a solid B+ grade. The clarity of audio is noteworthy, allowing for well-defined sound. However, the volume levels tend to be relatively soft, requiring me to increase the volume quite more than I would other headsets to fully enjoy music and media.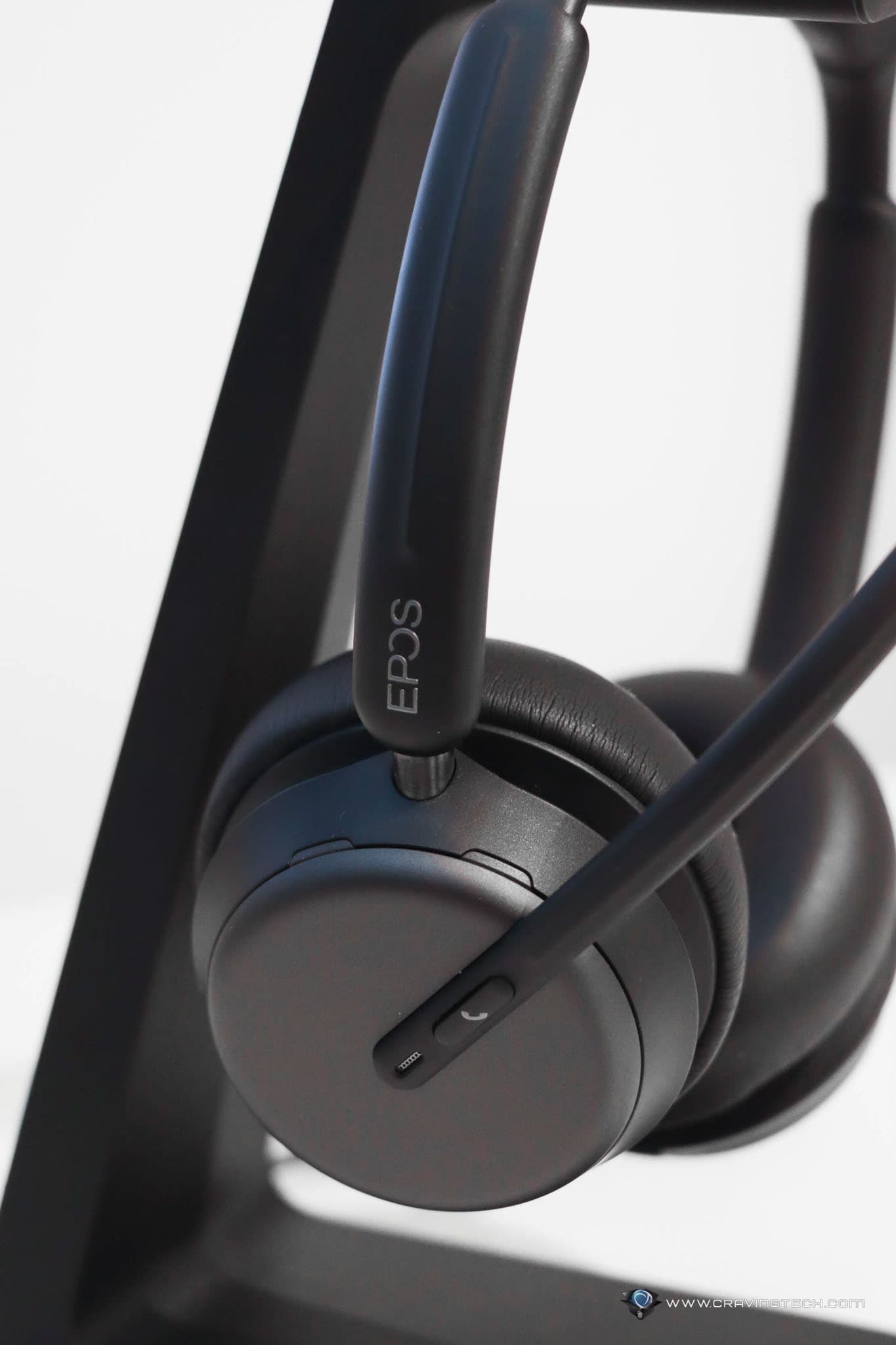 On the upside, when the volume is boosted, the headset provides impressive detail in the audio, contributing to a more immersive listening experience. In terms of balance, the bass is quite punchy, the midrange and treble hold up adequately. While the overall balance is satisfactory, it doesn't particularly excel in any specific frequency.
Regarding sound isolation and noise cancellation, as mentioned before, there is still some sound leakage from the surroundings. However, this can be minimised by raising the volume, allowing for a better immersive experience.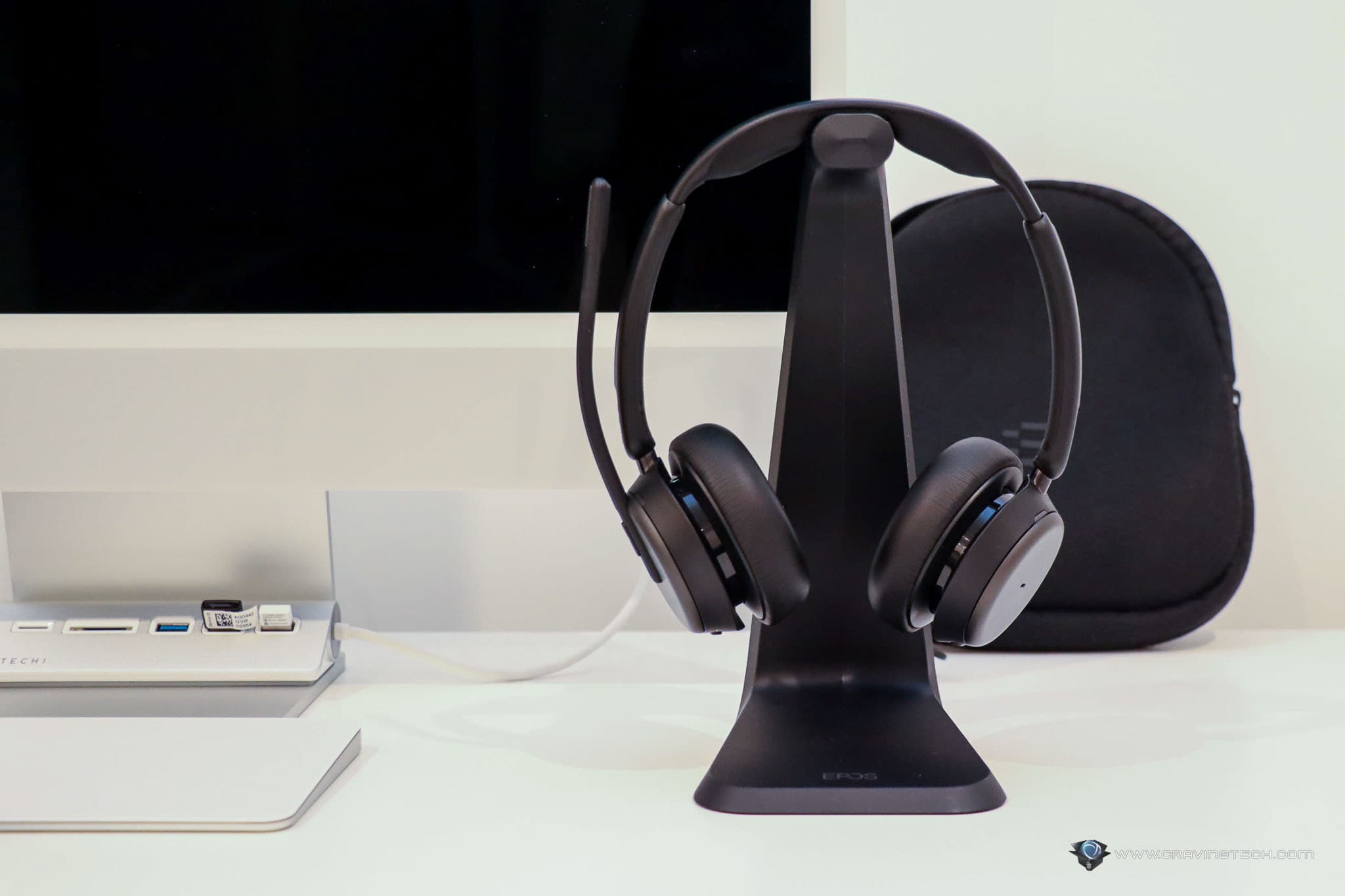 Lastly, as mentioned earlier, for its intended use in professional and meeting settings, the sound quality and noise cancellation are more than adequate. It performs admirably in capturing clear voices and facilitating communication.
The EPOS IMPACT 1061 is currently available for purchase for A$589.
Disclosure: EPOS IMPACT 1000 (IMPACT 1061) review sample was supplied for reviewing
EPOS IMPACT 1000 (IMPACT 1061) Review
Summary
The EPOS IMPACT 1061 is an excellent on-ear Bluetooth headset tailored for business professionals. It has exceptional voice-pickup and features decent active noise cancellation to ensure clear communication in noisy environments.
Pros
Impressive voice pickup and active noise cancellation for clear communication
Stand included and wireless charge the headset while on it
Excellent battery life and fast wireless charging
Triple Bluetooth connectivity for seamless multi-device usage
Sleek, functional design with comfortable ear cups and good build quality
Standout feature of EPOS AI for noise suppression in calls
Cons
Soft volume levels require higher adjustments for optimal enjoyment
Sound quality for price, but other features more than make up for it, especially given it's main function is for office use and professionals, not exactly for music listening or movie watching