PC is dying ever since tablets become more popular. Or so they say. In truth, however, I don't think PC will ever die. Whether you own a desktop or a laptop, you must have realised that some work are just not meant to be done on a tablet. For example, a lot of coding and designing work are so much easier to do with the help of a keyboard, mouse, bigger screen, and powerful processing power of a desktop or laptop.
Sony VAIO Laptops have been around for quite some time and they are praised for the sleek design and compactness. However, in case you are not aware, there are different VAIO models to actually choose from.
Whatever it is that you do, Sony has made a custom-made VAIO laptop just for you. A good-for-all laptop is awesome, but they will be priced high and you may not even need all the features that it offers. By tailoring different VAIO models to suit your specific need, they will be more affordable and designed specifically for that need.
For example:
– If you want the most portable, yet powerful laptop, the VAIO Pro only weighs less than 1 kg. Yet, it is powered by an i7 Intel Processor, Windows 8 Pro, and a Touchscreen.
– If you want a versatile laptop, the VAIO Tap 11 offers the best of both worlds – a PC and a Tablet. The notebook comes with VAIO Inspiration Suite that contains powerful apps to further empower your machine, such as the CamScanner app that can utilise the camera on your VAIO Tap 11 as a scanner. There are also VAIO Clip and VAIO Paper apps to take notes with style (check out the infographic at the bottom of this post).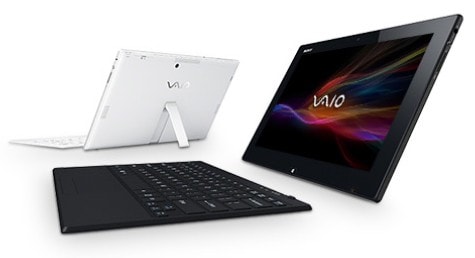 – If you are going to use your laptop to watch a lot of movies, then you can pick the models with VAIO Display Plus feature which gives wider viewing angles and anti-reflection.
– If you are just going to listen to your music collection while you do your work, the VAIO Fit E is equipped with built-in subwoofer, large speakers, and an NFC (to connect to your NFC enabled headphones or speakers).
Or, if you have the money and just want to get the best of the best from their range of VAIO Laptops, there is one for you too.
What do you think? Do you think the PC era will die and replaced by tablets?

Courtesy of Sony
Images taken from the Sony website.
This is a sponsored post.