D-Link Baby Monitor/Camera Review – Babies are adorable and truly a gift from God. They are also unfortunately fragile, little, adorable, creatures that you need to constantly monitor and care. Thanks to D-Link, however, the task of monitoring your baby when you are asleep in the other room or busy doing your chores has been made easier. Much easier.
D-Link DCS 825L WiFi Baby Camera is a network camera (webcam) designed specifically to monitor your loved ones where ever you are, through your mobile devices (smartphones or tablets). Rather than having to check on them directly each time, you can simply connect to the live feed using just your smartphone. Even better, you can even check when they are crying (sound detection) or waking up from their slumber (motion detection).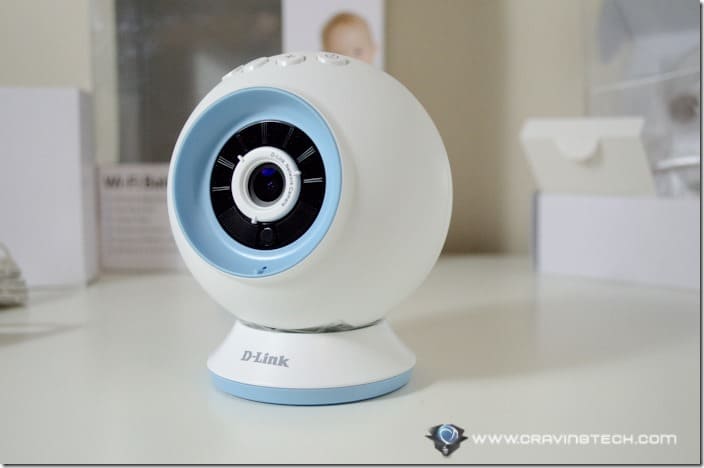 Design wise, the D-Link WiFi Baby Camera looks like a regular webcam (ball shaped). Though you can change the color rings to either Blue or Pink easily, I wish the camera look a bit cuter for babies (like a penguin head or something similar). Well, I guess the baby won't complain, anyway.
The baby camera has a few hard buttons to control the volume (for the 2-way audio and lullaby music playing), a manual focus ring for the camera, temperature sensor, and a few other bits and pieces. You can also insert a microSD/SDHC card to record snapshots and videos triggered by motion or sound. There are also tools to mount the camera on the wall.
The baby monitor is powered via the power adapter but you can also use a USB portable battery charger if you don't have access to a power socket nearby. Assuming you have a wireless network at home and the baby camera has been set-up correctly, you can connect directly to it via Wi-Fi.
The setup process is fairly simple with clear step-by-step instructions once you've installed a free "mydlink baby camera monitor" app (available for Android and iOS devices).
D-Link DCS 825L WiFi Baby Camera Features
Direct Feed from your phone/tablet
You can connect directly to the camera's live feed from the comfort of your hands. If you like, you can keep the app running and place your device on a cradle. This way, you can always monitor your baby while you are working on the computer.
Night Vision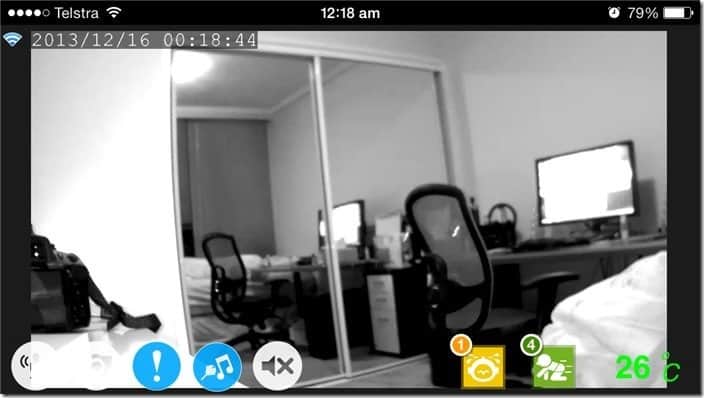 It has a built-in night vision which will trigger automatically when the environment goes dark (you can set this to manual if you like). The camera feed is still sharp and clear enough even in total darkness.
Two Way Audio with background audio support
The baby camera has a built-in microphone and speaker that enables 2 way conversations. You can hear when your baby cries through your phone's speaker and you can also speak to your baby through the camera from your phone. This way, you can calm the baby down with your voice without having to go there directly. At first, I don't really like the idea. I'd still prefer a good mom/dad to console a baby directly compared to using a gadget as a bridge. However, I think there are times when you may not be able to attend your baby directly, such as when you are using the toilet or when your hands are busy cooking.
The background audio works even when you minimise the application without closing it (by pressing the Home button on an iPhone but not closing the app on the multitask panel). Any sound coming through the camera will be passed onto your phone's speaker (even if your phone is on standby or if you are running other apps).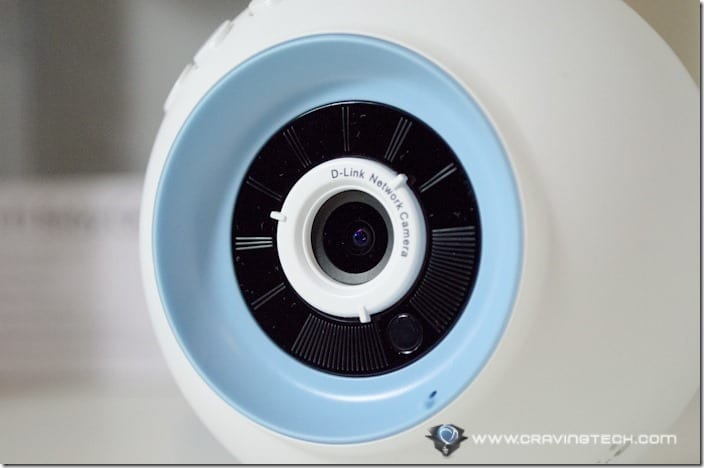 During my tests, the audio feed has a few seconds lag (the time it needs to travel back and forth from my phone to the camera) even when I'm already using a top-end router like the D-Link 2890AL with 1750Mbps transfer rate. But the lag is still acceptable, considering this is not a phone conversation where any kind of lag is unacceptable.
You can play lullaby songs through the baby camera's speaker with a few default music selections such as Twinkle Twinkle Little Star (up to 5 songs to choose from). There doesn't seem to be an option to add your own music but I'm sure the baby won't mind listening to the same songs over and over. The music is quite soothing and you can also adjust the playback volume on the camera.
Temperature Sensor
Another solid feature that the D-Link Baby Camera has, is a temperature sensor. It senses the room temperature and monitors when the room gets too hot or cold. You can also change the temperature detection settings:
Sound and Motion Sensor
Another handy and powerful feature is the sound and motion sensor. The camera can detect when something is moving (hopefully, it's the baby) or making a sound. The app will then record how many instances of these have occurred. I find that when it detects a movement, the camera will record it once and stop counting, unless 5 seconds have passed and another new motion is detected. It's a good design decision to ensure you don't get 100 recorded notifications when the baby moves non-stop in a period of time.
D-Link Baby Monitor/Camera Review Conclusion
There are more to this, such as being able to take a picture or record the live feed through your phone (saved into the Camera Roll) and notifications to be sent to your mobile devices when it detects a sound, motion, or temperature change. At the moment, these are no push notifications. All the notification messages can only be seen on the main screen if I have the app opened, but this may be a feature in the future.
I could also connect to the baby camera remotely when I was like 3km away from home using the app with mydlink account. This is definitely an awesome feature as you can actually speak through your phone and your voice will be passed through like you are there. No matter how busy dad is in the office, now he can both see and talk as if both mom and dad are at home.
Despite of the absence of a push notification, however, D-Link Baby Monitor works really great. I'm sure most parents are happy enough having a baby monitor with night vision mode and direct live feed on a mobile device. D-Link, however, goes a lot further by adding motion, sound, and temperature sensors. Not to mention you can also hear the baby speak and respond back with your own voice or a soothing lullaby. Monitoring your loved ones just gets better, easier, and cooler.
Disclosure: D-Link DCS 825L WiFi Baby Camera review sample was sponsored for the review