D-Link 2890AL Wireless Modem Router Review – You'll rarely heard a reviewer saying that a modem router is gorgeous, but who cares. The D-Link 2890AL wireless modem router does look gorgeous to me and and its design is an out of the box one. Gone were the days where modem routers were rectangular-shaped or looked like a clone to one another.
Combined with blazing fast Wi-Fi speed, USB 3.0 slot, and a dual-band support, the D-Link 2890AL delivers the best of the best out of a wireless modem router.
D-Link 2890AL Wireless Modem Router Review – Packaging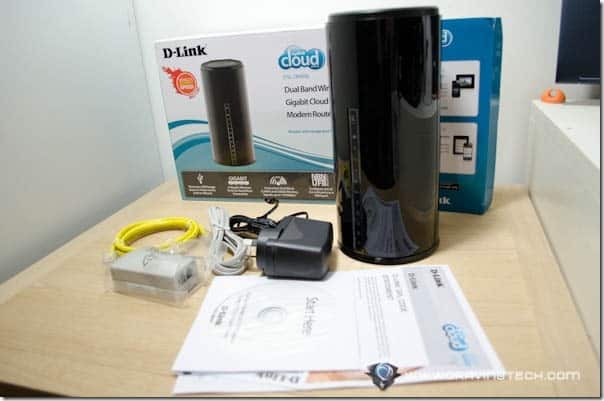 The packaging includes:
The 2890AL wireless modem router

Power connector/adapter

Ethernet cable

Phone cable

ADSL2+ microfilter/splitter

Install Guide, Easy Install CD, etc
D-Link 2890AL Wireless Modem Router Review – Design & Features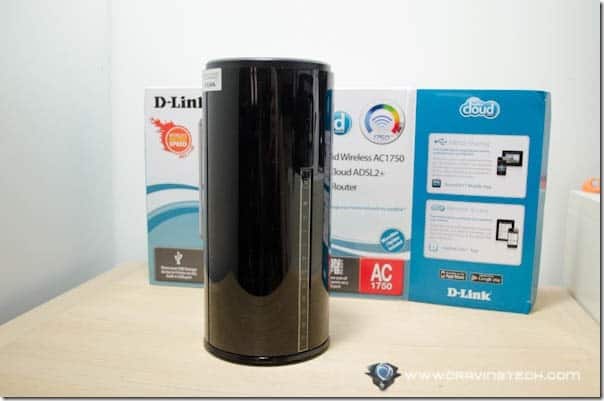 The cylindrical shape of this modem router gives a modern look to the living room and also saves space. Weighs at 334 grams, the size of the modem router is not as small as I thought it would be, though. Looking close, the overall plastic material may not shine luxury to your eyes, but overall it gives an elegant and modern look.
The LED indicators and WPS button are laid out in front vertically. At the back of the router are the ports and power connector.
The D-Link 2890AL is equipped with:
6 internal antennas for stronger wireless signal

3 Gigabit LAN ports and 1 Gigabit LAN/WAN port

802.11ac wireless technology

1 USB 2.0 port

1 USB 3.0 port
Okay, so basically what do you get with the D-Link 2890AL? Well, a lot, seriously.
[1] High speed wireless transfer + dual-band
The modem router gives a blazing fast wireless transfer with transfer rates of up to 1.7 Gbps! This is definitely the fastest wireless router I've ever tried and reviewed so far. Why would you need this kind of speed? Well, if you only have a single computer running throughout the network then yes, it may not matter. However, if you are living with a few people along with their laptops, desktops, tablets, and smartphones, then yes, it does matter. A lot, actually.
Once you've start transferring large amount of data (copying files, streaming HD videos, video calls, etc), then you'll be grateful for owning the 2890AL.
It also supports both 2.4GHz and 5GHz wireless bands and I haven't come across with a dual-band modem router before (most of them come without the modem bit).
[2] Easy set-up
Thanks to the step-by-step guide to install the modem router, setting your wireless home network can never be easier. The steps include pictures and clear instructions for you to simply follow on screen, including selecting your ISP (Internet Service Provider) and setting up the security in the network.
Gone were the days where you need to call a techie friend over.
[3] Easy file sharing with a USB drive + Media Server
Rather than having to buy your own NAS (Network Attach Storage) solution, you can just plug a USB flash drive (or two) in the D-Link 2890AL and start sharing your media to everyone on the same network. Files can be set-up to be accessible remotely and you can also set-up a Media Server to share your music, photo, or movie files.
Simply add the USB device through the Windows Explorer and you can access + share your media to the whole network easily.
[4] Strong signal
Compared to any other wireless router I had, the D-Link 2890AL seems to give the strongest signal to my PC – which is important to make sure that I don't get a connection drop-out when I'm in the middle of a competitive online game.
My old modem router, which I thought gave one of the strongest signals out there:
D-Link 2890AL (full bar, baby!):
[5] Others worth mentioning
You can also manage the modem router remotely through mydlink and it's Australia's NBN (National Broadband Network) ready.
Make no mistake. Even if it's easy to setup, there are advanced settings to tweak through once you've got to the administration area of the modem router. You can set up guest access, traffic prioritisation, and more.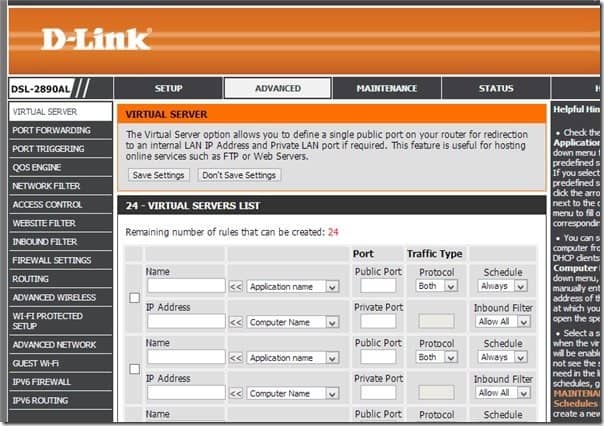 D-Link 2890AL Wireless Modem Router Review – Conclusion
This wireless modem router simply has it all. Normally you'd have to buy a separate wireless router that supports dual-band and high transfer speed, along with an extra modem. With D-Link 2890AL, you'll get much more: fastest wireless speed in the market, a USB 3.0 slot, and a gorgeous out-of-the-box looking time capsule modem router. It's also a perfect router to hook a network camera up such as the D-Link DCS-942L that I reviewed some time ago.
Disclosure: D-Link 2890AL wireless modem router review sample was sponsored by D-Link for the review