According to rumours printed last week by the Wall Street Journal, Apple may be preparing a Retina display iPad Mini for release late this year.
Citing unnamed sources, the financial paper stated that Apple is working with its suppliers in Asia on the project, which will use a display with double the resolution of the current model while retaining the 7.9″ 4:3 aspect ratio display. In terms of pixel density, that'll put it ahead of the current full size iPad, which uses the same resolution on a 9.7″ display. Samsung, Sharp and LG will be supplying the new high-res screen, while LG and AU Optronics supplied the screen for the original Mini.
The new iPad Mini will include other changes as well. While the look of the device will remain the same, it's been reported that Apple is mulling a variety of colour options for the rear panel instead of just black and white. The recent launch of the Moto X in the US, which can be customised with different colours for the face, accents and rear cover, will no doubt be a nice indicator for Apple.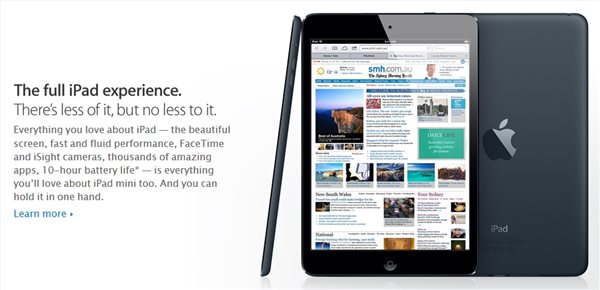 Of course, a fourth quarter release isn't guaranteed. Other sources have pegged the release for early next year instead, with some additionally indicating that we'd see a non-Retina iPad Mini 2 towards the end of this year. The Retina iPad currently in testing would then arrive sometime after this period, potentially at a higher price point.
If we see a non-Retina iPad Mini, it's likely that its dimensions won't change significantly, ensuring existing iPad Mini cases can be used. A Retina iPad Mini would probably have a slightly different design, which in contrast would require new cases and other form-fitting accessories to be purchased.
What do you make of the rumours? I'm personally holding out for a Retina iPad Mini, are you the same? Let us know in the comments below!