D-Link is definitely going full blast with Wi-Fi 6 this year, especially after their release of Wi-Fi 6 routers end of last year (DIR-X1860 and DIR-X5460). While you can connect your PC with an Ethernet cable straight to the router, your other PCs may not have that luxury of close proximity to the router.
My main, AMD Ryzen PC is usually wired too but for the sake of testing the D-Link DWA-X3000, I went full wireless for a couple of weeks with it. Its performance and stability didn't disappoint at all.
I still have D-Link's USB network adapter, the DWA-192 AC1900, from 2015 hooked to my wife's PC. This time, however, D-Link goes for more performance and stability with PCIe than USB.
Installation is pretty simple as you can just plug and play the card into your existing PCIe slot. I hooked mine on the GIGABYTE X570 Aorus Elite Wi-Fi. The packaging includes both a full-height and low-profile bracket for a more flexible installation, plus a couple of high-performance antennas to be attached later.
The DWA-X3000 is equipped with a heatsink to mitigate heat, improving stability and reliability.
The omni multidirectional antennas are high performance antennas designed to give you great wireless coverage. Unfortunately all of our PCs and router are located in the Study area, so I didn't really test how far could the signal go. They are connected to a magnetised base that you can place sturdily on top of your case.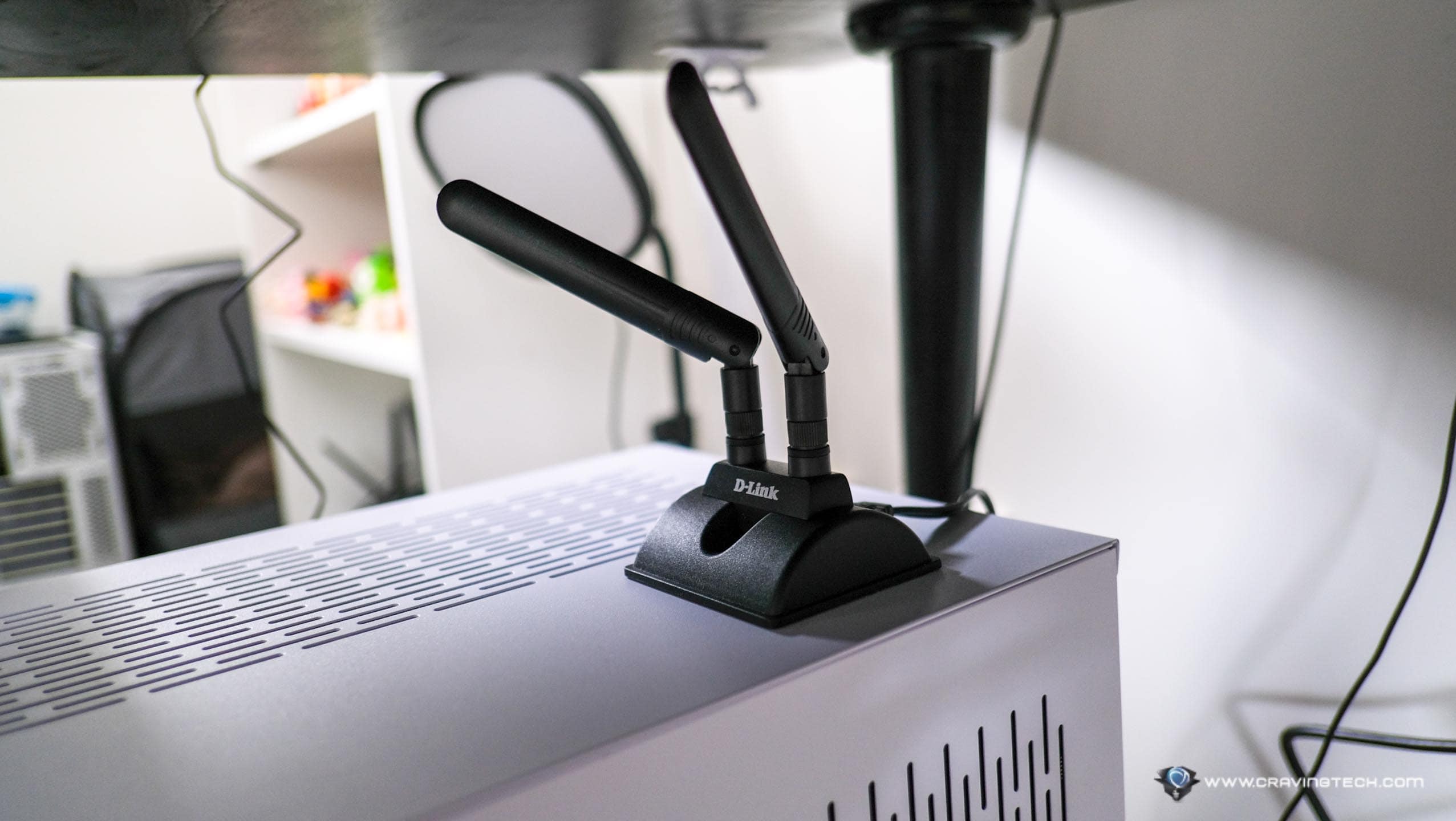 Surprisingly, the DWA-X3000 also has an optional Bluetooth module that adds Bluetooth 5.1 support connectivity to your PC. This means you can now easily add Bluetooth devices and connect them to your PC without having to get a separate Bluetooth adapter. It is optional so if you don't think that you'll ever need it, you don't have to hook it up.
It supports dual-band with speeds up to 2402Mbps (5GHz), and 574Mbps (2.4GHz). While the DWA-X3000 is designed to utilise Wi-Fi 6 and its advantages, it is also backward compatible with Wi-Fi 5 routers. I switched to using D-Link COVR-2202 (which is a Wi-Fi 5 Mesh system) and the DWA-X3000 still works perfectly fine.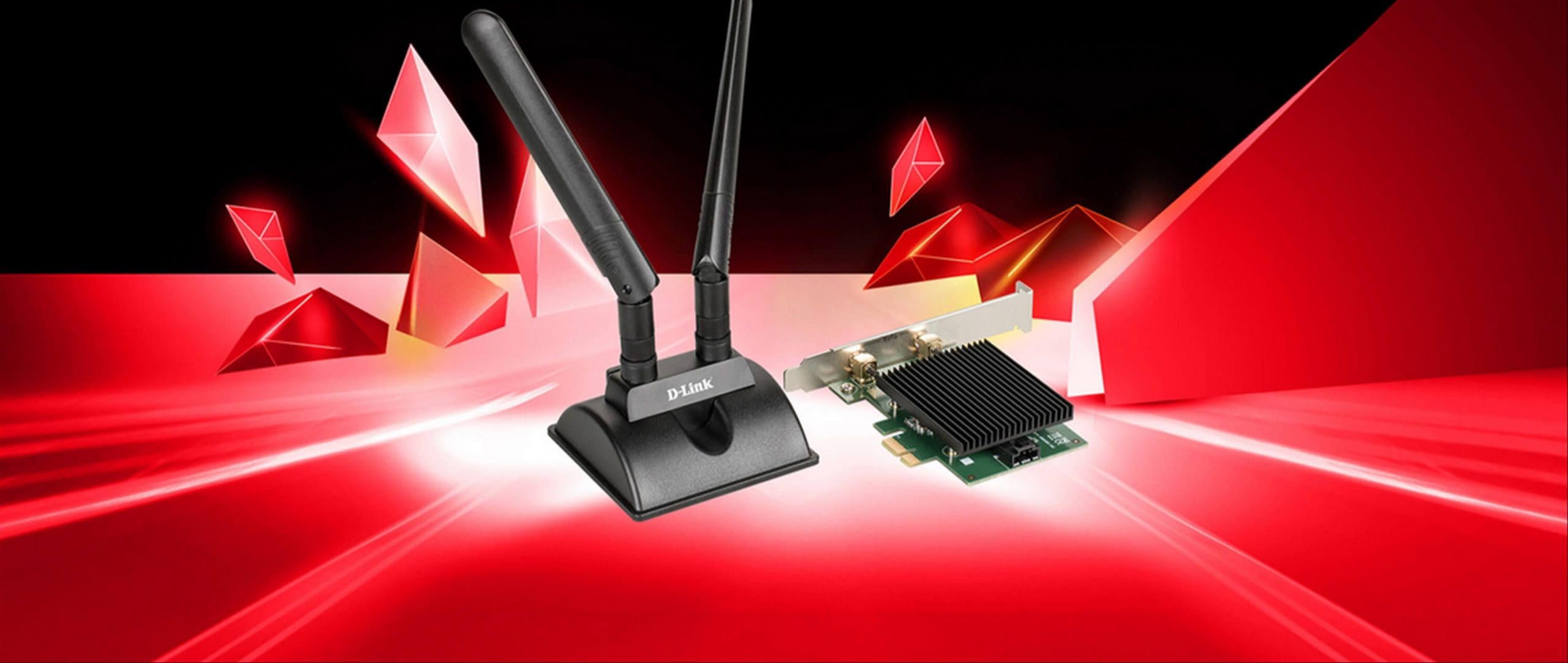 I've been gaming with the DWA-X3000 almost every night playing Overwatch and Call of Duty: Black Ops Cold War multiplayer. Both are fast-paced, competitive, first-person shooters so any lag or dropped connections would be apparent and impactful to the experience. So far I've had very smooth, wireless experience with the DWA-X3000.
So if you are gaming online heavily, like to stream videos in 4K, and most importantly, copying files across your network pretty often, you definitely want the fastest and most stable wireless connection. The DWA-X3000 definitely offers these.
D-Link DWA-X3000 AX3000 Wi-Fi 6 PCIe Adapter with Bluetooth 5.1 retails for AU$149.95 and available now at D-Link and retailers around Australia.
Disclosure: D-Link DWA-X3000 review sample was supplied for reviewing
D-Link DWA-X3000 Review
Summary
D-Link's first Wi-Fi 6 network adapter offers stable and fast Wi-Fi 6 performance
Pros
Wi-Fi 6
Also backward compatible with all non-Wi-Fi 6 routers
Adds Bluetooth support to your PC
Great & stable performance
Can be plugged to any PCIe slot (x1, x4, x8, or x16 slot)
Magnetised base
Optional low bracket