Ever feel insecure when you need to leave home unattended for a number of days? Or perhaps you need a way to monitor your beloved baby on the other room? Or how about having a security camera to your small shop that doesn't cost much and easy to install?
If you answer yes to any (or all) of that, then you need to have a look at the DCS-942L, a network camera from D-Link that can record what's happening through wireless connection and has an awesome built-in night vision.
Network cameras' installations are often mind boggling. Most of the time, you will be bombarded with networking jargons and installation instructions that require an expert (costs money, obviously). The D-Link Home Network Camera DCS-942L installation is relatively simple.
Chuck in the "Start Here" CD, follow the step-by-step guide, and your network camera will be running in no time.
Once everything is set-up, you are required to have an account over at mydlink – which will grant you access to live view through your network camera from your computers, tablets, and smartphones. At the moment, mydlink apps are available on iOS and Android (mydlink on iOS | mydlink on Android).
It includes an Ethernet cable to be plugged to your router but if you have a wireless router, you can set it up wireless. This means you can move the DCS-942L around and place it anywhere you like, as long as it's plugged to power. Thankfully, the included power cable is really, really long and the head can be tilted easily.
The network camera design itself can not be considered as compact, but it is not meant for spying, so can't complain there.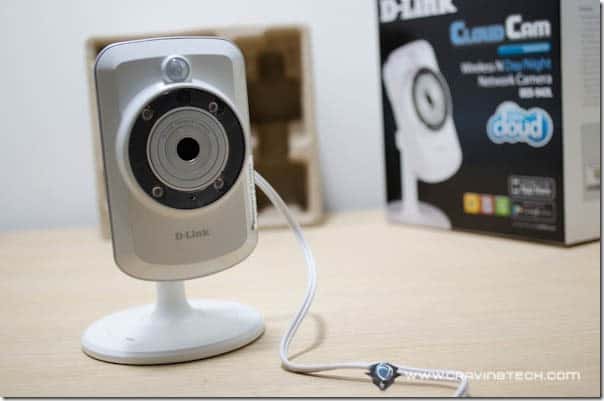 Thanks to the built-in night vision, the network camera can see and record in total darkness, for up to 4.5 metres (according to the product spec). You can use it to monitor your closed business (shop or office) or even at home by pointing it to the door. Since the camera can be set up wireless, you only need to plug it next to a power socket.
It also has a built-in microSD card reader (microSD not included), so you can swap between different microSDs to store different recordings. For example, you may want to store weekly monitoring files on different microSDs, thanks to the expandable storage solution. You can also record it straight to a hard drive or even a NAS (network attached storage). You will need to install D-Link D-ViewCam software on your Windows PC for this purpose, though.
You can also set-up a motion detection trigger by defining a rectangular area of the cam's view:
Once the camera detects a moving object (or person), it will send you a notification email instantly.
I don't have a spare microSD unfortunately, so I haven't tested the recording capabilities of the D-Link DCS-942L. Overall, however, this is a very solid device. The built-in night vision is really useful and you can see through the camera as long as you have access to the internet, anywhere you are. You'll never feel uneasy again because you know that if something goes wrong, the device will notify you instantly through your inbox.
Note: D-Link DCS-942L was sponsored by D-Link for the review