OBSBOT Tiny 2 Webcam Review – There are already 4K webcams in the market for sure, but without good lens quality, they are just gimmicks.
Thankfully, OBSBOT Tiny 2 Webcam doesn't just support 4K resolution but has many more tricks up its sleeves, including an AI-Powered Auto Tracking technology that works pretty well.
OBSBOT Tiny 2 Webcam Review – Unboxing and Packaging Contents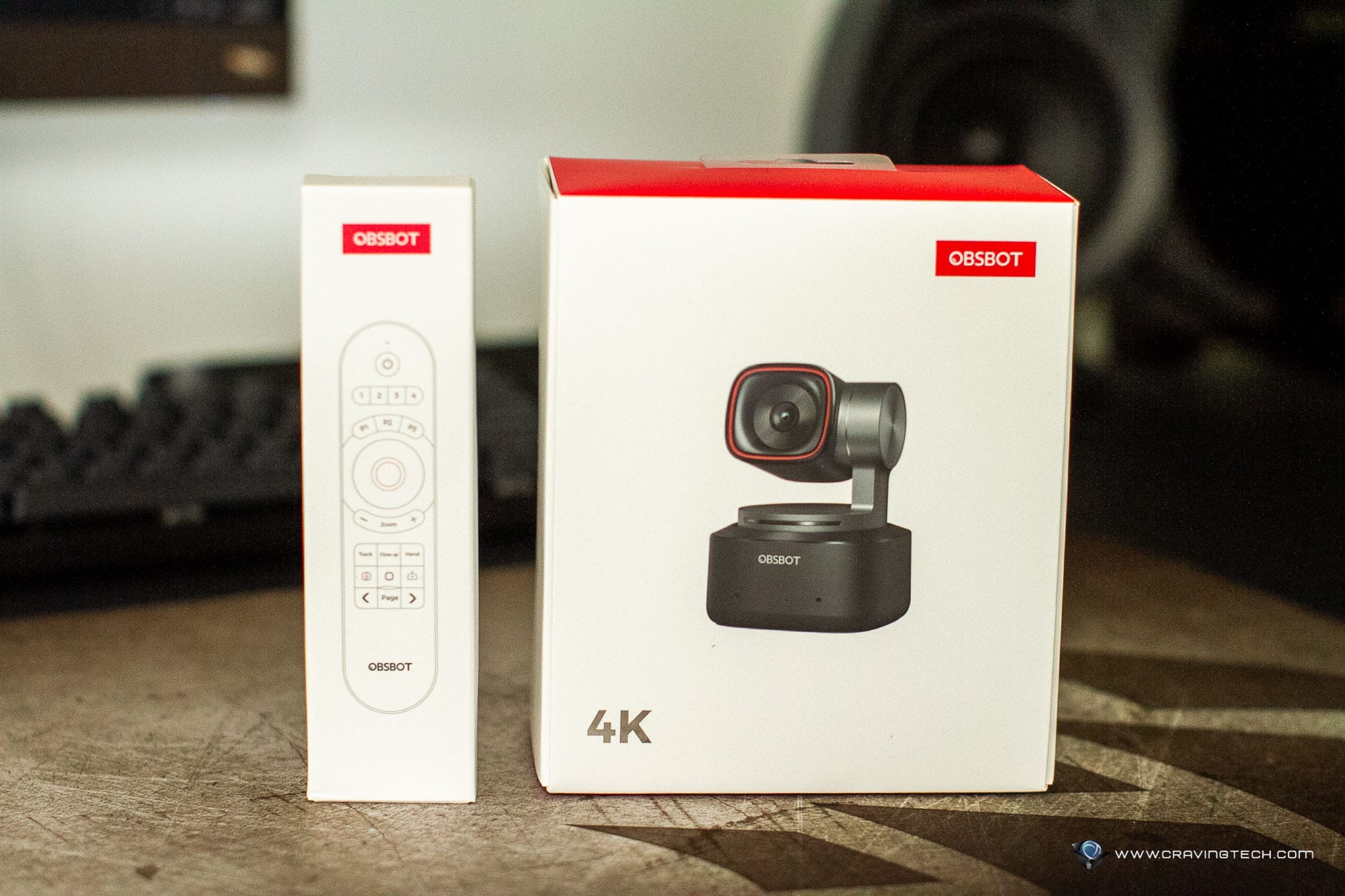 OBSBOT Tiny 2 Webcam Review – Design and Features
OBSBOT Tiny 2 Webcam has a sleek and unique look compared to many other webcams I've reviewed here at Craving Tech. It's definitely not the most compact webcam out there but you'll appreciate why.
Most webcams on the market offer privacy cover that you can open and close manually to cover the camera lens – for privacy reasons. The only problem with this is that I often forgot to slide the cover back after using a webcam for video conferencing. So, the idea of having a privacy cover is great assuming you always remember to cover the lens back each time.
Thanks to Tiny 4K's unique design and sleep mode feature, the lens part will tilt down automatically after some idle time has passed. When you launch your video conferencing app or use the webcam, the lens will tilt up automatically again. Very nifty. Of course, you can always tilt manually to make it go into privacy mode and you can even set the camera to stream a preset video or picture.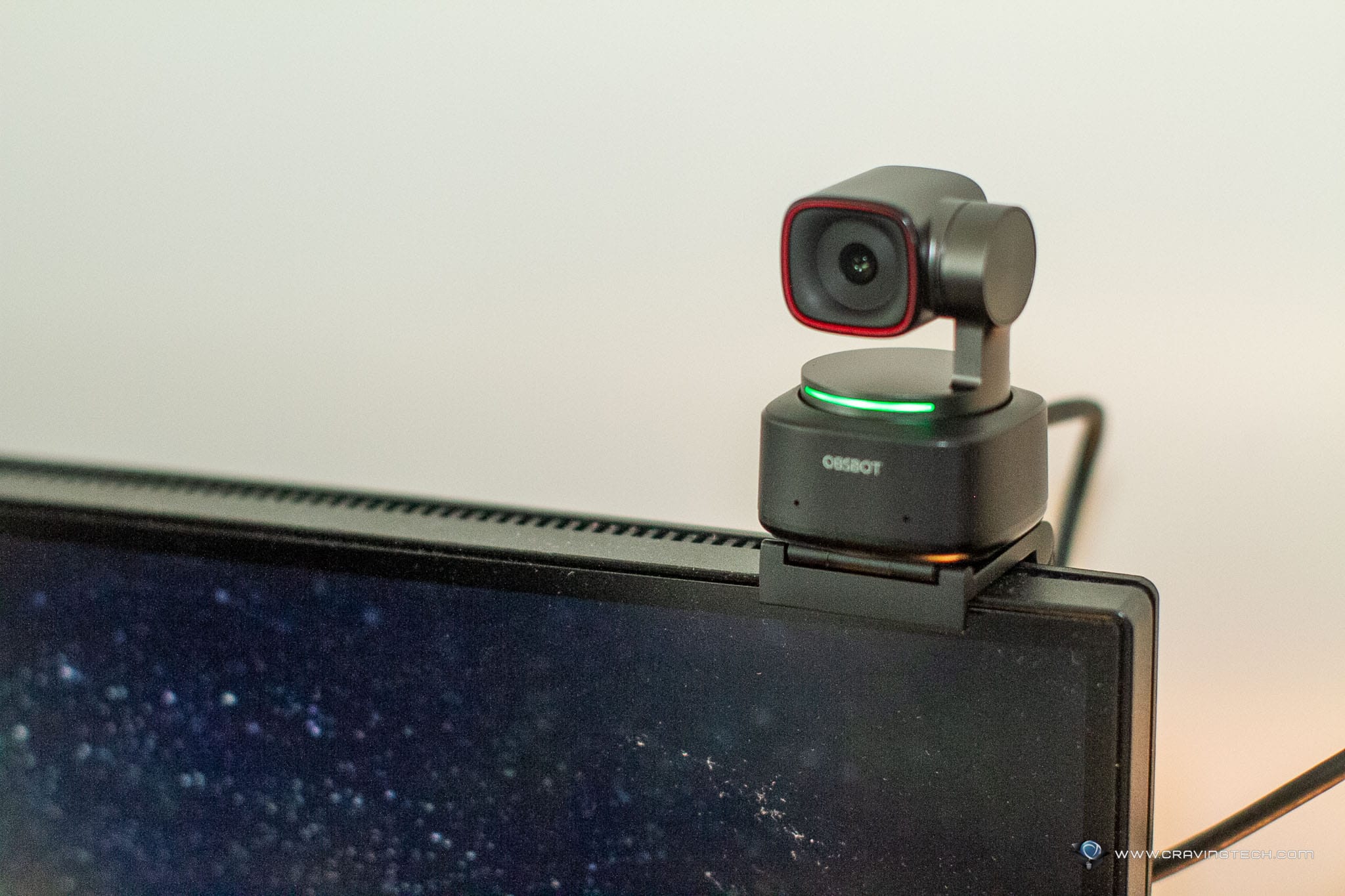 This cool mechanism is not just there for the privacy mode though. OBSBOT Tiny 2 4K can actually be set to track you accurately and fluently as you move around the room. It can even auto-adjust the zoom setting while tracking. This is really good when you are streaming and need to show the audience your room, or when you are demonstrating how to cook. You can also adjust the webcam so that it can track and record your hand on the mouse, for example. This is great when you are reviewing a gaming mouse, or want to show the audience how you aim and track with the mouse.
The possibilities and usage here are endless, really. It's very handy for content creators, but also a cool and useful feature for video calls.
Its auto tracking was proven to be pretty reliable when I tested it and assuming you don't do any super-quick movement, the webcam can track surprisingly really well.
There is also Beauty mode but unlike OPPO's Beauty mode in their smartphones, OBSBOT offers a subtle and natural approach so you don't look like a doll. Here's an example when the Beauty mode turned off (Left) and on (Right). It manages to reduce my wrinkles and skin complexion.
All these, along with other options can be tweaked further on the OBSBOT WebCam app.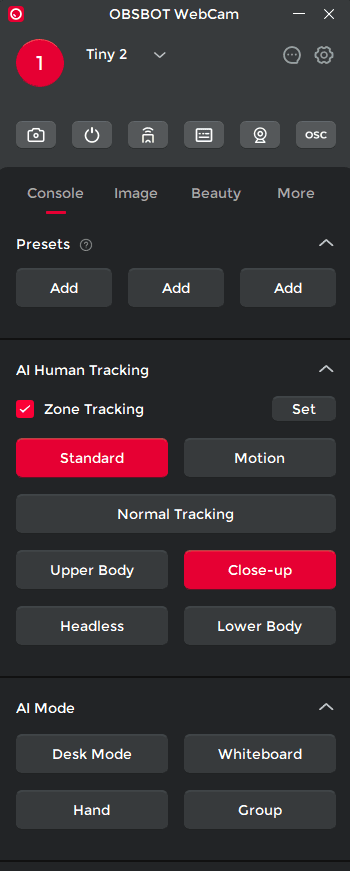 With its Ultra Large 1/1.5″ CMOS, OBSBOT Tiny 2 4K offers a greatly improved dynamic motion capture feature and colour performance. This means you get sharper and more vivid video. Combined with its two native ISOs that can automatically switch in different lighting situations, you can get good quality video in all kinds of environment. The facial tone can be a bit off at times (depending on lighting) but the quality is pretty sharp overall.
There are also other features worth mentioning like Voice Control support, Desk/Whiteboard Mode, Hand Tracking, Zone Tracking, PixGain HDR, Group Mode, Gestures, and more. Make sure to find out more about them on the official product page.
My only complain is probably the short USB cable that comes with the packaging. Even when I have my PC on the table, I find it rather short for a good cable management.
OBSBOT Tiny 2 4K Review Conclusion
The OBSBOT Tiny 2 4K packs a lot of features but they work really well, and offer all kinds of great functionalities. Its features are no gimmicks and not just there for the show. They are pretty well-justified, especially for content creators and advanced users.
The webcam can be positioned in many kinds of different ways too, offers great video quality, is equipped with advanced AI tracking on different body parts, and has an intuitive privacy/sleep mode that I really like.
Sure, the included cable is rather short and the built-in microphone is so-so but most people probably wouldn't be bothered with these.
OBSBOT Tiny 2 4K can be purchased at OBSBOT online store for US$329 and also at Amazon.
Disclosure: OBSBOT Tiny 2 4K review sample was supplied for reviewing
OBSBOT Tiny 2 4K Webcam Review
Summary
This webcam supports 4K resolution and powered by AI with advanced, fast, accurate tracking
Pros
Great design and build quality
Great video quality
Advanced, Fast, Accurate Tracking of different body parts
Packs with other powerful features
Intuitive privacy and sleep mode
Easy-to-use and powerful software
Cons
Short cable
Built-in microphone has a so-so audio quality