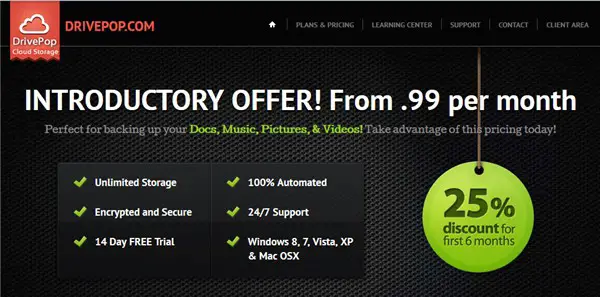 Cheap, unlimited online backup storage by DrivePop – There are times when online (cloud) backups are preferable compared to an offline backup. For example, if you do an offline backup with an external USB drive, you probably won't be doing the tedious work of plugging your drive in and out daily.
With online backups, as long as you have internet connection at home (most of us do), the included application will do the work for us without a hassle. Not to mention that you can sync your backup between different computers silently and make it accessible anywhere online. Most free services give us this option, but with limited storage space.
Now, DrivePop gives that unlimited online backup solution for as little as 99 cents a month with unlimited storage space and bandwidth! You can also win some free unlimited accounts for life here at Craving Tech!
DrivePop plans:
Starter plan: $0.99 a month for unlimited storage, unlimited bandwidth, file versioning (up to 30 revisions), for a single computer.
Family plan: $4.99 a month – the same as above, but can be used in up to 5 computers. Perfect for a household or small business.
Professional plan: $7.49 a month – can be used in unlimited number of computers.
Briefcase (SYNC) plan: $59.99 annually – used to enable syncing between unlimited number of computers
And of course, a FREE Trial for you to give the service a try, before you decide whether to continue on with the service or not. DrivePop gives a FREE 14 Day Trial online backup solution for 1 PC with 512GB of storage space.
With DrivePop by LiveDrive application, you can easily pick the folders to backup: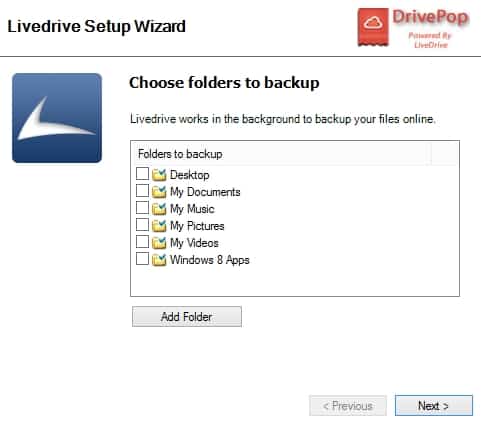 You can backup as many files and folders as you can from your computer. The software will queue the files up for you and upload them in the background. You can set the upload schedule time on the settings, to make sure they don't interrupt what you are doing with your computer.
You can access your files online in your own given URL (subdomain of livedrive.com) once they are transferred. The process is easy and seamless.
Thanks to the unlimited (yes, really unlimited) space offered by DrivePop, you can backup all of your movie production files (they are normally huge) or anything that you like (your photos, documents, data, etc).
Win 5 unlimited backup accounts (for PC/Mac) for a lifetime at Craving Tech
Thanks to DrivePop, Craving Tech has been sponsored 5 unlimited accounts for you to win! Best of all, this is not a 1-year-free account, but a lifetime! Win this and you don't have to worry about having a backup solution anymore!
To have a chance to win this:
Like Craving Tech on Facebook or Follow me (@michaelaulia) on Twitter
Use the widget below the post to earn entries. You will be given a unique URL to this post to share with your friends. Share that URL frequently because you'll earn 1 entry for every visitor to this page through your URL or 5 entries if they join the giveaway as well!
Terms and Conditions:
Eligibility: Worldwide, except for the state NSW in Australia & if your country does not allow such promotion.

Giveaway starts on the 19th of June 8 AM AEST until 10th of July 8 PM AEST

The prizes cannot exchanged or redeemed for cash.

Winners will be contacted and announced on this blog
Participate and Earn Entries through this widget: