iPhone 5s Review – Ahh… where do I start? By now you've probably read tons of iPhone 5s reviews out there and memorised every single new features that Apple introduce to iPhone 5s.
I'll try not to repeat what you can read already on Apple's page and other reviews (such as how to setup the TouchID – the fingerprint sensor thingie) but I'll focus more on my own experience in using the iPhone 5s as much as possible so you can have some new perspectives (especially if you are thinking to upgrade).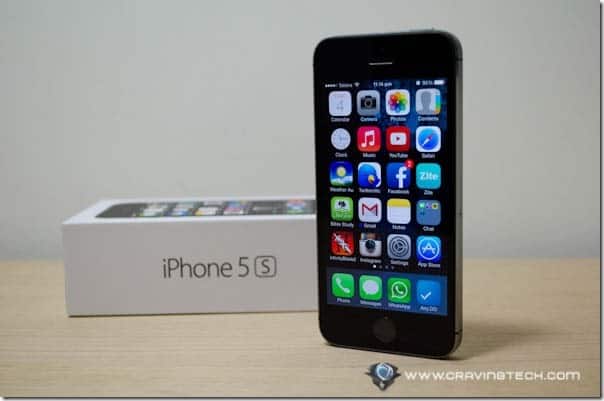 iPhone 5s Review – Design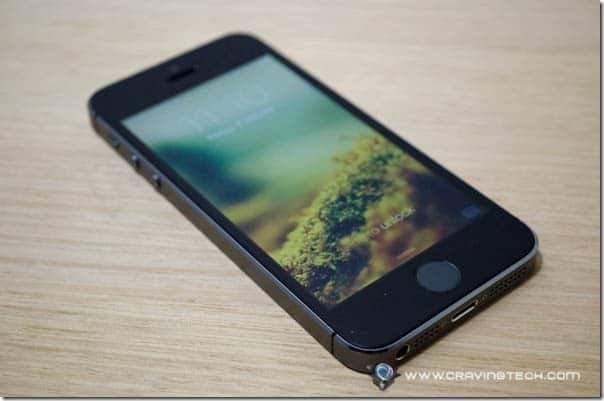 I guess you'd already know by now. The iPhone 5s design has not changed much from iPhone 5. It's a "Don't change what people like" motto, I guess. Though I wish the design can somewhat be a refreshing one or magically blended into the iOS 7 design, I'm still happy with it nevertheless.
Sometimes I wish I have a bigger phone screen (like the Samsung GALAXY S4 or HTC One), but I like how I can use the iPhone 5s with just my right hand alone. Scrolling to read the whole news out of my news app or Twitter feed feels natural and I can comfortably go through different corners of the phone with just my right thumb.
The screen is still as sharp as the iPhone 5 and texts + icons are like sitting on the surface of the screen. In a bright, sunny day, iPhone 5/5s is the only phone (at least that I've ever used) that can display everything sharply without having to cover up the sun light with my other hand.
Apart from the dual-LED flash and home button, the overall appearance is pretty much similar to the iPhone 5. Oh, of course, the new Gold color, but you've probably seen tons of photos and videos of it already. I just want to say that the Space Grey (Black) actually looks better compared to the iPhone 5 Black. The sides look like the good old iPhone 4/4s (in silver) and somehow matches the dark color really well – definitely better in real life compared to seeing it online.
iPhone 5s is supposed to be a little bit heavier compared to the iPhone 5 because of a tiny upgrade to the battery (pretty much insignificant), but you won't feel a thing.
The change they have made to the Home button is also pretty much negligible as the button still has a tactile feel to it.
If you like iPhone 5 then you will feel yourself at home here on iPhone 5s, as the changes are pretty much under the hood. Looks the same, but much smoother, faster, and more powerful.
iPhone 5s Review – TouchID (Finger print sensor and authentication)
In short, this is no gimmick. Shut up and don't listen to the trolls online. I bet 99% of them don't even have an iPhone 5s and mumble that Apple is not doing it first, blah blah blah. Who cares. When Apple does thing, they always do it right (Do I sound like an iSheep? I'm just stating the fact here and that's the reason people queue before the product is even out yet. They know they will not get disappointed). Well, okay, maybe the Apple Map is an exception, but honestly who made it right on the first try? Even Google took years to collect and validate the map data and even Google Maps is not perfect yet.
Back to the TouchID, it does take a few minutes to setup but you'll only have to do it once. After that, it's heaven for you, baby. Goodbye, annoying passcodes (or pattern unlocks if you are on Android). Seriously, even this change itself is worth an upgrade to the phone itself. Previously, I set my iPhone to lock itself in 15 minutes, because I don't want to keep on unlocking my phone every few minutes (to answer chats). Thanks to TouchID, I now set my iPhone 5s to be locked IMMEDIATELY. That itself, increases the security of my phone by tenfold. In 15 minutes, your phone can get stolen and who knows what the thief will do on your unlocked iPhone. Obviously if you never lock your phone, then you can throw iPhone 5s to the bin. Just kidding, it is worth locking your phone, seriously. Especially if you have Twitter, Facebook, a mail app, Dropbox, and other important apps on your phone.
"Immediately" means if my iPhone ever gets stolen, the thieves will get nothing unless they know my passcode or drag my body to unlock it. No, they can't cut my finger away either because TouchID needs a living tissue to work. By the time they hide away in some secluded place trying to hack into my phone, I've already locked it away for good thanks to iOS 7. In iOS 7, once you set your phone as stolen or lost, there will be a message popping up on the screen, notifying that the iPhone has been stolen. It stays there even if the thief resets your phone. Only if they know your iTunes password (which is more than 4 digits of a simple passcode) that they can make it go away. No one will ever buy your stolen phone so chance is that it may reach back to you (ideally)! I've never tested this feature but it's good to know that it's there when I need it.
Unlocking any phone has always been a chore and Apple gives a working solution effectively. It is also faster than having to swipe a screen and enter a 4-digit passcode. It also feels natural because I'd normally take my iPhone 5s out from my pants' pocket, and use my thumb on the Home button to check for any messages/notifications. Within seconds (normally less than 2 seconds), the screen is already unlocked.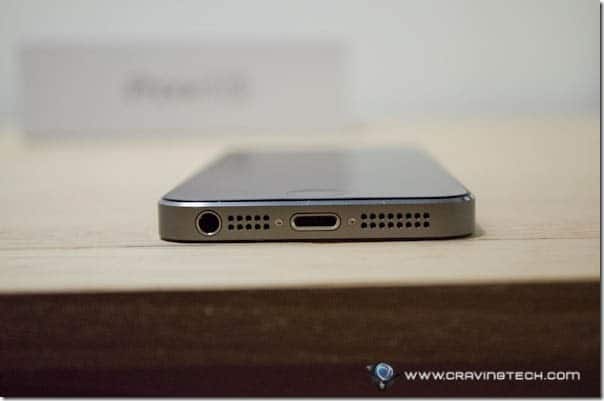 I admit that TouchID does not work 100% all the time in one touch. It depends on the position of your finger on the Home screen but the annoyance is pretty much minimal (only if I rest my thumb on the edge of the button). You can also assign up to 5 fingers (either 5 fingers of the same person or 5 different fingers from 5 different people). It cuts away the annoyance of having to enter your password every time you want to download a new app as well. Love it.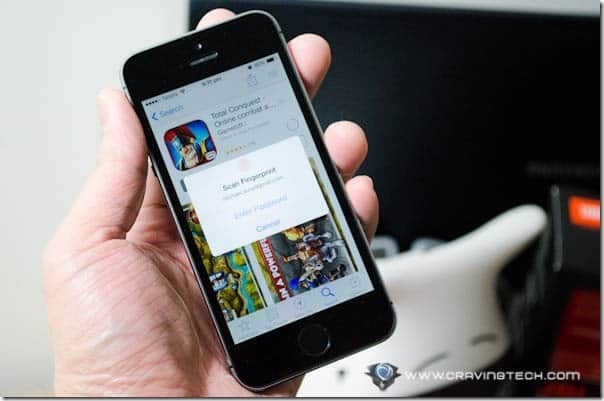 Your finger print data will be stored encrypted, locally (so, don't be scared). At the moment, no apps can have access to this, which is a pity. Probably for security reasons. I do hope Apple can find a way around it and let apps have access without compromising your identity. Would be cool to be able to lock opening specific apps on my iPhone. No more pesky friends posting unwanted Facebook status using your account
iPhone 5s Review – the Beast within
The iPhone 5s also has a brand new 64-bit processor, the A7, and it makes the iPhone fly. Unless you play games or use heavy apps, you may not feel much difference though from an iPhone 5. I did notice that my apps load a few seconds quicker on the iPhone 5s compared to my old iPhone 5 (the apps I tested were OliveTree BibleStudy and Batman: Arkham City Lockdown). iOS 7 is butterly smooth, but I remember it was already smooth on the iPhone 5 anyway.
According to Apple, iOS 7 itself is optimised for 64-bit and there are already apps out there that fully utilise the new processor such as Inifinity Blade III, Twitterific, and there are definitely more to come (don't worry, they will).
There is also the new M7 motion coprocessor that handles all the gyroscope, compass, and accelerometer away from the main processor. The advantage is that this will save battery because going for the main processor frequently takes a bit of power (other smartphones do this). From the official post I read on iOS 7, Apple also take advantage of the M7 to even further reduce battery life by monitoring what you are doing at a point in time. For example, if you are driving (moving fast), the M7 knows that and it will stop pinging for Wi-Fi. Or when you go to sleep, it reduces network pinging to save battery. I'm sure there are more. It's a pity Apple doesn't give the whole complete list on what the M7 can do to awe us. If I left my iPhone 5s at 100% around midnight, battery seems to stay at 100% about 7-8 hours after. Awesome, eh?
More fitness and health apps will be able to take advantage of this so you don't need to get yourself those sport bands or a pedometer anymore. According to Argus Motion and Fitness app developers, the app normally ate away about 20% of your iPhone battery life daily for monitoring and recording your steps. With their latest update that utilises the iPhone 5s M7 processor, the app can take advantage of what M7 has recorded, without any battery loss! The M7 records up to 7 days of your activity (such as the number of steps you have made) and apps can retrieve this information easily. There might be more stuffs that Apple will open up in the future to make more powerful apps, but we'll see.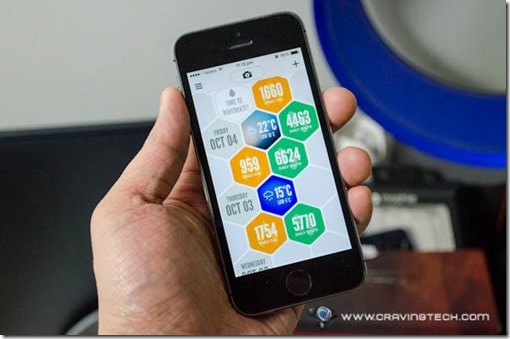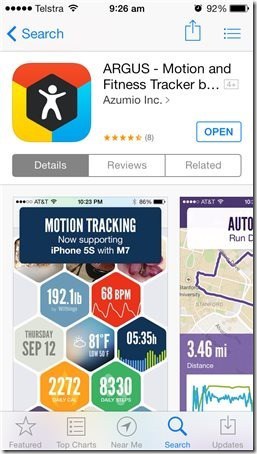 iPhone 5s Review – Camera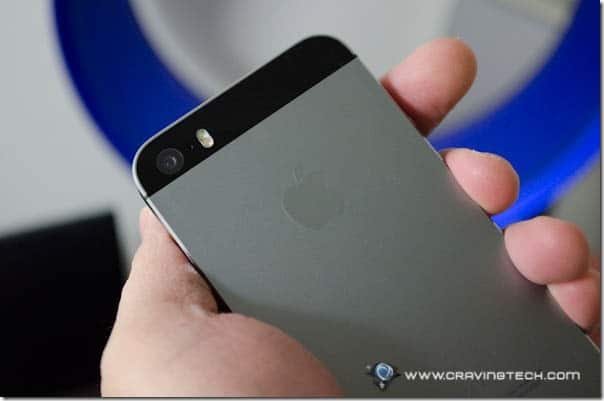 The camera itself gets an upgrade as well, allowing you to take even better pictures. I'll not go into the technical details about the changes but suffice to say, it's better than the iPhone 5 camera. Outdoor images look sharper and do not suffer so much under a low light condition. It is still not as good as HTC One or Nokia Lumia 1020 obviously, but it's still a great smartphone camera to behold. No more purple lens flare as well here, hooray!
I haven't done a lot of tests on the dual-LED "True Tone" flash unfortunately, but on the few tests I tried, I did find the color on the photos are quite natural. I still like taking pictures without flash but if I ever need one, I'm sure I'll love the True Tone flash.
The slow mo feature is also quite fun and the interface is intuitive. I did have a lot of fun trying this new feature out with a bunch of friends. It's not something that you'll use every day, but when the occasion comes, it will certainly bring a smile on your face. I'll try to upload some slow-mo videos I took with iPhone 5s later and update it here.
The burst mode is plain crazy as it allows you to take up to 10 photos per second. It's perfect for taking shots of your pet or toddler – making sure that you don't miss that funny moment. Burst shots will be bundled together so it won't clutter your Photo Roll. Feel free to pick the one you like and save it.
There are also behind-the-scene technologies that Apple make to make sure that you get the best possible picture by combining multiple shots behind the scene into a single photo (you won't notice this).
Here are some shots with the iPhone 5s camera (all photos are not edited – just cropped)
Without TrueTone flash:
With TrueTone flash:
I also wrote my Battroborg review with photos that were taken entirely with my iPhone 5s. Feel free to check it out.
iPhone 5s Review – iOS 7
On second thought.. nah, I won't talk about iOS 7 here.
iPhone 5s Review – Conclusion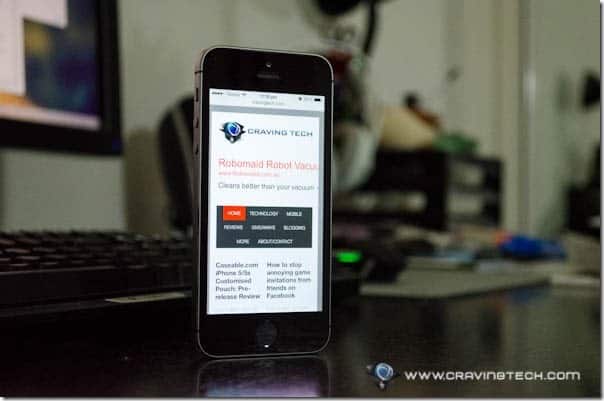 iPhone 5s
Michael Aulia
"But, Apple doesn't innovate with the iPhone 5s. It's the same thing." – Really? With exactly the same dimension, Apple manage to squeeze a brand new powerful processor that is faster than any other smartphone in the market at the moment (just Google for the benchmark results), an improved camera sensor, and a brand new finger print sensor (that definitely sucks power and requires a fast processing time to make it efficient) without sacrificing battery life. It's true that the battery life is not something to be proud of (iPhone 5s roughly has the same battery life as iPhone 5) but in my experience, I can always manage to get it through the day with 40-70% of battery life left.

Apple iPhone 5s is definitely the best iPhone at the moment. It has all the things that people love about their old iPhone, and more. Apple has also set the standard for the future with the 64-bit processor (will have to wait until developers update their apps for 64-bit support for even better performance in their apps) and seamless finger print authentication that only takes a couple of seconds and accurate.

Is iPhone 5s the best smarpthone in the market? Yes, and no. It doesn't have a large screen and it cannot shoot in crazy low-light condition like the Lumia 1020. However, it does what it can and it does them in the best way possible. Seamless, intuitive, smooth, fast.

Is it worth to upgrade from iPhone 5 to iPhone 5s? Yes, if you have the money. Okay, a better answer: if you take pictures often with your iPhone, if you are the type who locks your phone, and if you want the smoothest and best experience in an iPhone possible.
Disclosure: This iPhone 5s review is not sponsored at all. I bought the phone with my own money and I have also used Android and Windows Phone smartphones for many months. So yeah, I know the good and the bad of all OS.
[AMAZONPRODUCTS asin="B00F3J4B5S"]