After my previous experience trying out the customised iPad cover by caseable, I immediately jumped at the chance of testing caseable's new product range: caseable's smartphone pouch.
The one that I am reviewing is for iPhone 5, which is also compatible with iPhone 5s.
The iPhone5 pouch from caseable has similar look and feel as of the iPad case I reviewed a few months earlier, with minor differences. It is made of a cotton-like fabric for the front customised side, the leather-like material for the back and the inside linings, with the two connected with the elastic bands on the sides and bottom.
As I expected, the stitch linings are quite neat.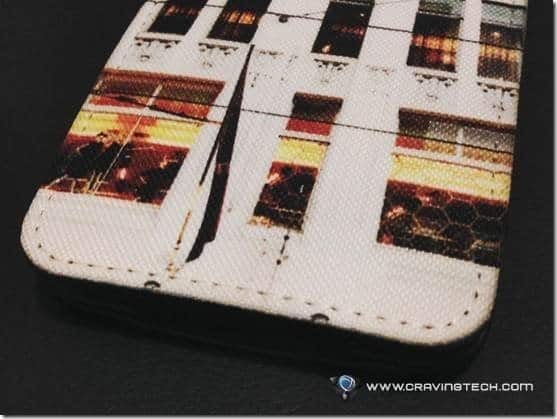 As a pure pouch, it has very limited function that supports its smartphones. The design for iPhone5 pouch doesn't seem to take into account the button placements. When fully immersed into the cover, the charger plug is inaccessible and the volume buttons are covered by the elastic band (although you can still press them over the band).
There's still access to the silent button on the side, headphone jack and slightly covered speaker at the bottom, and of course the power button at the top.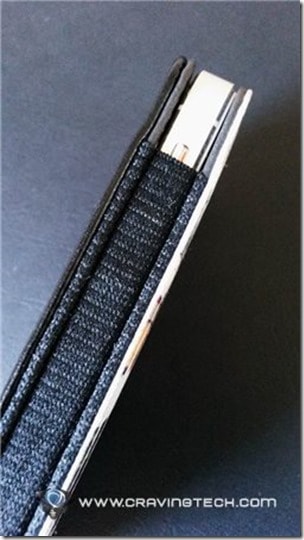 Putting in and taking out the phone is not as smooth as I would expect: it is a little bit coarse. It takes a little push to have the phone fully immersed into the pouch. Since it is a tight case, it is perhaps impossible to pull your phone from the pouch with your fingers. Even pushing it from the bottom won't give you enough phone exposure to pull the phone out of the pouch. The only way is to use the pulley located on the back to help pull just enough section out the phone for you to fully pull out the phone.
In regards to wear and tear, perhaps my main concern would be the front fabric which will easily gather marks after a prolonged used (although you can always trick your eyes by using darker images when customising your case).
The pouch that I received has a tiny mark inside the pouch that when I tried to remove it tore a small section of the leather-like material where the mark was on.
Overall, I would say that the quality of the pouch is still very good compared to any other customisable phone case I have ever seen and/or tried. It would certainly last a few years before you move on to your next phone.
Customised caseable iPhone5 pouch and other pre-designed pouches are now available for purchase at caseable.com
Disclosure: iPhone 5/5s pouch case review sample was sponsored by caseable. Opinions are 100% mine