Samsung GALAXY S4 Review – Thanks to Telstra Australia, I was invited and sponsored to attend the Australia's Samsung GALAXY S4 official launch in Sydney Opera House last week.
A Samsung GALAXY S4 phone was also given to me so I could get a head start in trying and reviewing it out during the launch and beyond.
So here are my thoughts and opinions about the Samsung GALAXY S4.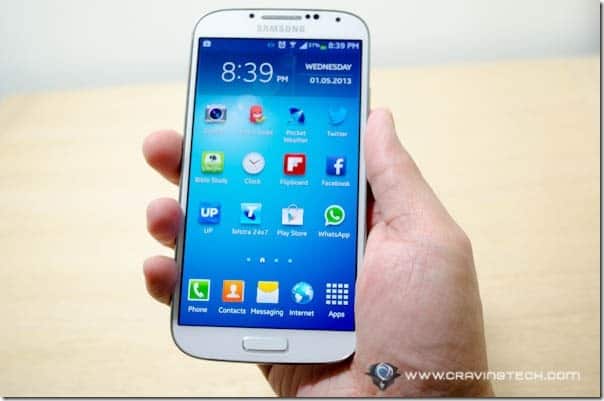 Samsung GALAXY S4 Review – Design
At a glance, the Samsung GALAXY S4 does not look much different than its predecessor, the Samsung GALAXY S3. Though this may disappoint many Samsung fans, the S4 design is actually a refinement from the S3 and feels different.
In short, the S4 looks squarer compared to the S3, has larger screen, slightly slimmer, slightly less heavier, and a few minimal hardware surface changes (like the shape of the Home button and the location of the phone speaker). The screen is also closer to the edges of the phone (larger screen without sacrificing the size of the phone), but thankfully without giving away accidental touches or presses.
Overall, the design feels solid, even though Samsung still chooses to use plastic as the main material for the phone. I do like the metallic edges around the phone, which give the phone a nice, distinct look. Somehow, S4 has a slightly more premium look and feel compared to the S3.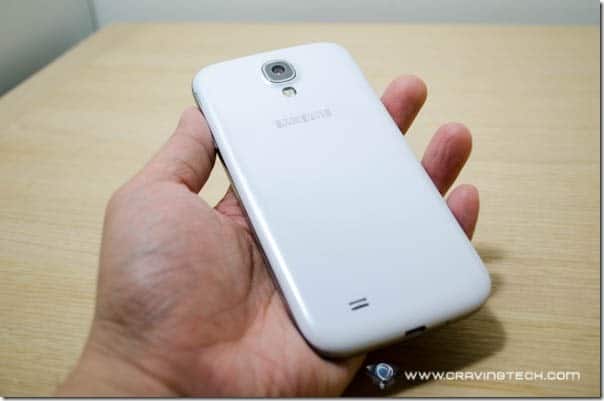 However, unless if you go up close & personal, people may not notice that you are actually using an S4. That is, of course, until you've started waving over the screen to scroll between pages. More on this later.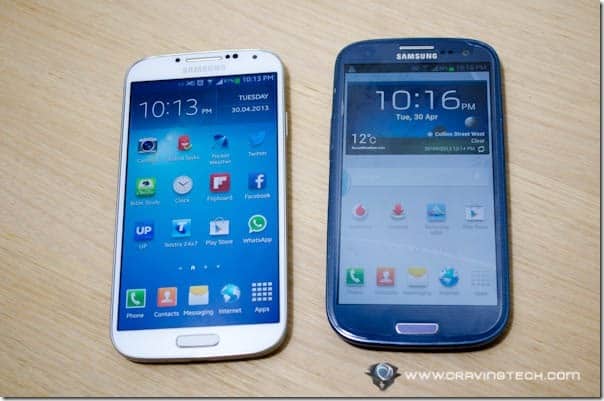 Samsung GALAXY S4 Review – Features
Gorgeous Display
Samsung GALAXY S4 screen is simply gorgeous. The colors are vibrant and everything looks sharp. Watching videos on the GALAXY S4 is simply a blast.
The S4 is powered by a Full HD Super AMOLED display with the resolution of 1920 x 1080 and 441ppi. If you don't understand what this means, don't worry. Screen is gorgeous and sharp, that's all you need to know. If you love the GALAXY S3 display, then you'll love the S4 even more as it is sharper and better.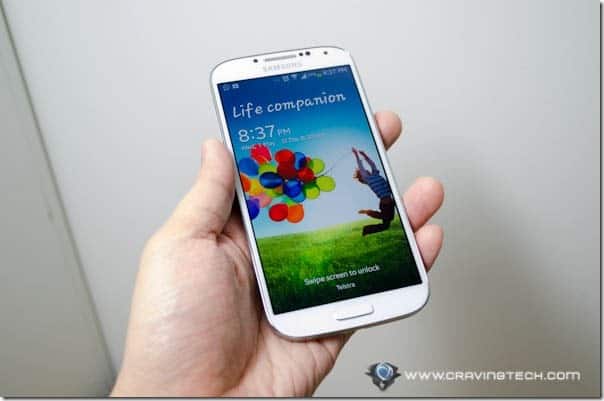 If "bigger is better" is your policy, then you'll love Samsung GALAXY S4's 5-inch screen; which is not as big as the GALAXY Note 2 that I reviewed some time ago. In my experience though, it's still a bit tough to use with one hand. Every time I need to access the top left corner of the screen with my right thumb, I have to jiggle the phone a bit. It's kind of dangerous to do this frequently as the phone may accidentally slip out of hand. The plastic material is also a bit slippery, so you may want to add in a case to increase the grip factor, or replace the back plate of the casing.
Though it has a gorgeous display, the screen visibility is quite poor under direct sun light.
Fast and snappy
The one I have is powered by the 1.9 GHz Quad-Core Processor (Australians do not get the Octa-Core). However, the Quad-Core Processor already gives a snappy performance so you honestly shouldn't be bothered complaining if you can't get the Octa-Core version (not to mention that it'll suck more battery). The latest Android 4.2.2 comes preinstalled.
The phone also has a 2600mAh battery, which provides plenty of juice to go through the day (or two) with regular usage (browsing, tweeting, made a couple of short calls, and chatting via Whatsapp).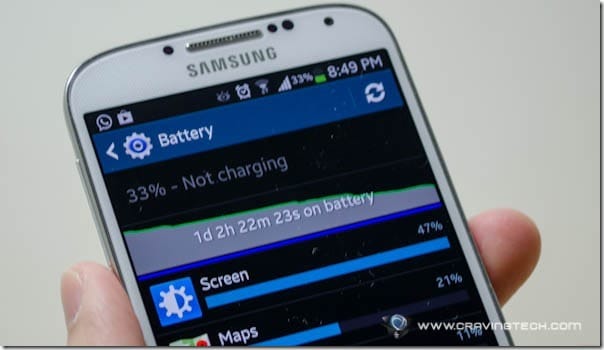 Camera
The S4 rear camera is a 13 Megapixel camera and take better shots compared to the S3. Like the S3, however, it takes half a second or so to snap a picture after you press the Camera shutter button (or is this Android's problem?).
Here are some photos shot with the S4 (untouched):
Low light photos:
Unfortunately, the S4 camera suffers when shooting in a low lit condition. The pictures come up as grainy with significant amount of noise and somewhat dull. On the other hand though, shooting in broad daylight is where the S4 camera shines (I was using the "Auto" mode when I took these shots).
Sample video recorded with the S4 (from the Australia's official launch event in Sydney Opera House):
Bunch of camera features
There are plenty of built-in features on the S4 to make shooting photos fun; Dual Shot (take both pictures from front and rear camera at the same time), Drama Shot, Best Face, and more. Most of these slick features can be achieved through apps, however, but if you don't like doing any photo editing work, then these built-features are excellent to have.
Even more features
Honestly, there are tons of features that I can't explain and discuss one by one in this GALAXY S4 review post (I haven't even mentioned the whole 9 built-in sensors, built-in IR to transform it into a remote TV, etc). You can read about the features yourselves over at the official Samsung GALAXY S4 page. In my opinion, however, the amazement wears off after a while and I actually end up disabling some of the features out. So practicality wise, it depends.
For example, the Air Gesture allows you to motion your hand on top of the screen to scroll and flip between pages. I can imagine the situations when your hands are dirty, yet you want to continue on reading a page. Or perhaps you are busy preparing and cooking, so your oily hands need to scroll down on a recipe page. As cool as this may sound, it stops there. What if you want to move to a different URL? Or what if you need to type down a new search? Go to a new link? In the end, you'll still have to press and touch the screen with your dirty hands. Though answering calls with a gesture will definitely come in handy.
The Smart Pause (auto pause video playback when you are looking away from screen) is also a hit and miss. It requires a room with plenty of lighting and does not always work. The same goes with the Smart Scroll (scroll pages up and down with your eyes). In the end, scrolling with my finger works faster, better, and at times where I want it to scroll (if Smart Scroll is on, the screen tends to scroll when I don't want it to).
The Air View is quite useful because now you don't need a Note 2 stylus in order for it to work. You can hover your finger on a speed dial to quickly see the contact saved on that speed dial, or through a video to find a specific scene quickly. In some cases, it is simpler to just press an action and go back, rather than having to use the Air View.
Note that not all of these features work in every app you have on the phone. For example, you cannot use the Smart Scroll (with your eyes) on Chrome or Whatsapp.
S Health
I really love this one, I do. The GALAXY S4 comes with a built-in pedometer that track your steps (which I find to be highly accurate). The phone also comes with the other tracker apps such as calorie and exercise tracker. These normally comes when you buy a product like the Jawbone UP I'm reviewing, but Samsung manages to include the pedometer and the apps integration in one.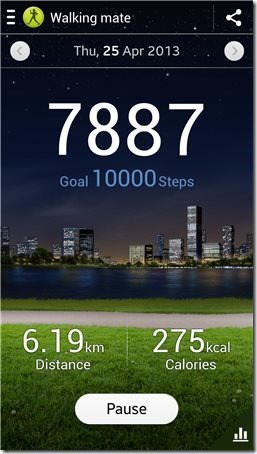 4G
The GALAXY S4 supports 4G connection and it flies. Under Telstra 4G, I got around 37Mbps download speed at the Sydney airport and 19Mbps in Melbourne CBD.
Plan starts at $73 per month (on the "S" plan) to $130 per month (with unlimited calls to any network). I'm currently on their $30 pre-paid (which includes unlimited talk to any network between 6 PM – 6 AM).
To find out all available Samsung GALAXY S4 plans at Telstra, make sure to head off to their page to find out more about your cap + features.
Samsung GALAXY S4 Review – Conclusion
Samsung GALAXY S4 is definitely the best Samsung phone at the moment, thanks to the gorgeous display, snappy performance, best camera quality, and tons of features that you may or may not use. Thankfully, these individual features can be disabled via the settings if you are not a fond of them (Samsung adds a UI layer called the TouchWiz on top of the stock Android).
Once the cool factor wears off though, you'll still be left with a solid Android phone with gorgeous display and solid feel, a refinement from the predecessor Samsung GALAXY S3.
Disclosure: Samsung GALAXY S4 review unit was sponsored by Telstra & Samsung