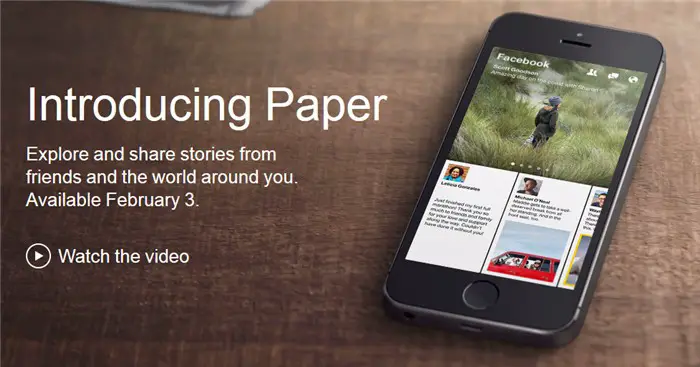 Facebook is officially releasing an app called "Paper". You can think of it as Flipboard for Facebook on iOS7 steroids. It's what Facebook app should have been on iOS7 (not that I'm complaining about the current Facebook iOS app). Facebook Paper explores all the "stories" on your Facebook news feed and transform them into elegant, fancy e-papers.
Just like Flipboard (and I hate using the term as if they are the same thing), the app will compile all the news feed on your Facebook and make it into a really elegant, beautiful reading format. Interactions are really intuitive and definitely take advantage of iOS7's awesome libraries.
For example, tilt your iPhone to view the whole photo shared by your Facebook friend and also the usual trick, flip the screen as if you are reading a real newspaper or magazine to read the next pages.
You can also explore categories of your interests, which makes Paper more like a news/stories app than a Facebook app. It does not limit you from just seeing your Facebook friends' posts. However, saying that, you can also treat it as a Facebook app as you can actually post a Facebook status update and share photos from it.
Here is the Facebook Paper official video:
Confused? Don't be. Give it a try, at least. No, not now. Facebook has not released it just yet but the good news is, Facebook Paper will be available on iOS early next week.
How about a Facebook Paper app for Android and Windows Phone, you asked? There isn't one planned as far as I know at this stage.
Check out Facebook Paper.