Edifier Luna Eclipse e25 Speakers Review – Edifier makes great and unique looking speakers like the Edifier Spinnaker that I reviewed some time ago at Craving Tech. Design seems to be one of the most important factors to Edifier when making speakers that look and sound good.
But if the looks of the Spinnaker are not your cup of tea, then the Luna Eclipse's design may suit better.
It has a more traditional bookshelf-speaker look, but has a much more elegant design and looks really good on the desk.
Edifier Luna Eclipse Review – Packaging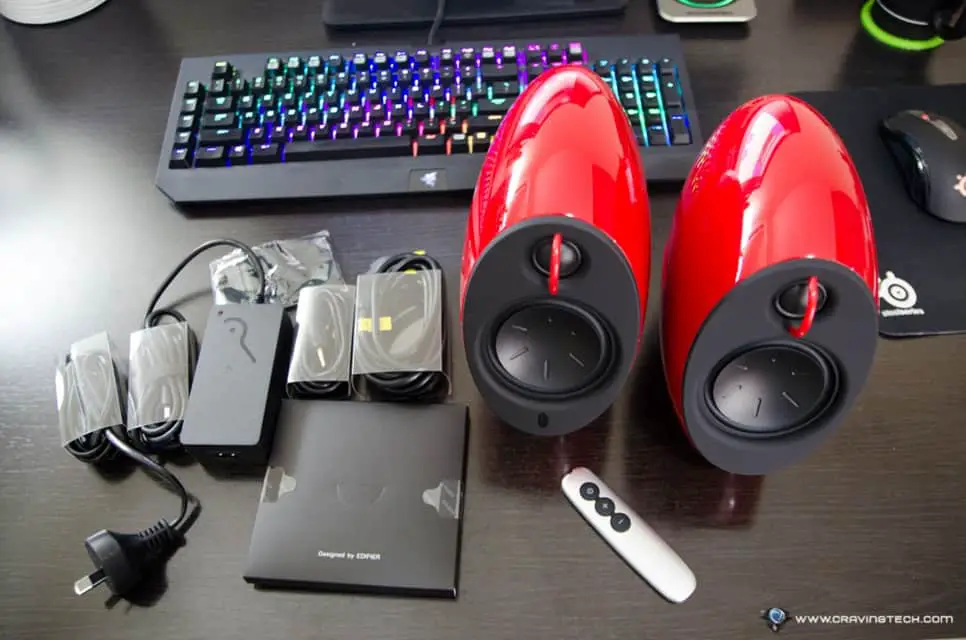 The speakers' connecting cable is long, making it flexible to place the speakers on a wider TV table, or when you have to place them on separate shelves.
A 3.5mm to 3.5mm audio connecting cable is included in the packaging which also has a good length. I can hook the cable from the Right Speaker unit to my desktop PC below my desk on the other side without problems.
Edifier Luna Eclipse Review – Design & Features
The Edifier Luna Eclipse e25 takes the look of ordinary speakers design into extraordinary. The speakers look sexy and striking where ever you place them on and add a great aesthetic value to the room they are in. I really love their Red models (the review sample I have here) which match my black wooden desk really well. They also have the units in White and Black if you are not a fan of Red – but it'd feel like buying a Ferrari car and not opting for a Red one.
The glossy finish makes the color pop and shiny, though you have to be careful not to scratch the surface while you set them up. Set up was easy and the lengthy cable offers a good cable management.
On the side of the Right speaker unit, touch-enabled controls are there to turn the speaker on/off, adjust the volume, and even change tracks through a swipe gesture. The controls work quite well and cool to perform, but I rarely use them because I hook the speakers to my computer through the 3.5mm audio connection. I usually control everything through Windows so I barely touch them.
If you hook the speakers to your TV or place them on the shelves, Edifier has also added a handy, tiny remote control to control the Luna Eclipse from any cover of your room. So, most likely you won't be swiping your fingers here and there too often.
Edifier Luna Eclipse supports Bluetooth connection so you can stream music wirelessly from your smartphone or tablet. Switching from Bluetooth back to Aux (3.5mm input) requires a disconnect from your device however, as there is no button on the speaker unit to toggle between the two. Also worth to note that I could notice a drop in audio quality when switching to Bluetooth.
The speaker drivers are purposely left exposed for your eyes to feast on, especially when you ramp the volume up:
Let it shake! – @edifier_global Luna Eclipse #speakers pic.twitter.com/O5pnniB4kP

— Michael Aulia (@michaelaulia) April 29, 2016
The speakers can handle loud volume well without any noticeable audio distortion. Overall, however, don't expect them to be able to output a deep, strong Bass, because Luna Eclipse does not have a dedicated Subwoofer.
The low frequency is not a disappointment, but I find that it's a bit lacking in power at lower volume (i.e, the Bass is slightly noticeable at a mild, soft listening volume level). The Spinnaker could counter this by having downward firing Bass drivers, but then again, you probably will not be listening to Bass-heavy songs at a low volume level anyway. The Bass is more of a warm-sounding than a strong, thumpy one.
The Lune Eclipse is great for a small (and maybe medium) room but just do not expect it to be your main sound system for the entertainment room to watch movies and stuffs.
Edifier Luna Eclipse Review Conclusion
The Edifier Luna Eclipse e25 has great looks, controls, and audio for music listening, gaming, and watching videos. The Bass is worthy to mention, but does not feel as strong as what I thought it would be. Note that these are considered as somewhat small speakers without a subwoofer, so you should not expect a lot. However, do check out my tweet I shared earlier on this post, it may give you an idea of the sound it outputs.
The eye-catching, aesthetically pleasing design makes the Edifier Luna Eclipse great for a Desktop/PC-Gaming setup. It doesn't require a lot of space on the desk and also performs admirably well in the sound department.
To get a hold of one for yourself, go to Edifier Luna Eclipse e25 official page.
Disclosure: Review sample was supplied for reviewing but all opinions are mine and not paid