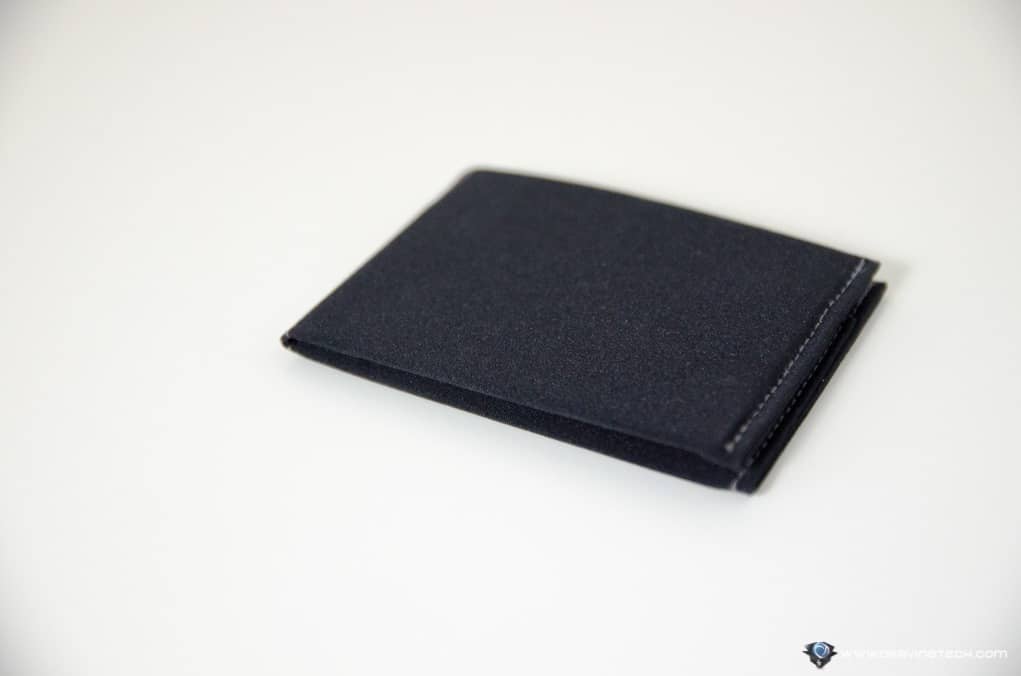 I'm not a fan of big, bulky wallets – especially the way they feel inside my pants' back pocket when I'm sitting down. I also try not to have more than 4 or 5 cards in my wallet (I store all my non-essential cards on the phone with an app like Stocard).
If you are looking for a slim wallet and have a lifestyle like I do, you might be interested in this slim SlimFold MICRO Soft Shell wallet.
The wallet is made with a very strong soft shell material originally created for use in motocycle wear (which has been subjected to about 110 km/hour crash tests). In one word: super-strong.
It felt weird at first as my fingers touched the rough and textured surface on the SlimFold MICRO Soft Shell (I'm used to touching leather wallets). The material is also waterproof and machine washable.
Coloured stitches (available in different colours) give it a unique pop though it's not as neat as I want it to look:
The SlimFold MICRO Soft Shell can hold around 8-12 cards but they will need to be inserted in few different pockets (and 12 might be pushing it too much, though still possible). The pockets' edges are soft and give a tight fit to the cards. As a result, however, it may take a few tries to slide the cards back in.
Australian cash notes are supported (even though the page does not say anything about it) and also supports US, Canadian, Euro (up to 20€ without folding) and Pounds (up to 10£ without folding).
If you are in the market for a super-slim, durable wallet, the SlimFold MICRO Soft Shell should not disappoint. However, it feels as if it's made for practicality than a stylish-feel. For that, nothing can beat a leather wallet. I personally find the MICRO is.. micro. It's great if you are not used to carry lots of cash and cards, but if you do, you may want to look at their Original model instead.
Feel free to use a special coupon code: CRAVINGTECH15 at checkout for 15% off of your entire order!
Disclosure: A sample was supplied for reviewing but all opinions are mine and not paid