Dyson Groom Review – Another smart design from Dyson hits the spot! Grooming your dog can be a tedious task at times. The last step, where you need to clean your dog groomer is probably the most irritating and unhygienic step that you need to take.
Since grooming your dog is inevitable (unless you really hate your dog), Dyson has come up with new tool for dog owners to make life simpler: the Dyson Groom!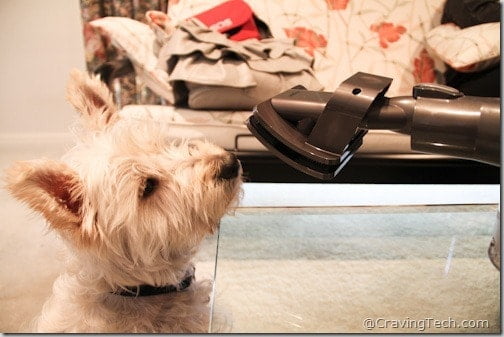 I don't own a dog unfortunately, so I had a friend who helped me out to test and review the Dyson Groom together. Her dog's breed is West Highland Terrier, named Poochie.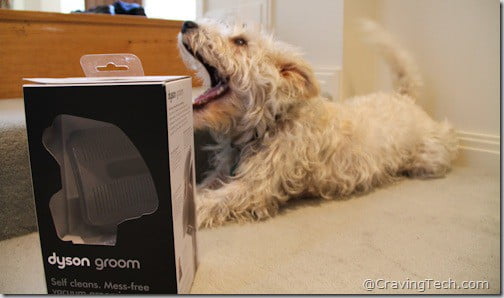 Poochie does not have long and thick hairs like a Golden Retriever but Dyson Groom works well for medium haired dogs too.
The Dyson Groom is actually an attachment and compatible with most Dyson vacuum cleaners.
I tested it with the Dyson DC35 Digital Slim for this review (although I should have brought my Dyson DC22 to make it easier). The Dyson Groom design hides the slicker bristles away when not used (by giving a pressure on the top part of the Dyson Groom), keeping it hygienic and safe from your kids or any unwanted "poking" accident.
By controlling the slicker bristles using your thumb, you can adjust the amount of pressure used when you groom your dog (depends on the length of your dog's coat). The spring requires some amount of pressure though so if you have to groom your dog for quite a while, it can get a bit tiring. I'd have hoped that there is a "locking" mechanism so you can choose an amount of pressure and lock it in.
Poochie wasn't too comfortable at first when the vacuum was turned on while my friend groomed him. Thankfully, with the help of a treat and a few tricks, he was able to lie quietly while my friend glide the Dyson Groom through.
It was a bit hard to do it with the DC35 because 2 hands were needed (one hand to keep the vacuum cleaner on and the other to make the bristles come out), so it's recommended to use the non-handheld ones with the Dyson Groom.
Video of the Dyson Groom in action:

If you are worried that your dog may not like the sound of a vacuum cleaner near him, there are tips that you can follow at Dyson's website on how to get your dog to get used to the sound of vacuum cleaners. This way, you can keep on grooming the dog while hairs are being sucked away at the same time. Previously, you might have to clean your groomer first before you could continue grooming your dog!
You can also use the Dyson Groom on its own just like your ordinary groomer (without attaching it to the vacuum cleaner). Then when you need to clean it up, attach it to your Dyson vacuum cleaner and suck the hairs up. Even if you don't own a Dyson vacuum cleaner, you can still clean the hairs easily compared to cleaning a regular groomer.
The design is really clever. When you retract the slicker bristles, all the flyaway hairs from grooming sticks onto the Dyson Groom's surface. Turn the vacuum on, and the hairs were quickly sucked away through the hole on the center. At the end, you only need to wipe the surface with a damp cloth or wet tissue before you store the Dyson Groom away.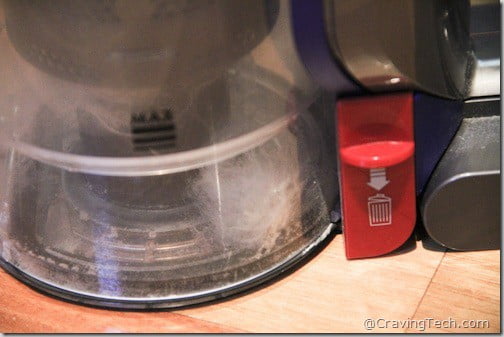 The design also helps capturing dead skin cells from your dog's coat as you can see from this picture from the official product page:
Dyson Groom Review Conclusion
The Dyson Groom attachment takes grooming to a smarter and more hygienic level. By applying different pressures, the Dyson Groom works on all medium to long haired dogs so if you have more than one dog, one Dyson Groom is all you need. The Dyson Groom also brings fun to grooming chores and removes the irritating part where you need to clean your groomer later or during the grooming process.
The smart design allows any flyaway hairs to stick on the surface when the slicker bristles are retracted, to be vacuumed away easily. While stored, the slicker bristles hide away from view, keeping it safe from your kids (and your dog).
If you think that your groomer can handle the job well and you don't mind cleaning your groomer afterwards, then you may have to think twice whether you want to get the Dyson Groom. If you groom your dog quite often though or have multiple dogs to be groomed, you really want to consider in getting the Dyson Groom!
The Dyson Groom definitely makes grooming more hygienic, fun, and efficient by capturing more hairs and dead skin cells with the help of a Dyson vacuum cleaner. A healthy dog, a healthy environment at home, all thanks to the Dyson  Groom.
Unfortunately, the Dyson Groom is not for short-haired dogs such as Biskit here:
Note: Sample provided for the review. Photos taken with Canon EOS 7D.
Dyson Groom Pros
+ Can be used with or without a Dyson vacuum cleaner
+ Suck fly-away hairs and dead skin cells if used with a vacuum cleaner
+ Slicker bristles get retracted when not used, safe and hygiene
+ Really easy to clean
+ Bristle lengths can be adjusted with different pressure
Dyson Groom Cons
– Have to keep on pressing the surface to retract the bristles
– Can only be used on a Dyson vacuum cleaner