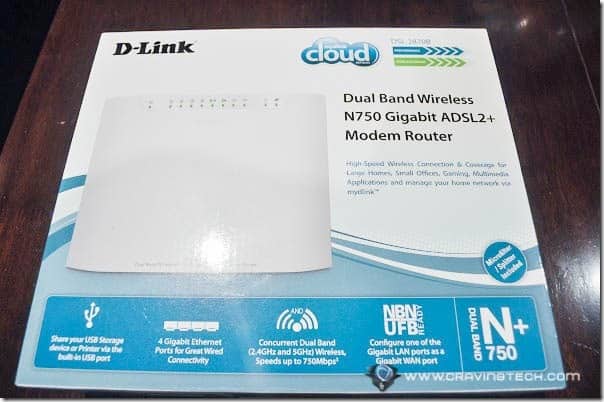 Budget modem router with comprehensive feature – The D-Link DSL-2870B Dual Band Wireless N750 Gigabit ADSL2+ Modem Router is a comprehensive and high performance modem router for home and small office.
It features 4 built-in  Gigabit Ethernet ports for gaming performance, a dual band (2.4GHz & 5GHz) 802.11n wireless access point, firewall protection with parental control, a DLNA server capable, a USB 2.0 port for network storage, and printer sharing and QoS (Quality of Service) for smooth and secure transfer of media files.
The package comes with D-Link DSL-2870B modem router device itself, easy install guide, GPL documentation, a metre of Ethernet cable and phone cable, an ADSL2+ splitter, and power adapter. D-Link DSL-2870B comes with white color, plastic build and it is designed to stand vertically and leaves more space. All LED indicators located on the top front of modem router for easy viewing. It looks elegant as overall.
Simultaneous dual band wireless – combines the best of both types
D-Link DSL-2870B features simultaneous dual band 2.4GHz and 5GHz.  A low interference 5 GHz network radio signal can carry more data (up to 450 Mbps) than 2.4 GHz (up to 300 Mbps), but 2.4 GHz covers more a substantially larger range than 5 GHz networks. In particular, the higher frequency radio signals of 5 GHz network do not penetrate solid objects nearly as well as do 2.4 GHz radio signals. You can have an option to turn either one off by a touch of a button located on back of modem router.
NBN Ready
Not only D-Link DSL -2870B is capable to deliver ADSL2+, this modem router is NBN-ready device. Meaning that when NBN service is available in your area, you can configure D-Link DSL-2870B via one of the Gigabit LAN port as a Gigabit WAN port which enables you to utilize NBN performance.
Easy to setup and power to control/extend
D-Link is a company that provides easy modem router configuration through iOS or Android devices. Download the One-Touch App from App Store or Google Play store and it walks you step by step thorough installation of your D-Link DSL-2870B device. It will scan your available network and the app has an ability to configure/change the router IP address, Wi-Fi settings, and even upgrade your D-Link DSL-2870B firmware without the need of a PC. Quite funky.
Hang on, it doesn't stop here. Download two power user apps from App Store or Google Play: D-Link SmartPlay and mydlink Lite App. Connect an external hard drive or other USB storage drive to D-Link DSL-2870B and let D-Link SmartPlay play media streaming of your videos, music and photos from your iOS or Android devices to a network connected HDTV.
mydlink Lite app lets you control and monitor your network remotely, check current upload/download bandwidth, or manage network security and status. There is a nice feature for parents to gain parental control access to manage what sites your children have visited when you are away. Pair this modem router with a D-Link cloud camera such as DCS-942L (check out our D-Link DCS-942L review) and you can have a live full-screen view video from your cloud camera remotely.
Also if you have the D-Link All-in-one Mobile Companion (check out our D-Link All-in-one Mobile Companion review), you can use it as a signal repeater to extend your Wi-Fi coverage.
New firmware – upgrade now
Some users reported that they discovered performance drops in D-Link DSL-2870B. Thankfully, D-Link has managed to release a new firmware device to fix this issue. So if your firmware version is v1.01.24, it's really recommended to update yours to v2.00.00 (the latest revision by the time this article is written). This update can be found in their product webpage or by running the update from One-Touch app.
You may find that wireless-AC will soon be the next stage of wireless technology which covers larger area and speedier. However, price wise, logically it will be higher than the current wireless-N which is common in the market.
D-Link DSL-2870B will be an excellent choice for you who are looking for a 2-in-one ADSL2+ modem and router, yet has future proof feature: NBN ready.
Disclosure: D-Link DSL-2870B review sample was sponsored by D-Link for the review