Tt eSPORTS DRACCO Captain gaming headset review – Tt eSPORTS, one of the leading gaming peripheral manufacturers, announced the DRACCO Captain gaming headset a few months ago in Taipei. Some of their high quality gaming peripherals that I've reviewed recently are the Level 10 M Gaming Mouse and the Meka G Unit gaming keyboard.
What makes the DRACCO Captain gaming headset special is the collaboration with Aleksey "White-Ra" Krupnyk, a professional gamer that you may know to make this headset.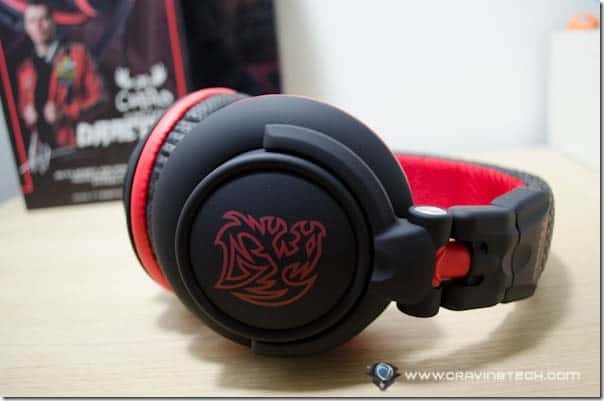 Tt eSPORTS DRACCO Captain gaming headset review – Unboxing video
Tt eSPORTS DRACCO Captain gaming headset review – Packaging
Tt eSPORTS DRACCO Captain gaming headset review – Design & Features
At a glance, Tt eSPORTS DRACCO Captain gaming headset looks quite enticing. Its sturdy material covered in black and red shows the resemblance of Tt eSPORTS logo and theme. One thing that I didn't expect before, is the weight of the headset from the moment the package arrived on my desk. The headset does not look as heavy as it may look. Despite of this, however, the headset itself is quite sturdy.
The over-the-ear design gives you the best isolation from the outside world so you can immerse yourself in the game. The ear cups are soft and comfortable to wear for a period of time. I was testing the headphone for hours of gaming and music listening at one time, and didn't feel any discomfort (note that I was testing this in Winter, so I may need to re-test this again in Summer to see how hot my ears can get). This feeling of comfort is also supported by the lightweight design of the headphone (some headphones are pretty heavy to wear). Its headband also has a light padding for an extra comfort over the top.
There are no steps, so you can extend the headband to your liking to perfectly fit the size of your head.
The microphone boom is bendable for the perfect positioning of your choice and can be tilted up or down. I tend to breathe heavily (which does not normally translate well to my teammates) so having the flexibility to adjust the microphone boom is a total plus here.
Volume adjustment can be done via the in-line control box, where you also have access to mute the microphone quickly with a switch.
A 3-metre-length cable makes me happy because I can plug the headset all the way to the back of my CPU case, located beneath my desk.
The DRACCO Captain gaming headset can also be folded for portability and has its cable unplugged.
A soft carrying bag is also included in the packaging. It is clear that the headset is made specifically for gamers who like to travel with their favorite gaming headset or go to tournaments (or LAN parties). Or even if you are a DJ or sound mixing person, because you can carry this headset easily with you (though the microphone would probably be useless in this case).
Tt eSPORTS DRACCO Captain gaming headset review – Experience
Thanks to the 50mm speaker drivers, the sound quality coming from the DRACCO Captain headset is superb. It delivers a quite balanced mid and high, with powerful Bass. Whether you are playing games, watching movies, or listening to music, you will definitely be happy with the sound quality of the headset.
Gun shots and explosions come to life in Battlefield 3 and I could even notice a richer environment sound in TERA (an MMORPG), thanks to the headset. The microphone also produces a clear sound when I tested it with my TERA guild friends. This was played in my quiet bedroom, however, so a test on a noisier environment is definitely needed.
What I appreciate the most about the headset is when I was creating a soundtrack CD for the movie we made last year, The Unbroken. I was finalising the songs and doing a bit of sound mixing with the DRACCO Captain. I could surprisingly pick up a few things that I hadn't picked up before (a mumbling voice of our musicians at the end of a song and a spike here and there). The headset has definitely saved us in picking this up before we start producing hundreds of soundtrack CDs!
It is unfortunately not a 5.1 headset, which may or may not be relevant to you. When I tried playing CounterStrike:GO, the DRACCO Captain headset was good enough in helping me out to pinpoint the enemy positions (footsteps and gun fire alike) but if you are already used to wearing a 5.1 headset, you will feel a difference – especially when playing Left 4 Dead 2. However, a true 5.1 headset tends to be bulky with lots of dangling cables or for the virtual one, requires you to install a driver on the machine (which is not possible for gaming tournaments). With the DRACCO Captain Headset, all you need to do is plug 2 cables – for the audio and microphone.
The audio jack to the headphone is a bit quirky though. Sometimes you need to jiggle the jack a bit to make sure that it is in firmly to get the full audio and mic experience. If not, you'll often hear the sound coming a bit muffled (or only coming from one side of the ear cups) or worse, have lots of noisy feedback on the microphone.
Overall, however, DRACCO Captain gaming headset lightweight and elegant design, superb sound quality, and portability will make you happy for hours and hours of gaming and music listening.
Tt eSPORTS DRACCO Captain gaming headset review – Pros
+ Awesome sound quality (50mm driver)
+ Headband can be extended as you see fit (no steps)
+ Microphone boom is adjustable
+ Great for portability
+ Comfortable to wear for hours
+ Looks pretty sleek
Tt eSPORTS DRACCO Captain gaming headset review – Cons
– Not a hard case
– Not 5.1 (if you prefer 5.1 than a stereo headphone)
Disclosure: Tt eSPORTS DRACCO Captain gaming headset was sponsored by Tt eSPORTS for the review
[AMAZONPRODUCTS asin="B00D8M3Q1C"]