To further promote the toy sale they are having at the moment in stores, Dick Smith set up a small fun stand where you could have a play with all the RC (Remote Controlled) toys and to also win them! Though the event is already over, you can still come to the stores to check out their RC toys on sale and also win 5 x $100 Dick Smith voucher through this post!
Dick's Dash was a simple RC car race that you could do over at their stand. The competition was very simple: just steer your RC car away and do one complete track loop. Whoever can do it the fastest by the end of the day will win either a Remote Control Hot Rod (the one I reviewed earlier) or an App Controlled Rover!
When I was invited by Dick Smith to cover the event, I thought it was a real race on the train tracks or something (Easier to say than done, of course – permit, safety, insurance, and the list goes on and on which made it impossible to happen; so, blame me for expecting a drag race to the death).
However, this electric car below actually works and I was told by Charlie, the event manager there, that one of them was actually driving it around earlier. Fun.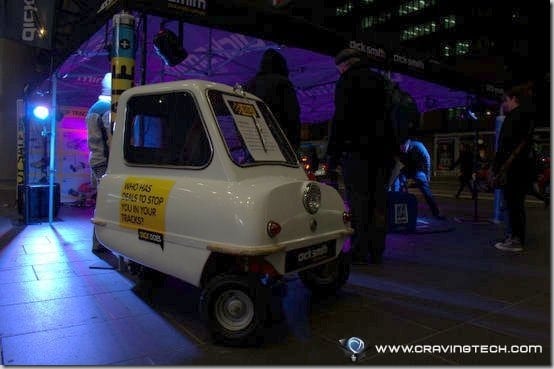 The Dick's Dash event was being held from 4th of July until Friday the 6th at Southern Cross Station, Melbourne.
The guys let you practice for a bit before they recorded your time. I came up the 8th on the board, just one rank below Jubbin from Techin5, bah!
Nevertheless, I had fun and I also had a go with a few of their RC toys.
I was able to try out the Silverlit Porsche 911, an RC Porsche that can be controlled with an iPod/iPhone/iPad by tilting the device away. The control was very responsive surprisingly (via Bluetooth) and it also had cool sound effects when I tilted the iPad up to brake. Feel free to have a browse at Dick Smith's whole range of App based toys if you are interested to maximise the potential of your iOS devices (or to show them off to friends).

I also tried one of the RC choppers (not sure which one, but it wasn't the Black Swann R/C Stealth Helicopter with a built-in video recorder). Was pretty cool too and it was my first time playing with an RC chopper. Melbourne's wind was unfortunately very unfriendly at that time so my phantasy to fly it all across the train station and made a ruckus, fail miserably.
The RC toys were varied and targeted at all age and gender. For macho dudes like us, you can pick the Hot Rod or the BAD Street Jeep Wrangler. If you brought your sons or daughters along, they could drive Mario, Yoshi, or the mini cute Smurfie car.
Though you couldn't purchase these lovely toys there, you could register your interest and ordered one to be picked up + paid later in a Dick Smith's store closest to you. A wide selection of RC toys can also be browsed at Dick Smith's Remote Control Toys section on their website.
Win 5 x $100 Dick Smith Voucher at Craving Tech
Excited about the toys? You should be. How about, having a go at this giveaway sponsored by Dick Smith to win a $100 voucher? (Note: You don't have to use the voucher you win to buy an RC toy if you are not into that sort of stuff)
The top 5 most creative answers to, "Which toy from Dick Smith would the kid in your heart want?" will receive a $100 Dick Smith voucher! Simply answer the question on the comment form below.
Terms and Conditions:
Eligibility: AUSTRALIA only.
FIVE winners will be picked based on the most creative answers on the 20th of July 2012, 9 p.m AEST
Prizes cannot be exchanged for cash and valued at $500 in total.
You will be contacted by email if you win and the voucher will be sent to the address provided by you.
If you are not in Australia, I'd appreciate if you can share this post to your friends on Facebook, Twitter, etc. Cheers