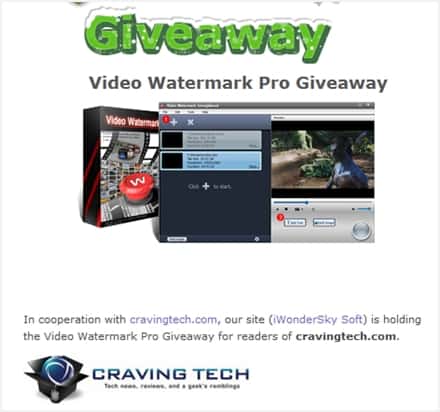 In cooperation with iWonderSky Soft, we are holding Video Watermark Pro licenses giveaway exclusively to Craving Tech readers. There are no questions to answer or winners to be picked this time. Simply go to the download page and apply the license key (worth $34.95)!
With the Video Watermark Pro, you can add cool effects and watermarks to your current video and then export them into different video types to be played on different devices.
Watermarks can be placed in batch, and also in text or image formats. You can accurately control the time and and how you want your watermark to show on your videos.
You can also add and alter basic effects such as brightness, noise, old film, and others too. The software looks simple to use yet powerful enough that allows you to create layers so you can apply different effects to your movies.
So within 7 days, starting from now, you are free to download the Video Watermark Pro and also apply the license code to activate. I was also told that the license code can be used for a lifetime and without any functional limitation. Enjoy!
Download Video Watermark Pro for free now