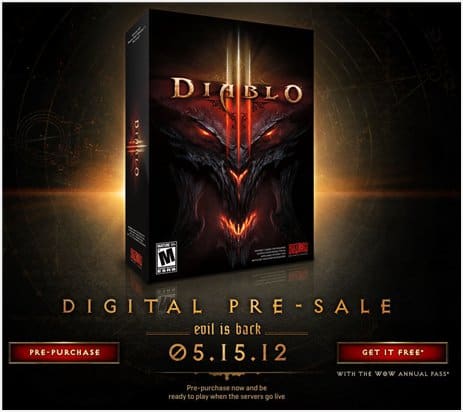 Diablo 3 release date has just been confirmed officially by Blizzard. No more Q1 or Q2 2012 or even their most popular "When it's done" remark. Diablo 3 release date is on the 15th of May, 2012 (of course, assuming nothing bad happens that makes them push the date further).
According to Blizzard's official press release, gamers will be able to buy Diablo 3 at retailers:
…throughout the United States, Canada, Europe, South Korea, Southeast Asia, Australia, New Zealand, and the regions of Taiwan, Hong Kong, and Macau. In addition, gamers in the regions above as well as in Mexico, Argentina, Chile, and Brazil will be able to buy Diablo III digitally via Blizzard's Battle.net® website. Players in the listed Latin American countries and in Russia will be able to purchase Diablo III at local retail locations starting June 7. Digital availability for the Russian version of the game will also begin June.
You can also start pre-ordering now through Battle.net or sign up for World of Warcraft Annual Pass (basically you buy a 1-year pass of World of Warcraft to get a free digital copy of Diablo 3. A good deal if you are still playing WoW).
To find out more about Diablo 3, visit Diablo 3 official website.