Creative ZiiO Review – After the Apple's iPad was first launched, the tablet war was on. Each company tries with different approach on each tablet release, including Creative. The Creative ZiiO is one of the Android tablets available on the market and offers an affordable alternative. It comes with a 7 inch (480×800) and also a 10 inch (1024×768) model, capable of delivering HD viewing on the go.
Does the Creative ZiiO stand a chance against the other tablets? Let's have a closer look.
Creative ZiiO Review
The Creative ZiiO review unit that I got from Creative is the ZiiO 7″ model with an 8 GB capacity (white colored). Note that the screen color looks kind of blue on my photos but in real life, it does not have that blue-ish look.
Full specifications can be read at Creative ZiiO 7″ product page but suffice to say, it has a built-in microphone, built-in stereo speaker, built-in front facing camera, IEEE 802.11 b/g for Wireless, and Bluetooth 2.1 EDR (with apt-X, A2DP & AVRCP).
The Creative ZiiO 7″ itself is quite a small device (compared to my iPad) and can easily be carried in a smaller bag. It's 415 grams in weight, which is very light for a tablet. The non-flat surface makes it even easier to grip with a single hand.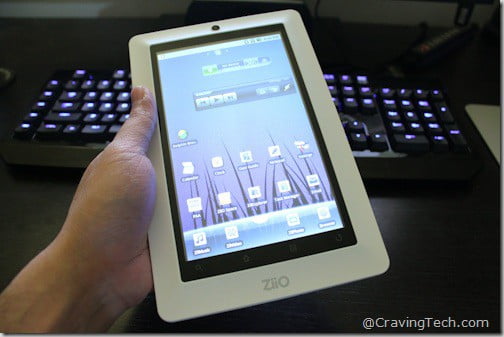 I was a bit worried because the Creative ZiiO comes with a resistive touch screen instead of capacitive. Resistive screen is less sensitive and tends to make the experience duller. Resistive screen also means that there are no multi touch capabilities. For example, pinching the screen to zoom is not there. If you already own an iPhone or an iPad, it may take some time to adjust yourself to use a resistive screen without complaining. However, even then, I find that interacting with the ZiiO is responsive and I don't even need to use the stylus included in the packaging. I don't even need to use my nails with I often did on a resistive screen in the past.
There are 4 main soft buttons on the ZiiO such as the Search, Home, Settings, and Back button that are always accessible.
I truly like the integration of these generic buttons on the ZiiO. For example, the Back button can be used on all the applications that are installed on the ZiiO: to go back one page while browsing the web or to go to previous screen when using an app. Unfortunately, these buttons are not lit so if you are using your Creative ZiiO tablet in the middle of the darkness (as I often listen to music before I go to sleep), you have to do a guessing game.
There are volume buttons on the right side of the tablet but they only work when the ZiiO is not on standby mode (screen goes off). A microSD slot (up to 32 GB) is available should you need to expand your media collections and also an HDMI port to hook the ZiiO to your HDTV (HDMI cable not included).
The screen quality is so-so, definitely not the sharpest quality that you can expect when you watch an HD movie on the ZiiO. It doesn't mean that watching videos is bad on ZiiO but it's not the best quality screen I've seen. The videos that I tried went smoothly on the ZiiO though, so there aren't any performance issues. While the screen lacks the quality, the audio prevails. The Creative ZiiO comes with audio-enhancing features such as the X-Fi and apt-X technology, giving you the highest audio quality possible on the wireless stream. Combined with the Creative ZiiSound D5, the ZiiO really becomes the "music to your ear".
Having the X-Fi feature turned on is like un-muffling my audio collection. Music feels sharper and richer than before.
Pairing a Bluetooth device with the ZiiO was easy too and with just one touch, you can reconnect them together in an instant even after you turn the ZiiO off.
The power button is located on the top right in which the ZiiO will go to standby mode when pressed. Waking up from this mode takes a while (about a few seconds) and you will still have to wait for a few more seconds to let it connect to your wireless network. The ZiiO actually disconnects itself from your wireless network when it goes to the standby mode. I found this really annoying especially when I was trying to download a big file from the web. This design decision does seem to save the battery life longer. The Creative ZiiO's battery can last for days if you leave it on the standby mode.
The Creative ZiiO comes with an out of date Android version (2.1) and it's unclear at this stage whether you can upgrade the device to a more recent version (you have to wait for Creative to release a firmware update, if it's gonna happen). UPDATED on 25th March 2011: There is indeed an Android 2.2 update for the ZiiO! The Android 2.2 upgrade offers the following enhancements:
Flash video support (separate free app download required)
Watch popular web streaming videos such as YouTube videos
Flexibility to install apps either on on-board memory or on external storage media (microSD Cards)
Supports more languages
Alphanumeric/Numeric or pattern-based PIN to unlock device
Flexibility of viewing pages in both desktop and mobile formats – which means that pages can now be seen in their original layout without truncation
Text-to-Speech Engine
You cannot access the Android marketplace, so you are stuck with apps and games from ZiiO Space (which links to freewarelovers.com).

There are enough apps to keep you going, thankfully. I installed Winamp, Facebook, Angry Birds (free!), Dolphin Browser, Facebook, and a few other apps on the ZiiO and they work great. Not all apps on freewarelovers.com can be installed on the ZiiO unfortunately. So you have to download and try.
Creative ZiiO Review Conclusion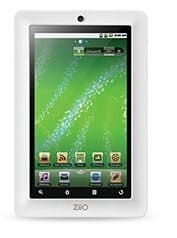 The Creative ZiiO is not an iPad. You cannot compare it to an iPad, period. While it has a lower quality screen, cheaper material, front camera only, resistive screen, and lack of intuitiveness, the ZiiO is highly affordable and excels in the audio department.
The ZiiO 7" is compact to carry but at the same time can be connected to your HDTV for a better viewing pleasure. You can also expand its capacity by getting more microSD cards and swap your media storage around. The ZiiO is great to watch videos, listen to music wirelessly, and internet activities (browsing, emailing, Facebook, etc).
Creative ZiiO is highly affordable that you can even buy one for the whole family; a portable & wireless media device for watching movies, listening to music, playing games, reading e-books or magazines, and net surfing. Creative ZiiO is not an iPad but even if it's not, it's still a great tablet device to have in-house with more than half a price of the iPad.
Creative ZiiO Review – Pros
+ Affordable
+ Bluetooth and WiFi
+ Compact in size, easy to carry
+ Front facing camera to make video calls
+ Great audio quality (X-Fi and apt-X codec)
+ Expandable capacity
+ HDMI port to connect to your HDTV
+ Good battery life
Creative ZiiO Review – Cons
– No 3G data connection
– Feels unpolished (minor annoyances  here and there)
– No access to the official Android's marketplace
Note: Creative ZiiO review unit was provided for the review