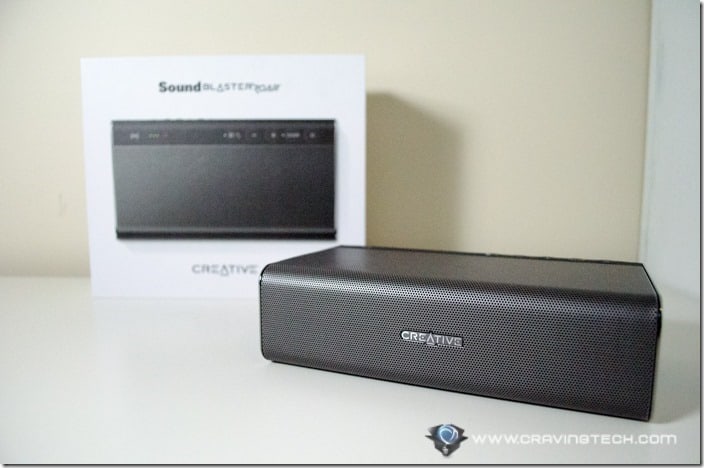 Creative Sound Blaster Roar Review – Portable speakers often amaze me with their loud and powerful sound, no matter how small their sizes are. Often, there are exceptional ones with high fidelity and versatility such as the Creative Sound BlasterAxx AXX 200 I reviewed some time ago. Just when I thought I have listened to the best audio found in portable speakers, Creative gave me another surprise.
This Creative Sound Blaster Roar is filled with 2 amplifiers (1 for the low frequency and another for the high) and high-frequency drivers to produce a well-balanced, very high audio quality. Its promise is "the best compact portable speaker an audiophile can get". And I think the speaker lives up to the promise.
Packaging
Design & Features
Sound Blaster Roar won a 2014 Red Dot Award (a prestigious international product design award) and that shouldn't be taken lightly. It features a modern, simple, and elegant design. It is not eye-catching in a sense, but I always praise Creative for being able to compact everything into a nice, little package.
There are also reasons to why the team has designed the Roar this way, to further improve the sound quality and widen the sound stage. Thankfully, these design decisions do not compromise the design quality of Roar. Hard but soft-to-the-touch buttons control some of the speaker functionality, such as volume controls and Bluetooth pairing. They are also very responsive, which I like.
You can pretty much carry Roar with you while you travel, even though it is not as compact as the AXX 200. A carry bag can also be purchased separately.
It has a built-in 6,000 mAh battery which makes Roar last for around 8 hours, according to Creative. This, obviously, depends on the volume and its settings – such as whether you have the "Roar" feature turned on. It will take around 3 hours to fully charge the speaker with a power adapter. You can also continuously plug the power cable to have a non-stop action from the Roar. It's useful if you want to use Roar as a main speaker on your desktop area so you never run out of juice.
But of course, why waste all the 6,000 mAh away only to power Roar? You can actually use the USB port to charge your device on the go. A portable speaker and also a portable charger. Cool, right? Roar also includes a built-in microphone so you can also use it for conference calls or hands-free conversations. That microphone can also be used to record calls or audio and save them into a microSD card. Use the playback controls to play all of your recorded audio files.
To play your music through Roar's awesome audio technology, there are a few ways to connect:
[1] Bluetooth
Connect any Bluetooth enabled device such as your tablet or smartphone. Pretty much all gadgets nowadays support Bluetooth connection and it's really quick to pair a device with Roar. You can even connect 2 devices simultaneously.
[2] NFC
Simply tap your NFC-supported device such as the HTC One to pair with Roar. Nice and easy.
[3] AUX-IN port
Own an older portable music device or want to connect Roar to a console such as a PS3? There is the good AUX-IN port to connect it with a 3.5mm audio cable. I hook up my PS3 console to Roar for a more immersive experience (through my Dell monitor).
[4] microSD card
To save your phone's battery, you can stuff all your music into a microSD card, plug it into Roar, and.. let it roar. Through the playback control buttons, you can play/pause the music, go to previous or next track, and also set the play mode to shuffle.
[5] USB


You can also hook your laptop up through USB (cable supplied in the packaging) so you can listen to your music or watch movies in the hotel room, pampering your ears where ever you go. You don't even need to download and install any driver (when tested on Windows 8). You can, however, install Sound Blaster Control Panel to further tweak some audio enhancements if you like.
With all these connectivity options, you can pretty much enjoy high quality sound coming from whatever device you may have, where ever you are.
As for the sound itself, the Sound Blaster Roar truly does not disappoint. The Bass is powerful without being muddy and it does not overwhelm the mid and high channels. The sound is "full" and fills the whole room.
The volume can even go louder with the Roar mode turned on which is made for outdoor or party environment. However, even without the Roar mode, the speakers can pump out loud and clear sound. It's one of the speakers that I would bring to shower (I actually did this when I tested), thanks to its loud volume while keeping the sound crisp and clear. Most portable speakers lose sound quality when you crank the volume up, but not for Roar (though I have to admit, I haven't cranked the volume to MAX yet). It is THAT loud. I definitely won't test the Alarm feature on MAX, either.
Creative Sound Blaster Roar Review – Conclusion
Creative Sound Blaster Roar is not the smallest and most portable Bluetooth speaker out there, but what you get from the sound department pretty much outmatch all other portable speakers I've tried to date.
Loud is useless without quality. Roar, is loud and sounds good. Real good. That awesome sound quality, thankfully, can be enjoyed with pretty much any device you can throw at it. It supports pretty much all connections that you can think of: Bluetooth, 3.5mm jack, NFC, USB, and even a microSD card.
Due to the size, it is not the type of compact speaker you want to carry in a pocket. However, with this high-quality wireless audio, you probably don't want to leave it at home either. If you do, you can still enjoy its performance as a main speaker for your laptop or console. Who says versatility and quality cannot go together?
Disclosure: Review sample was sponsored for the review. All opinions are 100% mine.