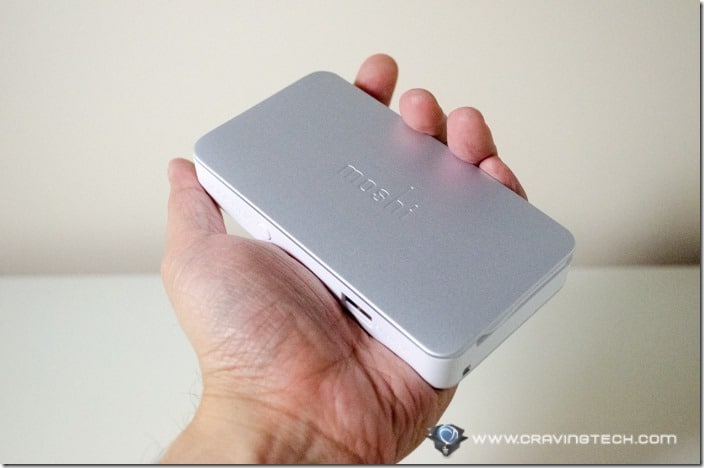 Our smartphone can do wonders. It has tremendous amount of processing power with the ability to run powerful apps within. As good as it may sound, most smartphones don't even last a single day, so we often carry a portable charger in our pocket.
The bad news is, most portable battery chargers require you to carry 2 different types of cables along with the charger unit: a microUSB cable to charge the portable charger and a Lightning cable to charge your iPhone or iPad.
The good news is, with Moshi IonBank 5k (with Lightning connector), you don't need to carry anything else.
Moshi IonBank 5k (5,000 mAh battery) gives you the ability to recharge your iPhone over and over. For example, you will be able to charge your iPhone 5s (1,560 mAh) for roughly about 3 times (from 0 – 100%) with IonBank 5k on a full charge. It may not fully charge an iPad Air (8,820 mAh), but it is good enough to keep you going for hours. Most portable battery chargers don't even have the grunt to charge an iPad.
The IonBank 5k looks stylish and premium, which complements the look-and-feel of an iPhone or an iPad.  It weighs around 200 grams and is quite easy to carry. It can pretty much fit anywhere in a bag, though might be a bit tight on pants' or shirt's pocket.
Press the button on the IonBank 5k to start charging and also to check for its battery level: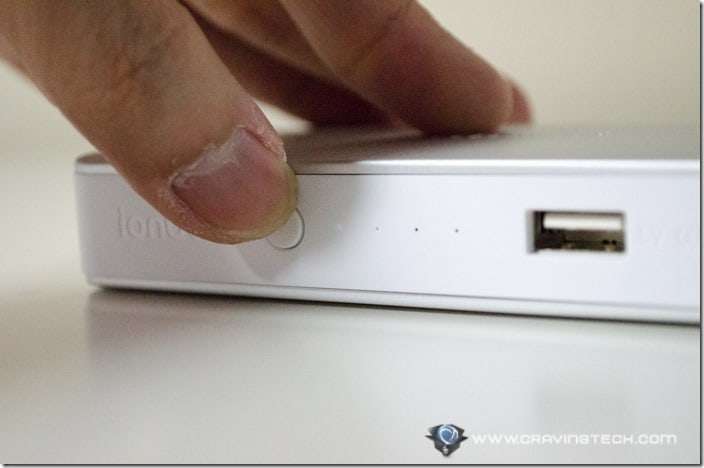 What makes Moshi IonBank 5k unique is that the casing actually houses 2 cable connectors: a Lightning connector (to charge your iPhone or iPad) and a USB connector (to charge the IonBank itself). They are hidden pretty well from view and packed neatly inside the aluminum casing. Slide the cover to reveal the Lightning connector:
And pull out the USB connector to charge the IonBank:
This design means that you'll never need to carry pesky charging cables anymore when you travel. Simply bring the Moshi IonBank 5k along and that is enough. Due to this compact design, however, the cables are pretty short in length; which makes it a bit of a challenge to charge/be charged.
You can plug the USB connector to a computer to charge it, or to a USB wall outlet. During my tests, however, the IonBank could only be charged using my desktop computer. Every time I plugged it into a USB power board, it would render the board useless after a while. I've tried this in 3 different USB power boards/sockets so I wasn't sure why. Charging it on a computer worked flawlessly, though.
Apart from the charging problem with power boards, the IonBank works really well. It even has a generic USB slot just in case you need to charge your other gadgets with microUSB or the old Apple's 30-pin connector. You can even "go crazy" and charge 2 devices at the same time! Something that I rarely see in a portable battery charger.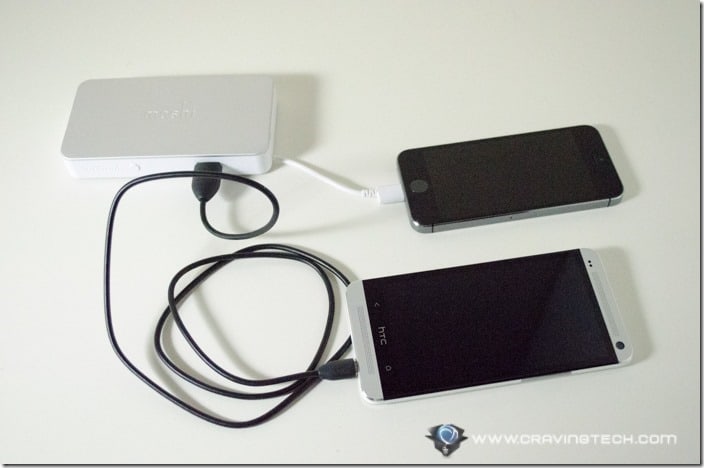 I tested it to charge my iPhone 5s, HTC One (M7), and iPad Air without a hitch.
Moshi IonBank 5K Review Conclusion
Moshi IonBank 5k does not only have a large amount of battery to charge your devices with, but also a unique and compact casing design. Inside the aluminium case are the cables necessary to charge your Lightning devices and also to charge its internal battery. This makes it convenient to carry the IonBank anywhere you go without having to drag cables along with you.
The only drawbacks are that the cables are shorter (in order to make everything compact) and that it doesn't seem to be compatible to all USB power boards. However, you can still charge the IonBank 5k with your computer fairly quickly, so there isn't much to complain.
Definitely one of the most recommended portable battery chargers out there in the market!
Disclosure: Review sample was sponsored for the review. All opinions are 100% mine
[AMAZONPRODUCTS asin="B00G9Y47YG"]