Creative iRoar Review – I was actually in a bit of dilemma when I had to finally write a review on the Creative iRoar wireless intelligent portable speaker.
Calling it a portable Bluetooth speaker is a big understatement, but at the same time I don't want to put overly high expectation by saying that it sounds as good as a high-end desktop speaker (as much as I want to say that it does sound that good!).
In the end, I have to stand my ground and share how excellent its sound quality is. It's so good and feature-rich that I'm amazed at how they manage to do it within that single, portable box.
Creative iRoar Review – Unboxing Video
Creative iRoar Review – Packaging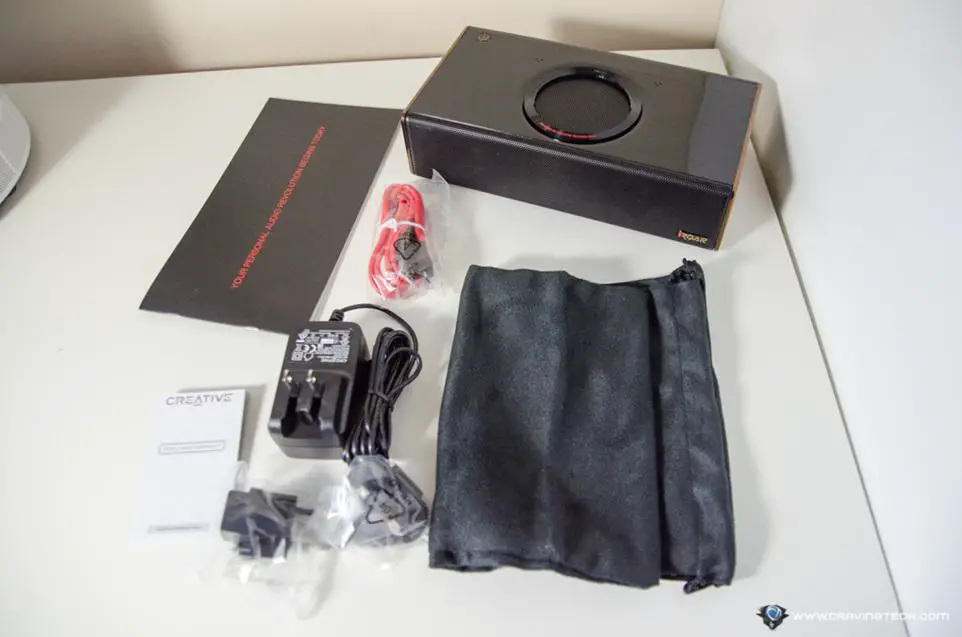 Creative iRoar Review – Design & Features
The new Creative iRoar has similarities in design to the predecessor Creative Roar speaker that I reviewed here before at Craving Tech.
It has a simplistic rectangular design that showcases the speaker drivers from almost all sides: dual high-frequency 2″ drivers at the front, active 2.75″ driver for delivering the Bass clearly visible on top, and passive radiators on both sides of the speaker unit. It has a total of 5 speaker drivers and I believe I haven't seen any portable speaker unit with that many amount of drivers packed within.
The power button is the only hard button visible with the rest of functionalities embedded in soft-touch buttons. These touch controls are adaptive (or dynamic), and will lit up smartly depending on the selected mode of the speaker and also the context it's in. For example, during a music listening session, you will not see the microphone mute button, reserved only for audio calls. It is designed to be clutter-free and easier to use.
At the back of the speaker unit, you'll notice how versatile Creative iRoar is in accepting audio inputs.
AUX-IN (3.5mm audio connection – cable not included). Great for plugging it to anything really; laptops, PCs, music players, and every other audio device out there.
Optical Input – great to plug to your TV or even consoles like a Sony PlayStation or Microsoft Xbox One. For frequent travellers, you can plug it to a hotel's TV to watch movies with a far more enjoyable experience.
USB – can be plugged to a USB port on your laptop, while minimising audio noises commonly heard on a 3.5mm audio connection.
microSD – fill a microSD with your songs and let iRoar play the files.
Bluetooth – Or, go with seamless Bluetooth audio experience with your smartphone to play your Spotify, Google Play Music, or Apple Music playlists on the go. It has audio-sync issues when playing videos though, so, go wired on video watching.
NFC – If you have NFC-supported device, the iRoar also supports it. Simply tap and connect.
Creative iRoar has a built-in 9,000mAh Li-ion battery which will provide around 20 hours of playtime. With that amount of power, the team has also decided to give you the ability to charge your smartphone with the iRoar. It outputs 1.5A to charge phones quickly (note however that devices such as the iPhone 6s will charge even faster on a 2.1A).
How about sound? Creative iRoar sounds really, really good. As I played songs after songs, it really felt like I was in the recording studio whenever I closed my eyes. I could really hear the details in all acoustic instruments and the Bass is also amazingly strong and deep for a portable speaker.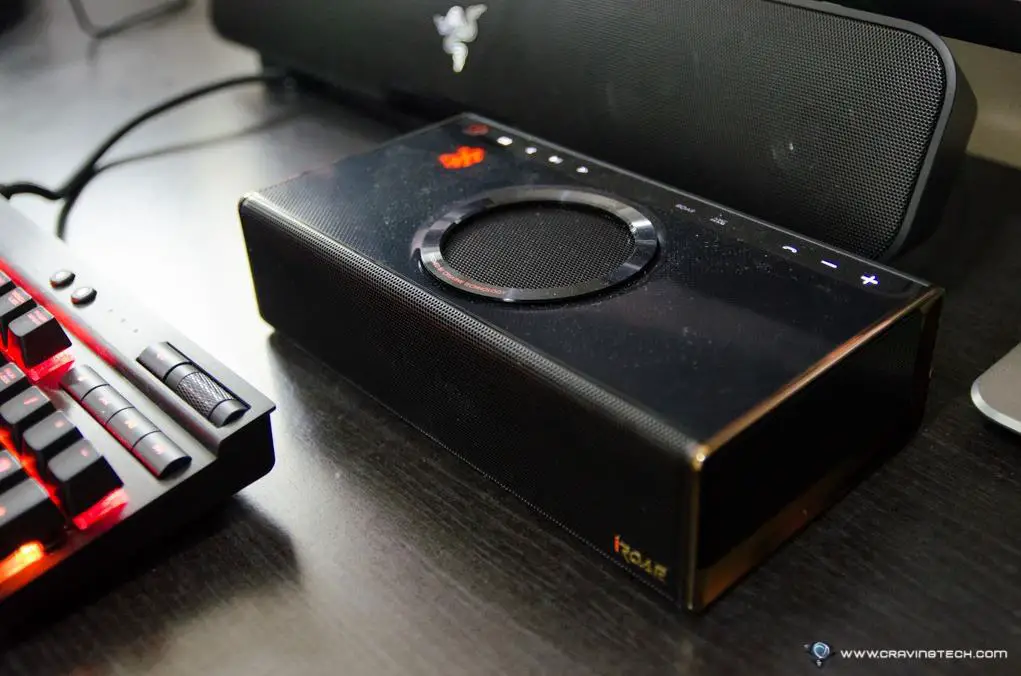 The iRoar sounds great both in high and low volume. I purposely made the iRoar as my primary desktop speaker during my testing for playing games, music listening, and even Netflix movie watching (just to test it out). The results were quite amazing and it didn't feel as if I was using a portable speaker at all, because the iRoar certainly does not have that "portable speaker lower audio quality" feel.
I also tried audio calling using iRoar which is equipped with features like Mic Beam technology, 360-degree, and Private mode. The recipient of my caller said my voice sounded really clear when I asked, and I didn't even need to shout and speak adjacent to the unit itself.
There are lots of other things to talk about such as support for custom audio profiles and add-ons that you can download and install such as voice morph as an Orc, a sleep clock, and many more.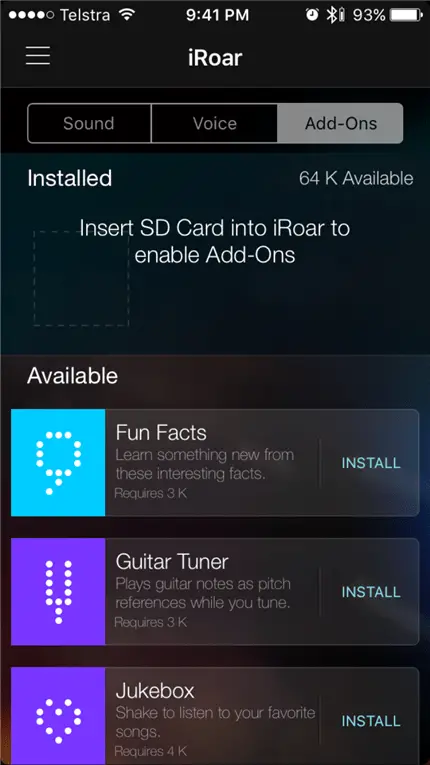 I've also tried the Smart Volume feature, which is great for watching movies at night where other people in my house would have gone asleep. I tested watching The Avengers: Age of Ultron and I could feel that most of the special effects (such as explosions, etc) were kind of muffled when the Night Mode was turned on, yet dialogues could still be heard clearly. I switched between 2 different modes to see if I could sense the difference.
Creative iRoar Review Conclusion
Creative iRoar is a crazily-good portable Bluetooth speaker packed with tons of features and sounds amazing. Though you have to pay for the price, the audio quality is definitely not going to disappoint you and the best I've heard so far in a portable speaker format (disclaimer, I've definitely not tried all portable speakers out in the planet yet). Compared to the other Creative portable speakers that I've reviewed though (AXX200, Roar, FRee), iRoar definitely offers the better quality in the sound department and features.
However, it is rather heavy and bulky, so it's not something that you'd really want to carry all the time – which gives another dilemma each time you go travelling. Should you bring this baby along or leave it behind? Is it worth the extra weight? But when you do decide to carry the feature-rich iRoar with you, you are in for a really nice treat.
Creative iRoar can be purchased at Creative online store or Amazon.
Use IROAR20 promo code to get a 20% off the iRoar speaker on au.creative.com (only for the first 100 visitors. Code will expire on 31st of July).
Disclosure: Sample was supplied for reviewing, but all opinions are mine