ADATA i-Memory Flash Drive UE710 Review – Have you ever wanted to watch your favorite movie series, Anime, or your own movies on the plane? Or transfer your photos from your iPhone to a flash drive quickly so you can take more photos without running out of space?
All these are made possible with the UE710 Flash Drive by ADATA Technology. It's a compact USB flash drive with Lightning connector that you can just plug into your iPhone or iPad.
In an instant, you'll have access to whatever files you store in there – movies, photos, music, and documents. And there is no hassle of having to sync via iTunes.
The UE710 has a compact, capless design that makes it easy to be carried around in pockets or bags when you travel. You can push the slider to hide the 2 connectors (USB and Lightning) to protect them, or push into one side to reveal either the USB or Lightning connector.
Plug the USB connector (USB 3.0) to your computer or the Lightning connector to transfer files in between. It's handy because you don't need to carry an extra cable with you and the UE710 does not even need to be charged (battery-less).
All access to files within the drive (when plugged to an iOS device) will require an app from ADATA that can be downloaded from the App Store for free.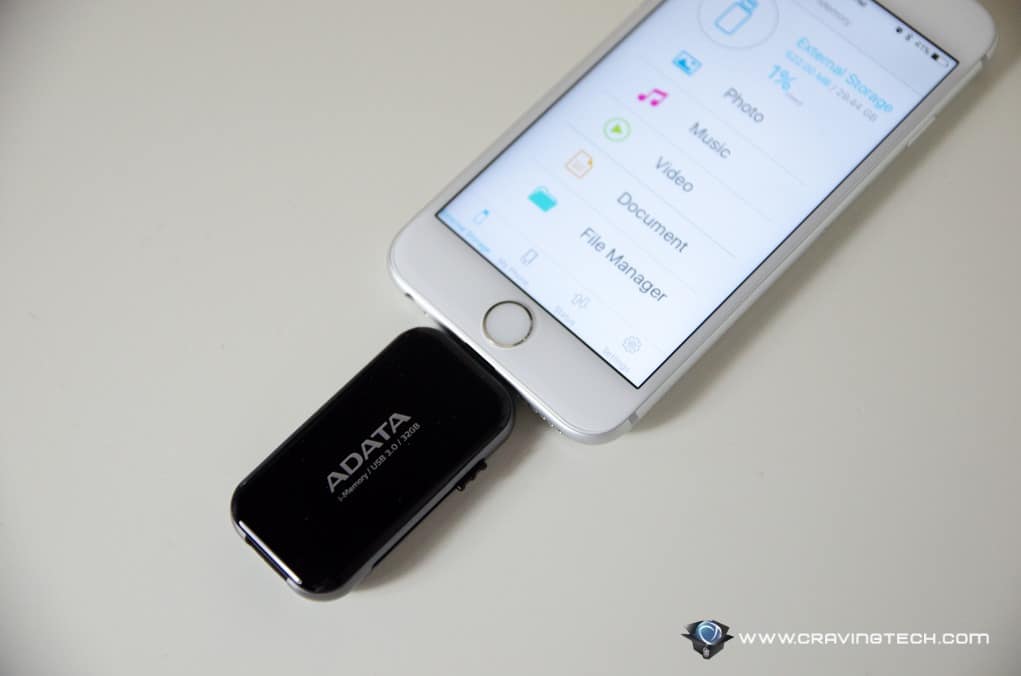 Within the app, you can access the files by a Category (such as "Photo" or "Video") or by a list of all files stored inside. I like how the Category automatically filters out the file types so you can quickly get into what you want to view.
When you want to access and view a file stored inside the UE710 flash drive, simply tap on the file and the app will open it instantly.
Supported Files:
Images (JPG/BMP/GIF/PNG/TIF/GIT/BMPG/DNG/CR2/RAF/NEF/RAW)
Videos (AVI/MP4/RMVB/MOV/MKV/MPG/WMV)
Music (MP3/WAV/M4A)
Documents (TXT/PDF/PPT/DOC/XLS/HTML/PAGES/XLST/DOCX/PTT/PTTX/KEY/RTF/NUMBERS/VCF/HTM)
As you can see, the drive can support literally almost everything you can think of. You can even create a PowerPoint presentation on your computer, copy the file over into the drive, and plug it into your iPad to access it during a live presentation. It's simpler than having to use iTunes to transfer documents across, or any other tedious methods! Or you can copy your Word documents and access them offline while you are on the way to the meeting. The File Manager within the app could open them easily when I tested (Word and PowerPoint documents), and they opened instantly.
The drive also supports Ultra HD 4K video playback, Apple AirPlay audio and video content with Apple TV compatibility. Since I don't have a 4K TV and/or Apple TV, I couldn't test these while reviewing the drive. You can also copy over your songs library when you are going to travel overseas into the drive without using any of your phone's storage. Plug it while you are on the plane and listen to your favorite tunes away!
The copying process is fast, though I occasionally got a fail transfer message when trying to copy all my photos to the drive (less than a hundred). This does not happen often, thankfully, and only when copying photos from my iPhone 6s to the flash drive.
There is also a way to back up your contacts to a file (VCF format) but since this is Apple we are talking about, it's so much easier and seamless to just use the iCloud service.
Overall, ADATA i-Memory Flash Drive UE710 is an excellent traveling companion with its compact, capless design and a multitude of supporting file types that it can read (movies, music, images, and documents which include Word/Excel/PowerPoint files). Definitely a great portable flash drive for both professional and non-professional use, and it sort-of extends your iPhone storage capacity by multitudes.
Having offline access to every file you can think of is the best feature that this flash drive offers, plus the files can be accessed and viewed instantly.
There are 32GB, 64GB, and 128GB options available to grab for your needs.

Disclosure: Review sample was sponsored for reviewing but all opinions are mine
[AMAZONPRODUCTS asin="B017K1KAR4″]