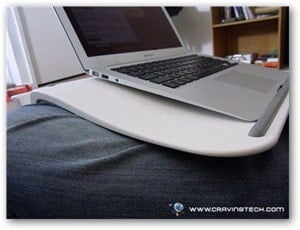 If there is one thing that makes me hate using a laptop for gaming, it's the comfort factor. Sure, it is fine if you put your laptop on the desk but most of us would want to use our laptop while we are sitting on a couch, watching TV.
It is then only a matter of minutes before you start feeling the heat on your thigh (and hopefully not your groin – which some people say may lead to infertility, ugh!).
Thanks to CoolerMaster Choiix Comforter, that will never happen (better be safe than sorry, right?)
The Choiix Comforter is uniquely curved and designed for only one thing in mind – comfort. The unique design allows you to pick your own "surface" and "style". There are 3 different styles you can make out of the Choiix Comforter:
1) Cushion at the bottom with the groove for "mobile storage"
This is my favorite one and I use this style almost all the time.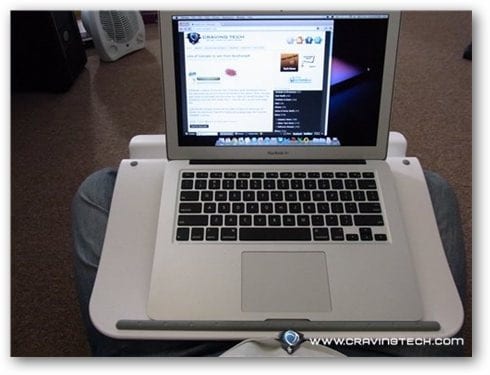 The cushioned design (when you place the cushioned surface on your lap) gives the most comfortable factor even when I used my MacBook Air for hours (CoolerMaster Choiix Comforter works with any 17″ laptop, including a MacBook). The cushion is soft and well-padded, giving it such a sturdy feel. I often use my MacBook Air in this position every week (we have a small group gathering every week) and I can vouch for the comfort.
The groove provides any extra storage that you can think of, such as for cables, laptop battery, wireless mouse, or your mobile phone.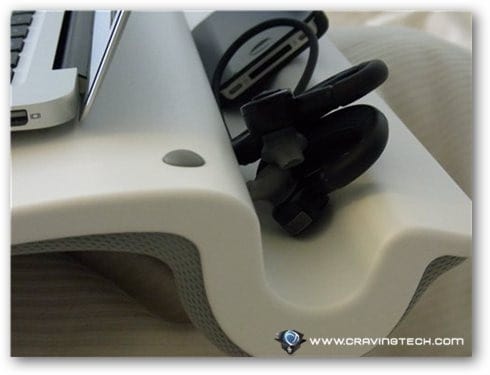 This way, you can always be sure that you have everything you need around you even when you have to move to different places. In the past, I normally have to put my lapdesk away when my phone, which happened to be placed on the other side of the room, rang.
The comforter lapdesk also has anti-slip props to make your laptop stays in place: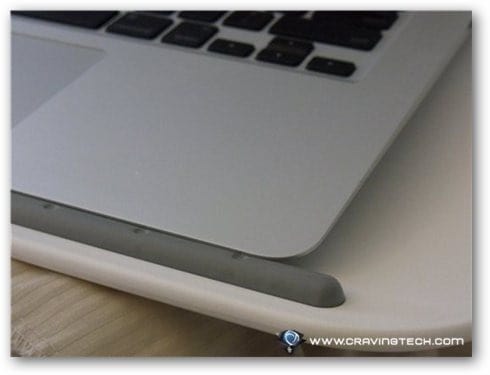 2) Cushion on top, with a wrist-rest style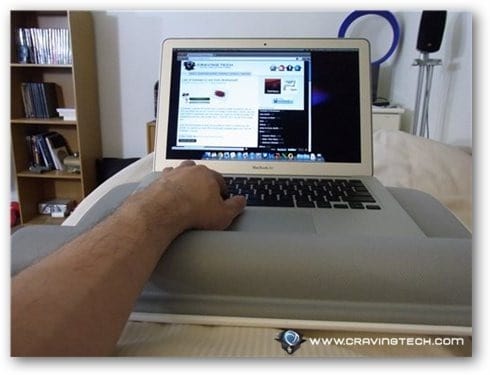 The wrist-rest positioning is a bit too high for my liking though, but if you love using your mouse with a wrist-rest mouse pad, you will love this as well.
3) Cushion on top (the other way around), to get a higher viewing angle
The cushion provides a sturdy surface for the laptop so that it may not slip away while adding a few degrees viewing angle. If your laptop is considerably small (mine is the MacBook Air 13"), you can also put a mouse and use the surface as a mouse pad.
When you want to work on your desk, Choiix Comforter really gives a better angle of view: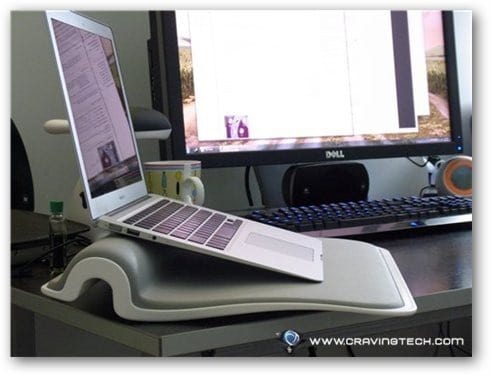 —
Because of the size though, the Choiix Comforter does take quite an amount of space (since the comforter can support a 17″ laptop). Thankfully, the Choiix Comforter is not heavy despite of its size, so you can carry it around with your laptop on it with ease. Although it is not practical to carry the Choiix Comforter when you travel outside of the house due to the size.
Besides comfort, the Choiix Comforter also provides airflow for heat dissipation even when it is not equipped with a built-in fan. This way, you can keep one of your USB slot (really important in a MacBook Air) but making sure that your laptop does not get overheated because of poor ventilation. Although if you play games for hours or during summer, you will wish that this comforter has a cooling fan.
Overall, CoolerMaster Choiix Comforter is a great product. It may be too big for some people (especially if you have a small laptop) but because it's not heavy, you can use the extra space to have a mouse on or small notes with a pen. The comforter can also be used differently based on your current needs. Three different needs in just one product. Amazing!
Note: Sample provided for the review
CoolerMaster Choiix Comforter Pros
+ Can be used differently for different needs
+ Comfortable
+ Has a magic storage space
+ Has an anti-slip surface and props
+ Supports up to 17" laptop
CoolerMaster Choiix Comforter Cons
– Quite large in size
– No cooling fan
– No built-in speaker