Note: This is a guest post written by Brandy O
Acer Aspire S3 – As the weather turns to fall and the holiday season approaches, it would seem that we're already at a point where we can look back on the past year and fully judge the big winners, key losers, and hottest new products in the laptop world. But not so fast.
The Acer Aspire S3, launched in North American this past week, is the kind of product that deserves to find itself in contention for a "best laptops 2011" list. It promises a great performance, portability, and value, and it does this all with a thin and sleek frame.
It's no secret that the Aspire S3 is designed to compete directly with the MacBook Air. Noted by commentators as the first of the "ultrabooks," the Aspire S3 weighs a mere 2.98 pounds and is 1.3 cm thin.
The computer further sports a 13.3 inch screen, promises over six hours of battery life, and is advertised as waking from sleep in only two seconds. At its base price the Aspire S3 will have a Core i5 processor, 20 GB of storage, and 4 GB of ram. These specs aren't incredible, but they still suggest a high-performing system. And, with the base price pegged at $899, consumers could almost certainly upgrade to fancier versions while still saving money over the cost of a MacBook Air.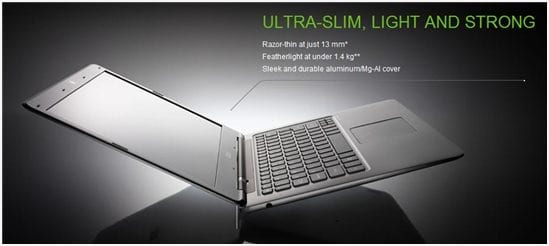 In this sense, the Acer Aspire S3 is being termed as a MacBook Air for the masses. In many respects, this is an appropriate terminology: the Aspire S3 has almost identical dimensions to the MacBook Air and the two laptops look similar in most key respects. Cheaper and with inferior performance capabilities, the Aspire S3 is certainly targeted towards a lower spending bracket in the computer market. But at the same time, typecasting the Aspire S3 as just a MacBook Air wannabe does a disservice to Acer's new product.
The Aspire, after all, stands pretty well on its own. It excels in the areas that matter most to the average laptop buyer: the Acer is extremely portable, incredibly fast at turning on and running non-gaming applications, and it is highly dependable. Although it's not the best laptop out there, for its accomplishments and its value it certainly deserves consideration among the best new launches of 2011.