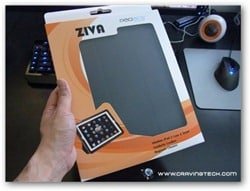 Slightly less exotic than the PADACS Rubata 2 that I reviewed earlier (an iPad 2 case with a Bluetooth keyboard), the PADACS Ziva is a simple, slim case for the iPad 2.
Ziva is made from synthetic leather which makes it a highly affordable case (the RRP is AUD 29.95 only).
It looks quite stylish from the front and the back, although the surroundings of the case look a bit wobbly:
If you want genuine leather, you should go for PADACS Ziva Pro.
Just like any other cases, the Ziva has cut-outs to all ports, jacks, and buttons on the iPad 2:
I think the Home button area needs a design re-work though as it covers a fraction of the button, no matter how hard I push my iPad 2 into the case:
The PADACS Ziva also has a few viewing angles for typing and for watching movies:
The case is equipped with a magnetic closure and overall a very slim case for the iPad 2. It's probably the slimmest case I've ever reviewed for the iPad 2 so far. It may not have multiple viewing angles and does not look too sexy, but if you are looking for a slim iPad 2 case to protect it from minor bumps or scratches without paying too much, PADACS Ziva is for you. It keeps the extra weight to a minimal so you can still carry your iPad 2 around with ease.
PADACS iPad 2 Screen protectors
PADACS also sells screen protectors for iPad 2: the GlareGuard 2 and ScreenGuard 2.
PADACS GlareGuard 2 protects the iPad 2 with an anti-glare, anti-dust, and anti-fingerprints material whereas PADACS ScreenGuard 2 protects the iPad 2 with a smoother material (glossy).
I was aiming to apply the ScreenGuard 2 on my iPad 2 but I've got a bunch of bubbles (from dusts) that I hated so much. This is not the fault of the screen protectors but more like my dusty apartment and my perfectionism. So in the end, I ended up using the GlareGuard 2 for the second try and applied it successfully (thanks to the tape included in the packaging, besides the soft cleaning cloth). You may want to buy 2 protectors just in case you can't get it perfect with the first one :)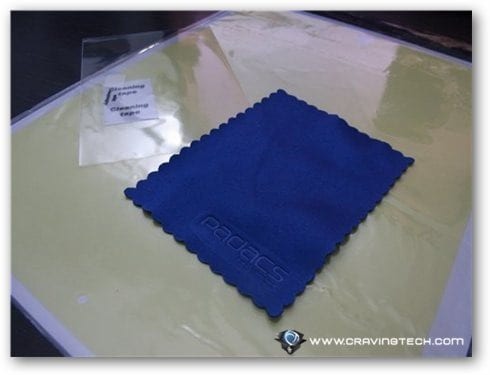 Note: Samples provided for the review