Owning an iPad is great but at times, it can be frustrating to type your notes using the on-screen keyboard. Even though you can get better and better at it, nothing can beat the feel and productivity of typing on a real physical keyboard.
Thanks to PADACS Rubata 2 Bluetooth Keyboard Case, an iPad can be transformed instantly into a powerful productive machine for typing documents, short notes, or even to blog. Rubata 2 will definitely put a serious thought to those who wonder whether they should buy an iPad or a notebook/MacBook.
iPad 2 Case – Rubata 2 Review – Packaging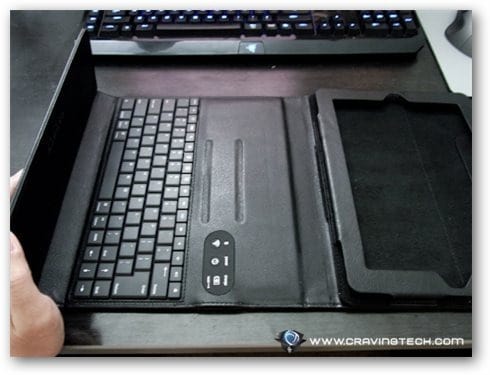 iPad 2 Case – Rubata 2 Review – Design
The Rubata 2 case, first of all, looks great – even better in real life than the shots from the official product page. It is made with high quality leather and does not look cheap, compared to the ones on eBay with ridiculously lower prices. You get what you paid for. Rubata 2, on the other hand, looks awesome.
The case is sealed with a magnetic closure but it doesn't interfere with the iPad 2 or causes any problems so far. When closed, the Rubata 2 looks like a small folder case, which is nice to see and carry.
The case has cut-offs to the iPad 2 ports, jacks, and hard buttons, like any other cases. I like how it has bigger cut-offs (design wise) on some jacks like the earphone jack (to accommodate bigger earphones' plug). Once you slide your iPad 2 inside the Rubata 2, you will never need to take it out ever as the cameras are even accessible without taking the iPad 2 out (you do have to open the magnetic closure).
I find that the iPad 2 moves a tiny bit while inside the case, though. Though not much, if you use the back camera a lot, you may have to adjust the iPad 2 here and there to make sure that the back camera is not covered by the case.
The Rubata 2 can be transformed into different viewing angles – landscape mode when you type with the keyboard/watch movies OR in portrait mode (to read magazines or scripts).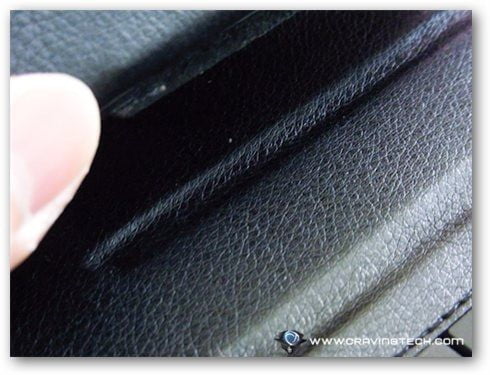 iPad 2 Case – Rubata 2 Review – The Keyboard
The reason why you are interested in reading this review is probably to know more about the keyboard, right? So here it is. In one sentence, the keyboard in Rubata 2 rocks!! I always type a summary of the sermon every Sunday using my iPad 2 (or iPad 1 last year). Although I've gotten used to using the touch screen keyboard, I still felt frustrated at times. Thanks to Rubata 2, it felt like having a mini keyboard with me and actually wrote much more words than I normally would comfortably. The buttons are smaller than a notebook's (to match the width of the iPad 2) but after a minute or two, you'll get used to positions of the buttons. The Rubata 2 keyboard really feels like a notebook's keyboard, though smaller.
It's obvious that the design team has put a lot of thoughts into designing the Rubata 2 keyboard. For example, the DELETE button is significantly larger and I really appreciate that. It also manages to put the keypad in somehow. Overall, typing on the Rubata 2 keyboard feels smooth and I also love the tactile feedback from the keys. Although I had a few people looked at me a bit at church when I typed too excitedly on it, the "clicky-clacky" sound actually doesn't sound too bad nor too loud.
There are also buttons to control the volume, brightness, and also other shortcut buttons, like a ".com", or copy and paste. Before I have the Rubata 2, it's a pain to highlight, copy, and paste a text. Thanks to the SHIFT + Copy + Paste buttons, it can't get any easier.
In general, using the keyboard on Rubata 2 (via Bluetooth) increases the productivity on the iPad 2 by far! The keyboard itself is powered by a rechargeable battery but guess what, according to the spec, it can last for up to 90 hours! There is a light indicator when the battery gets low (turns red) and according to PADACS, it can still support using the keyboard for a half to full day!
To recharge the keyboard, you need to plug the included cable to a USB slot. This means you need to carry an extra cable if you have to travel for days but so what? It's a small price to pay!
iPad 2 Case – Rubata 2 Review – Conclusion
Overall, I'm really pleased with the design and the quality of the Rubata 2 Bluetooth keyboard case for iPad 2 from PADACS. The case is well designed and the leather is of high quality.
Having a keyboard definitely adds a bit more weight and bulkiness but if you type quite frequently on the iPad 2, then the Rubata 2 will serve you well for many months to come!
PADACS Rubata 2 case brings huge productivity to the iPad 2 with its well-designed keyboard while protecting the iPad 2 with its elegant looking case. For the price, you definitely get more than just an "ordinary case with a keyboard".
I really couldn't any significant flaw with this case (the sample I have is actually not the first revision so it's great that PADACS listened to its customers and has brought the case to this level). Do not buy those cheap keyboard cases from eBay. Having a cheap keyboard case is way different than having a well-designed, well-thought-of keyboard case like the Rubata 2! It's a pity that I have to part with the Rubata 2 for a while because I have other cases to review :(
Note: Sample provided for the review
PADACS Rubata 2 Pros
+ Elegant looking case
+ Good leather quality
+ Multiple viewing angles
+ Keyboard: Integrates with the case nicely
+ Keyboard: 90 hours of battery life (for the keyboard)
+ Keyboard: Enhances productivity (whenever typing comes into play)
+ Keyboard: Keypad, volume controls, brightness controls, and more included
+ Keyboard: Good tactile feedback + keys design
PADACS Rubata 2 Cons
– Adds bulkiness to the iPad 2
– iPad 2 is not secured too tightly, may have to adjust a bit to shoot with the back camera