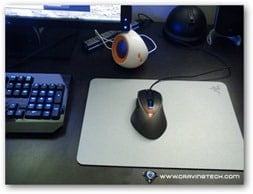 The CoolerMaster Storm Sentinel ZERO-G is based on the CM Storm Sentinel Advance and supposed to be an update to it. The Sentinel ZERO-G is bundled with a game called Shattered Horizon, which is where the mouse gets its name from. I do not own the Sentinel Advance so unfortunately I cannot give any comparisons between the two.
For now, let's take a closer look on the CM Storm Sentinel ZERO-G in this review post.
CM Storm Sentinel ZERO-G Review – Packaging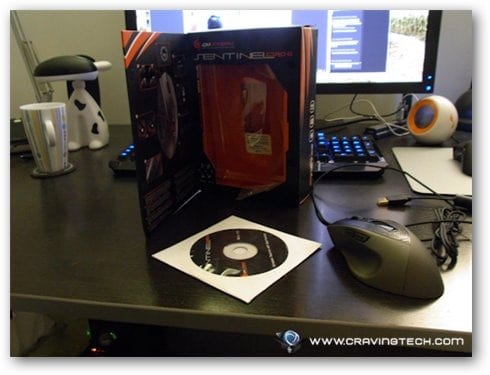 CM Storm Sentinel ZERO-G Review – Unboxing and Rapid Fire demo
CM Storm Sentinel ZERO-G Review – Design
The mouse is coated in Black/Silver/Grey theme and it looks really sleek – definitely worth to be called a gaming mouse (in terms of look alone). The CM Storm Sentinel ZERO-G has multiple buttons:
To switch between stored profiles
To switch between DPI settings
The usual left-middle-right mouse buttons
Two extra side buttons on the left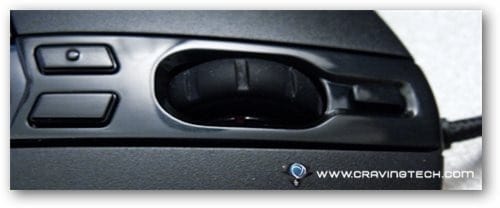 The mouse is made for right hander gamers ergonomically and there is also a thumb rest on the left side of the mouse. Unlike the Razer Imperator gaming mouse, the thumb rest is not made from plastic, so it is practically sweat-free. Overall, the material quality is great and doesn't feel cheap at all.
The size of the Sentinel ZERO-G seems large at first but it actually fits my small hands rather well. CM Storm Sentinel ZERO-G is one of the most comfortable gaming mouse I've ever reviewed, even after I played for hours. The slope, contour, thumb rest, and everything else work together to give comfort for long gaming sessions.
The mouse also has an LCD on the top which shows the DPI or profile name when you are switching from one to the other. Most of the time though, it shows "Shattered Horizon" which is a pity in some ways. I wish it can be used to show something else, like your clan's logo. At the moment, your clan logo is only shown temporarily when you are switching between the DPIs before it gets back to show the "Shattered Horizon" text.
As you may have noticed, there is this cool red color lighting shown in my photos. You can actually assign different color lightings to different profiles using the included software. This way, you can quickly identify that you've got the right profile just by looking at the color.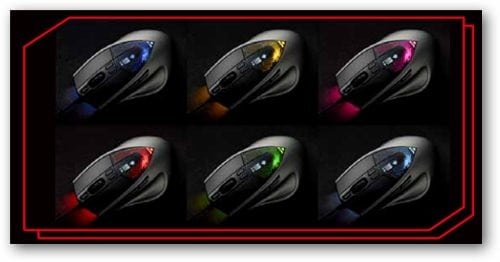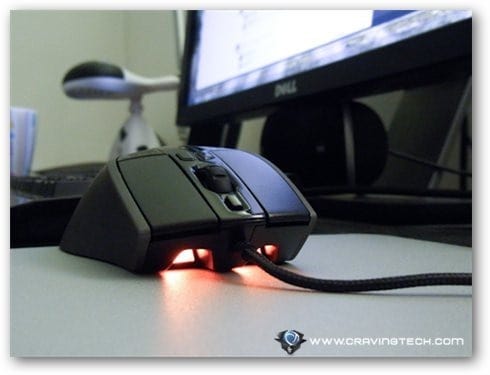 The mouse also has an adjustable weight system so you can design your mouse to be as light as possible, if you wish.

CM Storm Sentinel ZERO-G Review – Experience
Overall, the experience has been great with the CM Storm Sentinel ZERO-G for both gaming and non-gaming. It glides smoothly and accurately. I tested playing Left 4 Dead 2 and also Call of Duty: Black Ops with the CM Storm Sentinel ZERO-G. The mouse cursor went accurately where I wanted it to go to and the buttons also have great tactile feedback. It's easy to press the left mouse button repeatedly yet not accidentally (which is bad for games that have a friendly fire mode). The clicking sound is not too loud yet audible to let you know that you have registered the clicks.
The profile and DPI buttons seem to require more effort to click, definitely to prevent any accidental presses when you are using the mouse. There is also a rapid fire feature which can be enabled and set through the software (check my video on the top of this post to see the rapid fire in Left 4 Dead 2). It's kind of hard to set the rapid fire though as different settings seem to be needed for different games. I tried the same settings on different games and they seem to give different results.
CM Storm Sentinel ZERO-G Review – Conclusion
The CM Storm Sentinel ZERO-G supports up to 5600 DPI (Twin Laser Sensor), equipped with a gold-plated USB connector, 8 programmable buttons, internal memory to store your DPI and other configurations, a rapid fire mode, and also a weight adjustable system. The mouse itself is really comfortable with right-hand ergonomic design and a great thumb rest.
The mouse looks sleek, elegant, and also really cool – thanks to the Octoshade LED Tech lighting system. They are not just for the show but also as a quick and great indicator for different profiles that you can store using the software (although I love them just for the show, to be honest :))
Overall, it's a great gaming mouse that provides accuracy, customizability, and comfort even when you game for hours. For now, this is definitely a keeper and has become my primary gaming mouse.
CM Storm Sentinel ZERO-G Pros
+ Have what a hardcore gaming mouse should have (5600 DPI, 1ms response time, internal memory, programmable buttons, etc)
+ Cool Octoshade LED Tech lighting system
+ Has a rapid fire feature
+ Comfortable
+ Weight adjustable system
+ Great material quality
+ Good tactile feedback from the buttons
+ Includes a free game (Shattered Horizon)
CM Storm Sentinel ZERO-G Cons
– Software is a bit clunky and non-intuitive
– LCD shows "Shattered Horizon" most of the time and cannot be changed
Note: Sample provided for the review