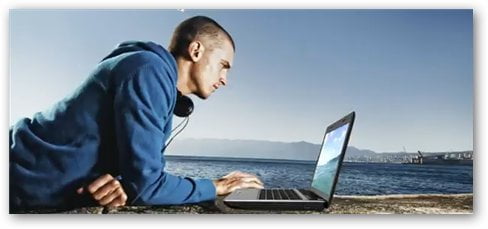 Focusing on multimedia, productivity, and portability, both the new IdeaPad Z and Y series are a must for notebook enthusiasts who want to enjoy entertainment while doing some work at the same time. Powered with HD screen and Dolby audio technology, watching movies can now be as satisfying as watching it on a desktop or in the living room with these two Lenovo's.
Official press release below.
Lenovo Expands Line of Stylish and Feature-Packed Consumer PCs
Fun New Designs and Features to Allow Consumers to Find their Perfect PC Match
Sydney, Australia– August 27, 2010: Lenovo (HKSE: 0992) (ADR: LNVGY) today expanded its line-up of consumer laptops, aimed at making computing more enjoyable and affordable. The models include the IdeaPad Z series multimedia notebook, the Z560, and the IdeaPad Y series notebook, the Y560.  The new designs demonstrate the company's re-energised commitment to personal computing design and engineering specifically for consumers.
"In less than three years, since Lenovo launched its worldwide Idea brand of PCs, we have expanded our consumer footprint to more than 85 countries, firmly establishing our presence in the consumer PC market," said Chris Kelly, Director, SMB and Consumer Lenovo, Australia. "The latest additions to the Idea portfolio have been designed with the consumer in mind. They demonstrate Lenovo's commitment to giving our customers the capabilities they expect, at prices they can afford, while showcasing our forward-thinking innovations."
Style and Entertainment with the IdeaPad Z560 and IdeaPad Y560
The Z560 laptop is designed for consumers whose idea of fun is living life on the go, and need a laptop to keep up with their fast-paced lifestyle. The most recent addition to the IdeaPad family, the Z560, brings mobile multimedia to consumers through a rich, enjoyable entertainment experience at a competitive price point. Starting at AU$1199, the new Z560 is an affordable laptop that has the appearance and functionality of a high-end luxury device. The sleek keyboard is encased in a modern, metallic effect cover panel.
Users are able to enjoy watching movies on the IdeaPad Z560 with its 15 inch high-definition (HD), 16:9 format widescreen, and Dolby® Advanced Audio for a spectacular audio experience. The Z560 also features OneKey™ Theater II, which includes a range of audio-visual settings to enable the optimal viewing of videos and multimedia content. The IdeaPad Z560 is available with the all new 2010 Intel® Core™ processor family and NVIDIA® GeForce® graphics.
The 15.6-inch Y560 multimedia laptop also features a high-definition 16:9 widescreen, making it ideal for users looking for the ultimate, mobile entertainment experience. The Y560 will be available with JBL-designed speakers and Dolby® Home Theater™ surround sound, which is perfect for enjoying music and movies. With Intel Core™ i7 processors featuring Intel Turbo Boost Technology to deliver extra GHz, the Y560 also features the Lenovo Energy Management 5.0 for extended battery life and long-term battery durability. The IdeaPad also includes a dynamic fan control to enable lower noise output. Switchable Graphics on the Y560 allow users to further extend battery life by switching between performance and energy-efficient modes. Additional features on the Y560 include a SlideNav intelligent touch-sensitive slide bar application for easy desktop navigation; OneKey Theatre II audio-visual controls for brighter images and clearer audio; and an Ambient Light Sensor that automatically adjusts the PC screen's brightness based on the user's distance from the display.
Pricing and Availability3
The IdeaPad Z560 and Y560 are available now through select Lenovo storefront partners. Pricing starts at approximately AU$1199 for the Z560 and AU$1699 for the Y560. All prices quoted include GST.
[AMAZONPRODUCT=B003P6WVMG]
[AMAZONPRODUCT=B003N2OVSE]