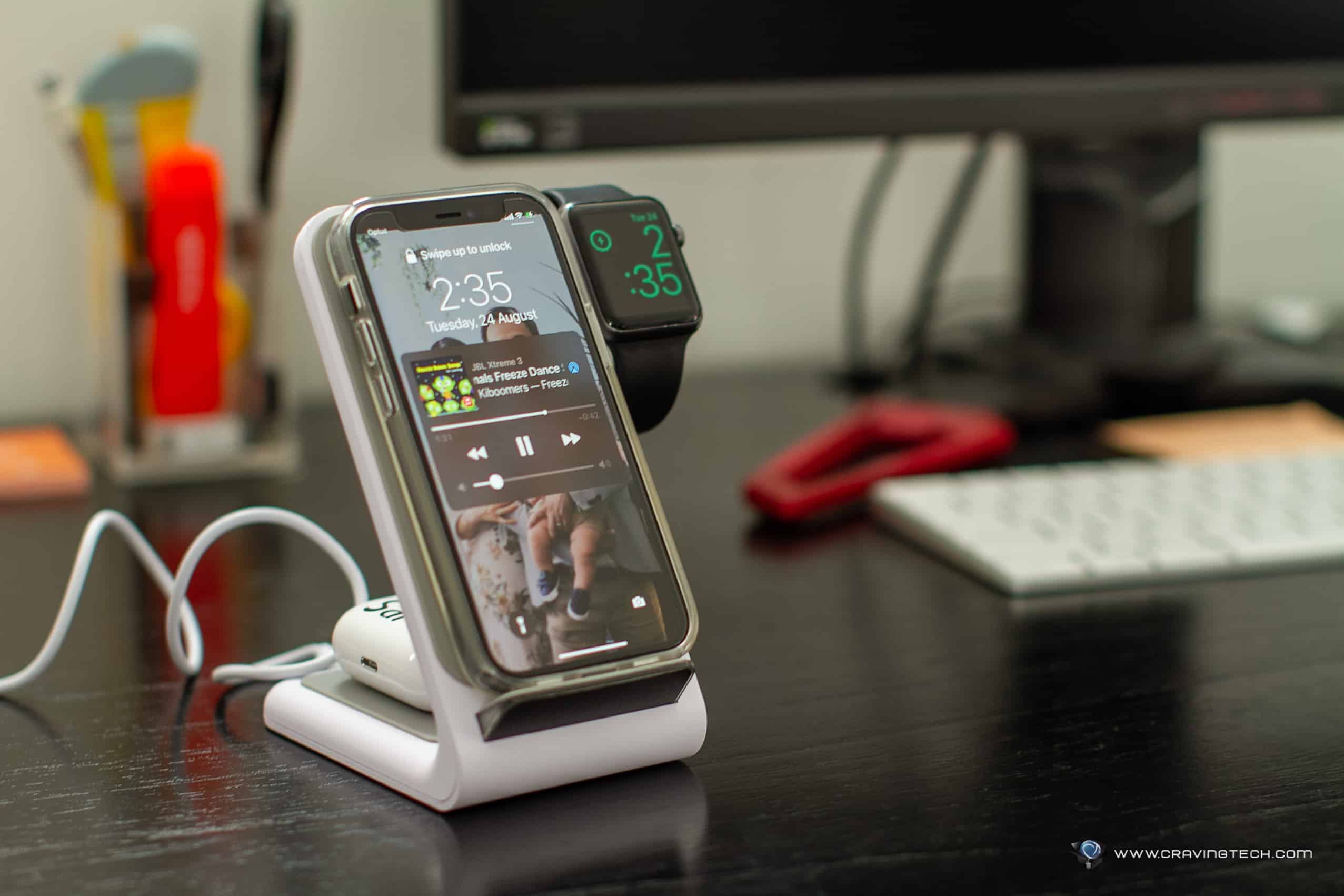 STM ChargeTree Swing Review – If you have an iPhone, you most likely have an Apple Watch or even an AirPods. And if you own all three of them, you are in for a big treat.
STM ChargeTree Swing is a 3-in-1 wireless charger that can simultaneously charge your iPhone (or any phone with Qi wireless charging support), an Apple Watch, and an AirPods – all without cables. Even with that multi-device charging capability, the desktop charger can still look sleek and stylish.
It has a "Swing" on its name because of its swing-out charging arm to charge the Apple Watch. The idea is that you can hide or show the Apple Watch charger by swinging its arm. For example, when you've stopped charging your Watch, you can swing the arm back onto the back of the unit, hidden from view.
Or perhaps you don't have an Apple Watch (yet). You can simply hide the charging arm forever.
For charging a phone, ChargeTree Swing supports all phones with Qi wireless charging support with up to 5mm thick phone cases. The charger works wonderfully with my Totallee Case on the iPhone 12 Pro Max and a Belkin silicone case on my wife's iPhone 12 mini.
The packaging includes an optional perch in case you need to adjust the position of your phone (if you have a short phone).
Unfortunately, the packaging only includes a 1 metre USB-C to USB-C with no power adapter so you need to have a USB-C powerboard, or a USB-C power adapter to make it work. I use this Harbor USB-C charger and it seems to work pretty well. Unfortunately, 1 metre cable length is pretty short too – especially if you plan to place the ChargeTree Swing on your desk when your power board is not sitting close by. I ended up having to use my longer HUAWEI MateBook X Pro cable.
So, the packaging only gives a short cable and no power adapter, which is quite a bummer.
The Apple Watch charging stand is a bit quirky sometimes. In a few occasions, the Apple Watch was being charged and then stopped not long after. This process repeated itself, making the Apple Watch unchargeable. Repositioning the Watch seems to work or by letting the band fall, i.e not forming a loop.
The phone charger and pad to charge the AirPods work wonderfully though. Note that the pad only works for AirPods (as advertised) as when I tried placing my Jabra Elite 85t wireless charging case, nothing happened.
Each charging area on the ChargeTree Swing also has its own lights indicator so you can see that your devices are being charged properly.
STM ChargeTree Swing Review Conclusion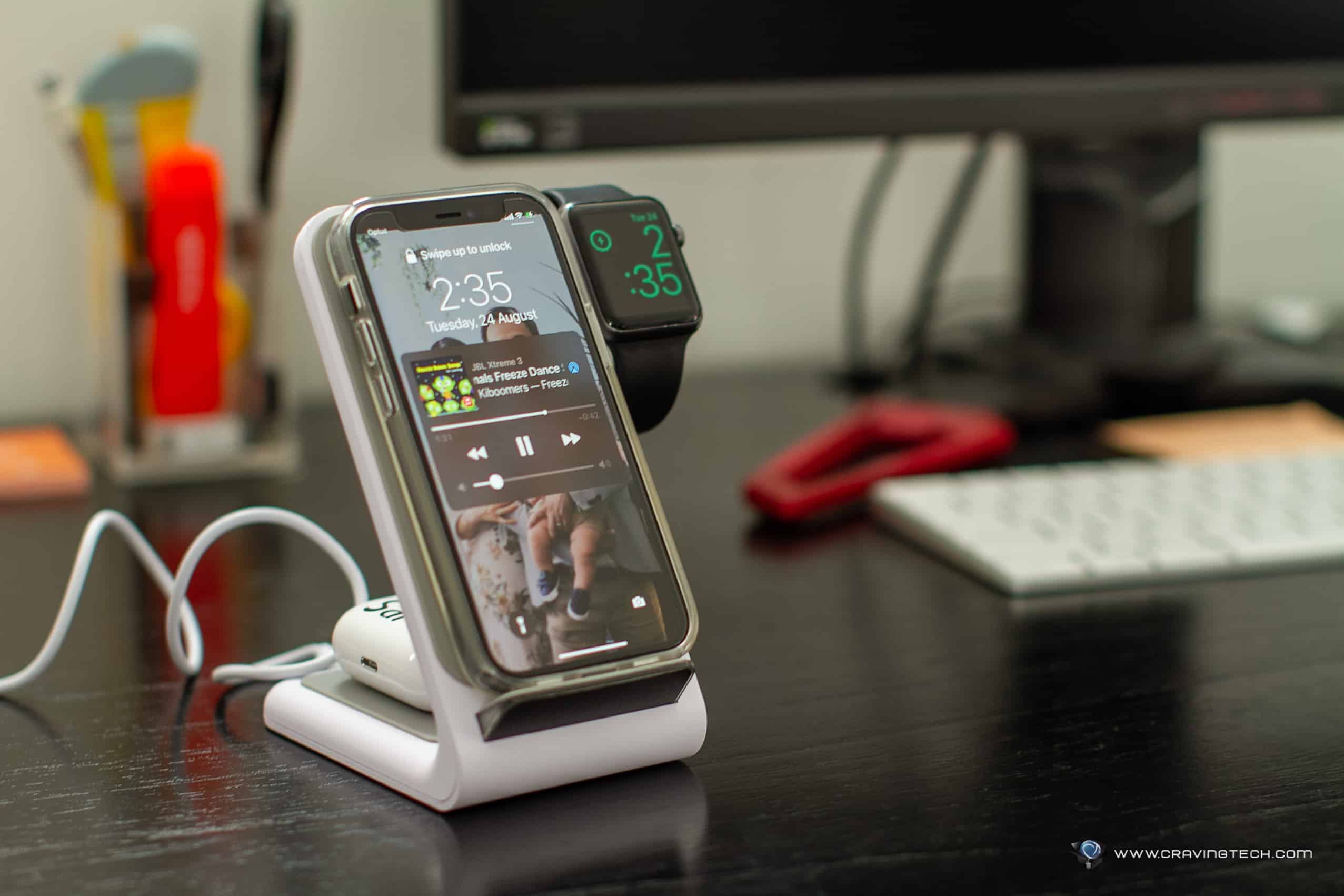 If you have an iPhone, Apple Watch, and AirPods/AirPods Pro, the STM ChargeTree Swing will charge all three simultaneously, making it convenient to charge everything in one go. Rather than having three separate cables or accessories on your desk, you can get away with just one. Obviously, there's not much point in buying this if you only have a phone to charge with.
It's very convenient to charge all devices at the same time, plus having to cut down the number of accessories on your desk from three to one. I just wish they also provide the power adapter and a longer cable in the packaging.
STM ChargeTree Swing retails for A$120.95 and available in Black or White colour.
Disclosure: STM ChargeTree review sample was supplied for reviewing
STM ChargeTree Swing Review
Summary
Charge a phone, Apple Watch, and AirPods/AirPods Pro at the same time
Pros
Stylish look
Supports charging 3 devices at the same time
Has indicators to show that the devices are charging
Swing arm for Apple Watch can be hidden from view
Cons
Included cable is too short (1 metre)
No power adapter included
Charging the Apple Watch can be flaky sometimes