WD Blue SN550 NVMe SSD Review – WD Blue SN550 is an affordable NVMe SSD aimed towards gamers who are keen to get shorter loading screen and gaming performance out of their machine. With read speeds up to 2,400 MB/s, you'll be surprised how fast everything is – especially if you are upgrading from an HDD or SATA SSD (which has a speed bottleneck of around 550 MB/s).
Sure, those who want the best out of the best from WD NVMe line might want to just grab that WD Black NVMe SSD (up to 3,400 MB/s read speed) that I have running on my AMD Ryzen PC build at the moment, but you can save over A$100 and still get great performance out of the WD Blue SN550.
WD Blue SN550 is an M.2 2280 PCIeGen3 x4 NVMe SSD, single-sided. Its small form factor means you can install it on any hardware configurations you might have. It is available in 250GB, 500GB, or 1TB capacity. The review unit I have here is the 1TB capacity model which has these specifications:
Sequential Read: up to 2,400 MB/s
Sequential Write: up to 1,950 MB/s
Random Read 4KB IOPS: up to 410K
Random Write 4K IOPS: up to 405K
But enough with the jargons. Most of you just want to know how good the drive is and whether it's worth a buy. To answer that, we really need to get into the read/write speed and the pricing value that the drive offers.
In terms of speed, I tested using CrystalDiskBenchmark on my desktop PC and got these results: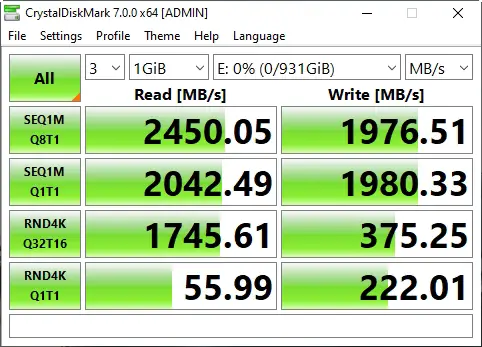 The speed stats definitely fit what WD states (2,400 MB/s read and 1,950 MB/s write speed), if not on the safe side. Compared to a traditional SATA SSD drive like this WD Blue SSD (560 MB/s read and 530 MB/s write speed), you get speeds of four to five times faster on paper.
We used the drive to actually install Windows 10 for the first time on a new PC build and amazed by how fast Windows could actually copy the installation files across. The installation also went really quickly and soon we were greeted with the Windows 10 logo and all. A friend also tried running the drive as his gaming drive (he previously gamed on an ASUS ROG gaming laptop) and he said the difference is like "night and day".
How about the performance comparisons to the other NVMe SSD out there? Let's check on some NVMe SSDs that we've reviewed in the past here at Craving Tech: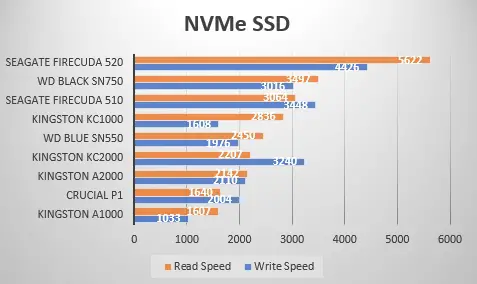 While it's easy to just want to grab the fastest drive possible, you definitely need to take a look at the pricing to get the biggest bang for your buck. Seagate FireCuda 520 may top them all but it costs around A$500 and requires a PCIe Gen4 motherboard (which is costly too). Seagate FireCuda 510 has better read/write speed and retails at A$375, Kingston KC1000 & KC200 are quite absent from the Australia stores (discountinued). At A$225, WD Blue SN550 NVMe SSD definitely is affordable and still comes at great performance.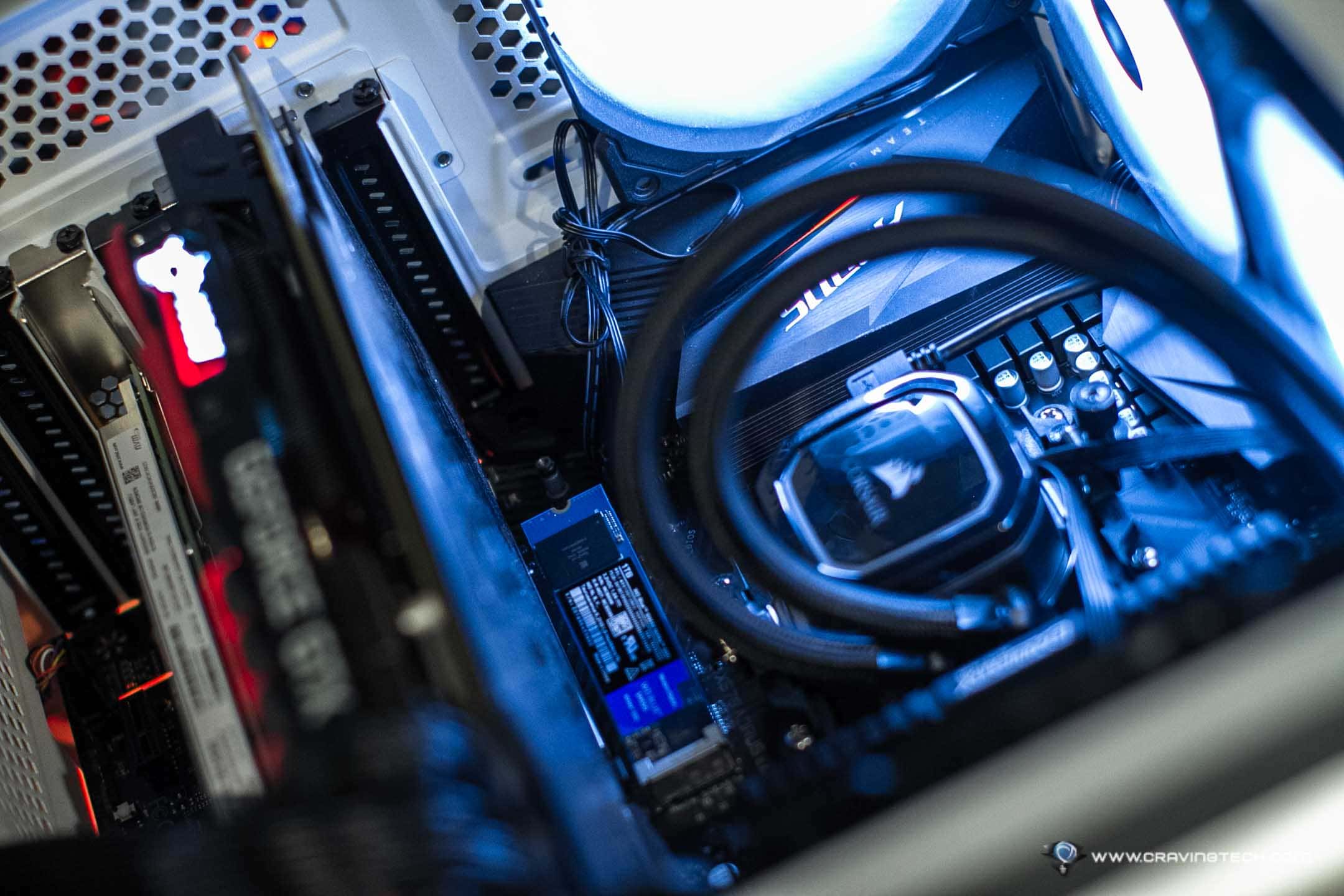 Top it off with a 5-year limited warranty, it's a no brainer to recommend WD Blue SN550 to anyone who wants a fast performance NVMe SSD without having to pay a premium price. A perfect all-rounder for new PC builds! Available now at retailers around Australia and also at Amazon.
Disclosure: WD Blue SN550 NVMe SSD review sample was supplied for reviewing but all opinions are mine and not paid
WD Blue SN550 NVMe SSD Review
Summary
Great performance NVMe SSD with a great, affordable price
Pros
1TB NVMe SSD is still affordable!
Fast read and write speed
Stands good in the competition
Cons
The Blue colour may not fit your PC build's theme