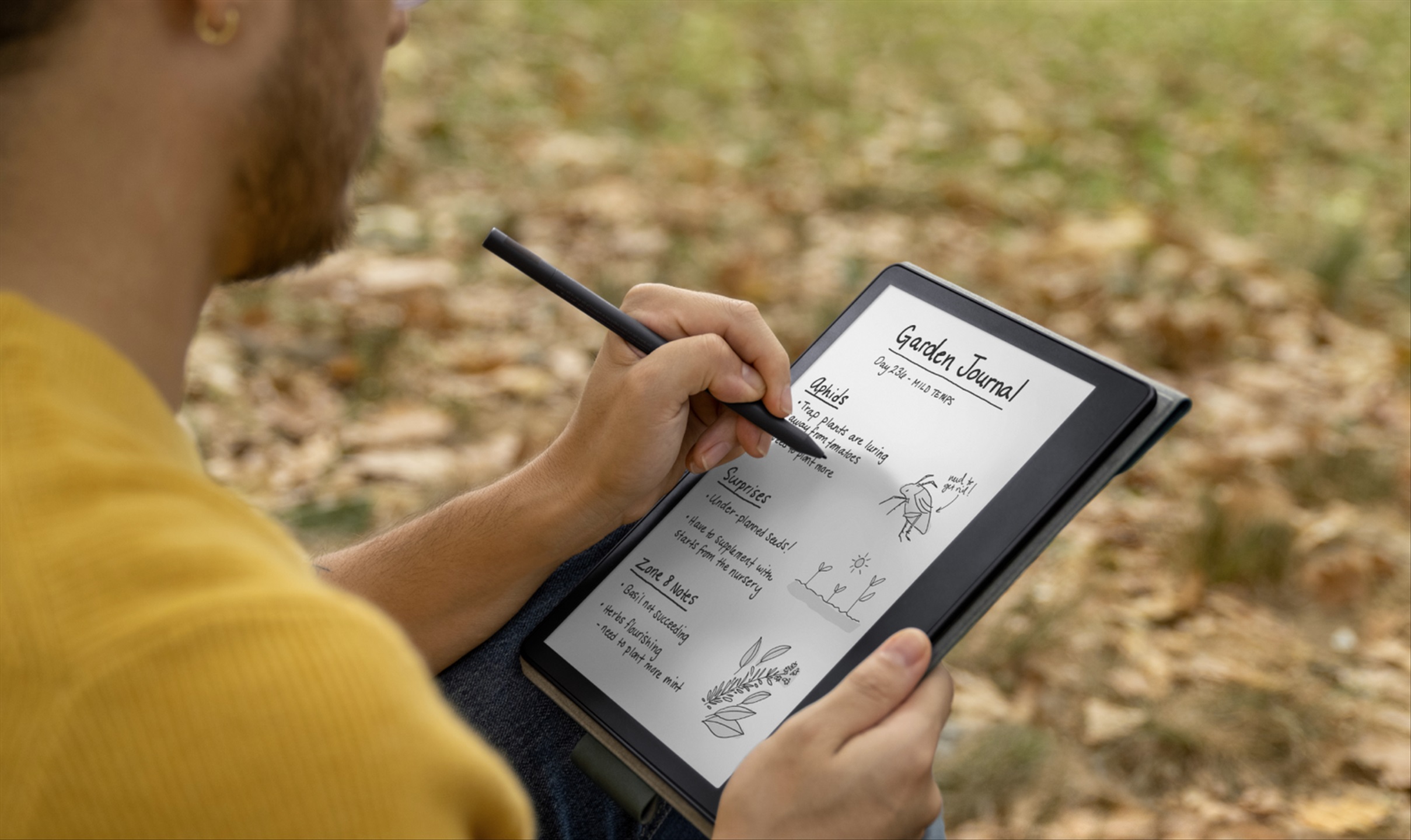 The end of the year is nearing but that doesn't stop Amazon to launch these wonderfully new devices which includes the best Amazon Kindle ever built, Amazon Kindle Scribe. It features a world's first 10.2 inch on an e-book reader type of device, 300 ppi adjustable front-light display, and a unique, battery-free pen.
This makes Amazon Kindle Scribe the first Kindle for both reading and writing. The pen lets you take notes or put down your thoughts in the form of sticky notes while reading a book. This can be handy if you need to one day refer a section or quote from the books you have read in the past (such as when you are researching for an essay, writing a professional article, or preparing for a sermon).
But okay, let's say you don't need all that. You can still use the pen to write notes elsewhere, draw, create a todo list, and more. Plus, the writing feature also works on documents like PDFs and Microsoft Word documents. Pretty nifty.
Amazon Kindle Scribe retails for A$549 so it's definitely a step up from the previous Kindle generation like the Kindle PaperWhite Signature Edition that I have (which retails for A$238 when it came out). You can start pre-ordering Kindle Scribe now for the 30 November 2022 release at Amazon AU or U.S.
Apart from the new Kindle, Amazon has also announced a few new products which includes the 3rd generation of FireCube TV, Alexa Voice Remote Pro, next generation of Echo Dot + Echo Dot with Clock, and great new firmware updates for the existing Echo Studio.

The FireCube TV is Amazon's best Fire TV streaming media player which now comes with a more powerful processor (octa-core 2.0 GHz processor). It supports 4K Ultra HD, Dolby Vision, HDR, and Dolby Amots. There are also new features like Wi-Fi 6E support, Super Resolution Upscaling, and an HDMI input port. Amazon FireCube TV is available to pre-order now for A$219 at Amazon AU or U.S.
Alexa Voice Remote Pro is a new premium remote that introduces a Remote Finder feature, two new customisable buttons, and motion activated backlighting buttons. It's available for pre-order at A$59 at Amazon AU or U.S.
The all-new 5th generation of Echo Dot and Echo Dot with Clock speakers have redesigned audio architecture that features a custom full-range driver and the highest excursion speaker of any Echo Dot so far. There are also new sensors to enable more contextual Alexa responses. These are powered by AZ2 Neural Edge processor for faster responses, better motion detection, and more.
The 5th Gen (2022 release) of Echo Dot retails for A$79 and available for pre-order now at Amazon AU or U.S. The new Echo Dot with Clock retails for A$99 and available for pre-order now at Amazon AU or U.S. Find out what the current gen of Echo Dot with Clock is like in our reviews section.
And lastly, the Echo Studio speaker will now get even better with over-the-air updates with new spatial audio processing technology and frequency range extension. Make sure to check our Echo Studio review here at Craving Tech if you haven't yet.