Amazon Echo Dot (3rd Gen) with Clock Review – Echo Dot is probably one of the cheapest and smartest ways to get the smart assistant Alexa into your home. Make sure to read out Echo Dot (3rd Gen) review to see what the device can do to your home.
But the space on our bedside table is limited and adding an alarm clock plus an extra speaker may not be feasible for every home owner. Sure, you can grab the cool Amazon Echo Show 5, but if you don't need the screen, there's a better alternative for you.
Amazon has released an Echo Dot (3rd Gen) with Clock so you can now see the time, temperature, or timer without having to pay the extra dollars to go for the Echo Show 5.
The Echo Dot with Clock is perfect for your bedside table in this instance. You can quickly tell Alexa to set an alarm for you, or even a timer to wake you up from a quick, afternoon nap. Press the top button to snooze for 9 minutes, easy.
The display is not constraint to just displaying numbers, but also letters – though you'll rarely need it.
Its LED display is sharp and can be seen clearly in both evening and daylight. With the help of a built-in light sensor, the LED brightness will auto adjust itself which is great for bed time. After all, you don't want it to keep you awake with bright lights.
And then, it's Alexa supported so you'll have full access to Alexa Skills and all of its voice commands. You can simply say "Alexa, tell me X" anytime you want and Alexa shall answer, or do the job for you.
For example, I could ask it to tell me the weather as soon as I wake up, play my Apple Music playlist, or trigger other smart home supported voice commands like turning my lights off when it's bedtime.
Alexa is always listening, which is good but also bad to those who are concerned about privacy. As such, Amazon has included a microphone mute button accessible on the top of the Echo Dot with Clock. The circle ring will turn red, indicating that the microphone is muted.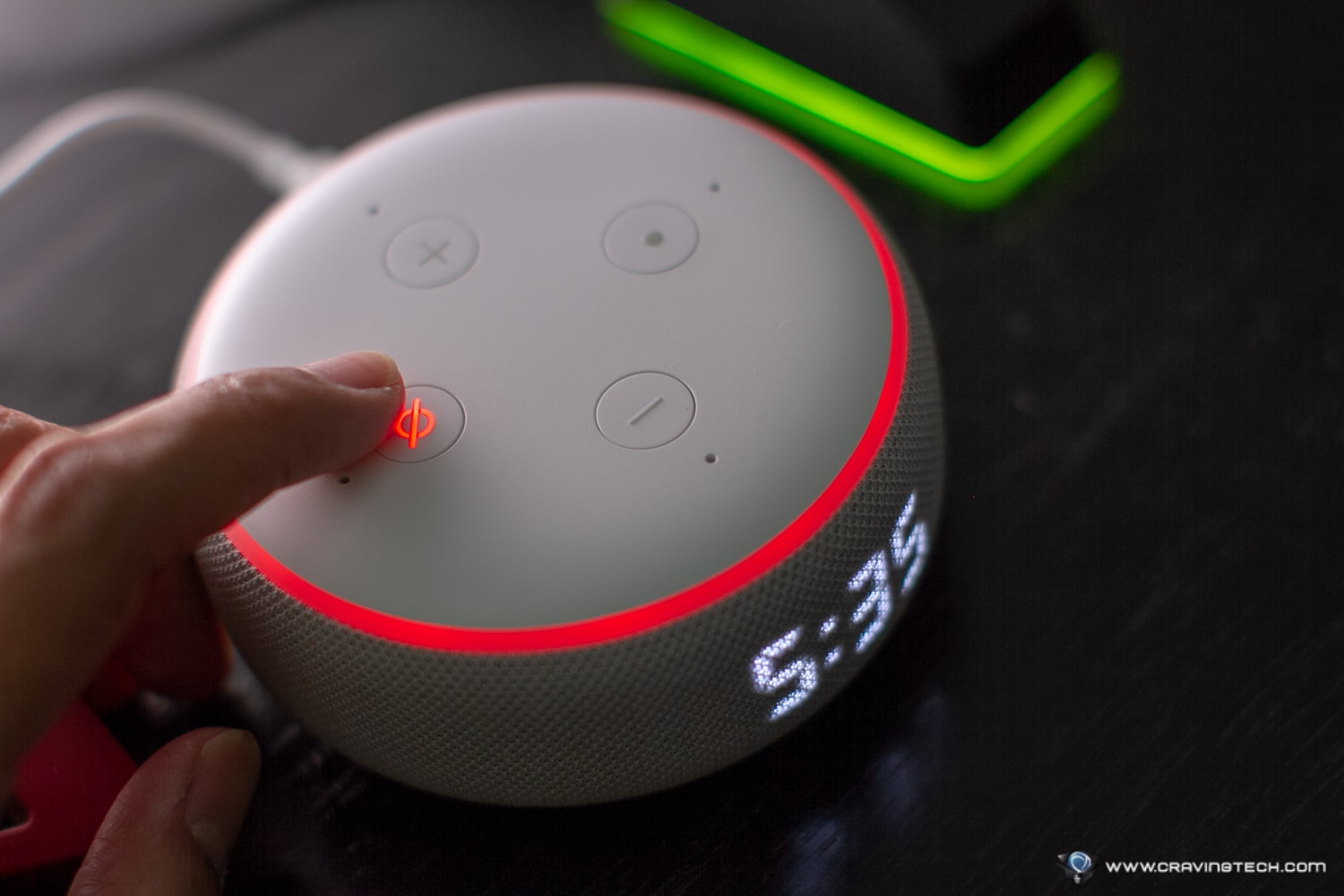 It supports a 3.5mm connection in case you want to hook it up with another, better sounding speaker. The Echo Dot 3rd Gen with Clock sounds okay for easy listening, but definitely not going to be your primary speaker here. At higher volume, you'll notice distortions but it's understandable for the size. The volume can be adjusted through the hard buttons on top of the speaker.
For the best sounding Amazon Echo speaker, you may have to wait until we finish reviewing the Echo Studio. However, we'll be reviewing the Echo speaker first – which somewhat comes in the middle in terms of sound quality and power.
Amazon Echo Dot (3rd Gen) with Clock Review Conclusion
It's basically Amazon Echo Dot (3rd Gen) with a built-in LED display to display the current time, your timers, and temperature. As a clock next to your bed, the Echo Dot with Clock is very useful. Not only it can show you the current time without having to ask Alexa every single time, it also supports setting timer and asking Alexa without having to lift a finger.
You can just speak to it each time you need Alexa to wake you up (or set the alarm via the Alexa app). If you place it on the kitchen table, the Echo Dot with Clock is also a great gadget to set and show you timers. While you are preparing to cook or in the middle of baking process, you can just tell Alexa to set a timer with just your voice.
Having access to Alexa Skills mean you can turn your whole lights off (assuming your house is powered by smart lights like ours) while you are already on bed. Or even better, if you have a smart blind installed, imagine asking Alexa to open it in the morning while you are still lying down. How cool.
Amazon Echo Dot (3rd Gen) with Clock retails at AU$79, which is AU$40 more than the Echo (3rd Gen) without the clock (AU$39). If you don't really need the clock, I'd say save some money and grab just the Echo Dot instead.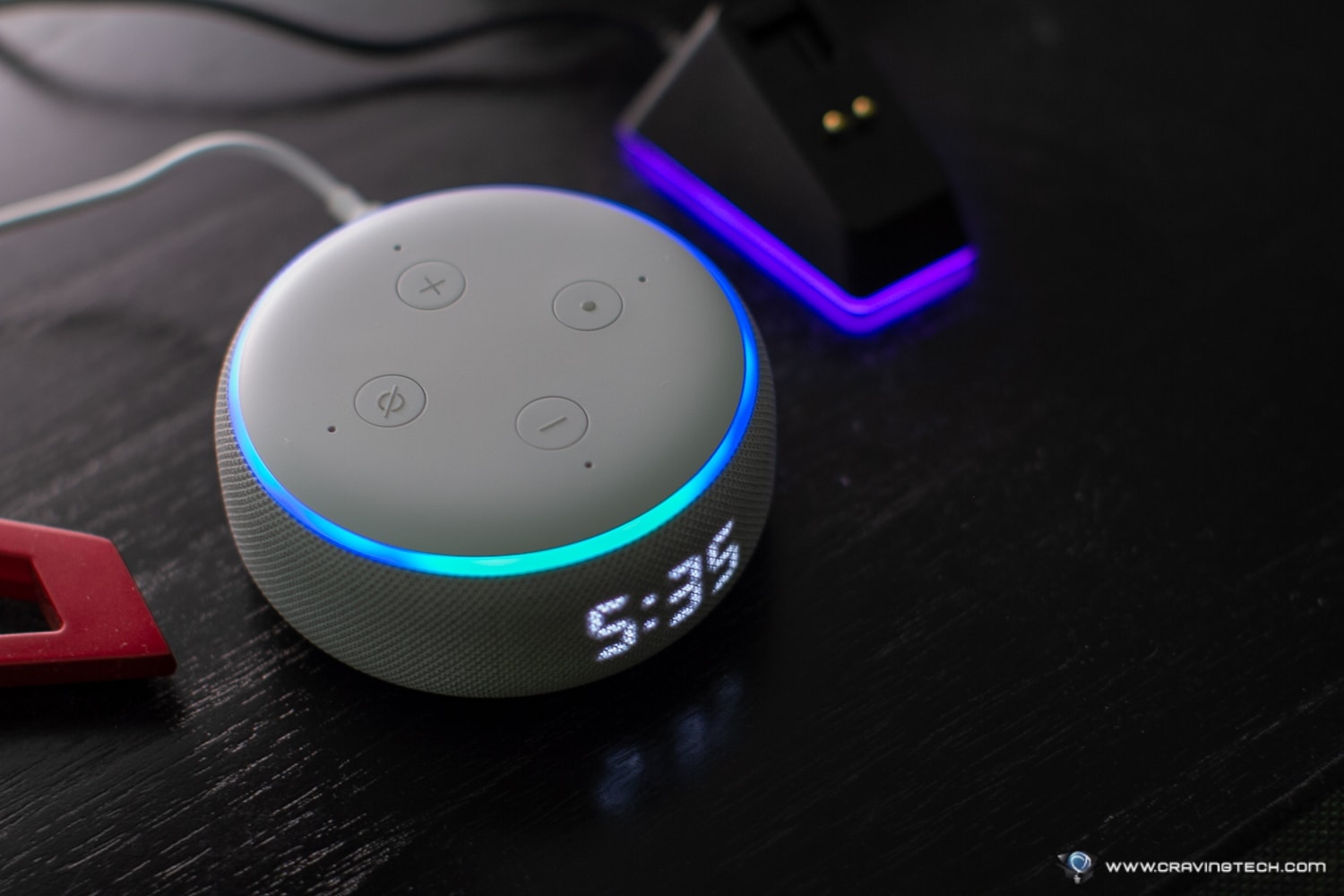 Amazon Echo Dot is available to purchase at Amazon (AU | U.S)
Disclosure: Amazon Echo Dot (3rd Generation) with Clock review sample was supplied for reviewing but all opinions are mine and not paid.
Amazon Echo Dot (3rd Gen) with Clock
Summary
Your alarm clock, now comes with Alexa. A great companion on the bedside table for sure