Dyson Airwrap Review – Hands down to Dyson's most current, outstanding product that has stolen many women's heart in Australia.
Dyson Airwrap, a multi-function hairstyler, is a game changer in the hair and beauty world and has been sold out straight after their launch in Australia and people have been queuing to register for their availability, even til now!
I attended the Dyson Airwrap hands-on demonstration with Dyson last October in Melbourne (thanks to Dyson for securing us a review unit) and saw the first, live demonstration of this beauty.
Dyson Airwrap Review – Introduction
In summary, I was amazed with how the Airwrap works. I often have difficulties using a traditional curling iron but after seeing the Airwrap, I'm totally sold.
Dyson Airwrap is worth the price to those who dry or style their hair everyday. With a traditional styler using extreme heat to style your hair, you may feel your hair to start losing its shine, gets drier or worse, you start losing hair. Make sure to watch Dyson's video on how extreme heat can damage your hair.
Dyson Airwrap uses a low heat mechanism and ensures that the temperature stays below 150 degree Celsius (thanks to the built-inthermistor which measures airflow temperature over 40 times every second). 
The Dyson Airwrap uses the popular Dyson V9 digital motor, which is the same type of motor powering their vacuum cleaners (the latest Dyson Cyclone V10 absolute is powered by the V10 digital motor). And we all know how powerful and outstanding its performance is. The V9 motor spins at 110,000 rpm which generates enough air pressure for what Dyson calls the "Coanda Effect" – used for styling hair by the Airwrap.
Dyson Airwrap Review – Packaging
The Dyson Airwrap comes with an elegant, tan, leather storage case that protects the Airwrap styler and its attachments. The storage case is quite heavy and big, and suits better on my make up table than my luggage bag. But you can purchase a Dyson Supersonic storage bag (or a cheaper, matching hard case) if you looking for a more compact alternative.
And of course, you don't have to take the whole attachments – only one or two that you will be using most.
When you open the case, you might be surprised that the Airwrap comes with seven generous attachments: A pre-styling dryer, firm smoothing brush, soft smoothing brush (for curling styling), two 40 mm Airwrap barrels, and two 30 mm Airwrap barrels with different styling directions for each of them.
Dyson Airwrap Review – Attachments & Hair Styling Experience
First, you wet and dry your hair with the pre-styling dryer, making sure you dry out about 80 per cent of your hair (i.e works best with a damp hair). To have a straight and natural hairstyle for your daily activities, you can use the firm smoothing brush or soft smoothing brush. With these brushes, you don't need to hold an extra brush in your other hand just like if you are using a traditional hair dryer (which sometimes gives a pain to the wrists).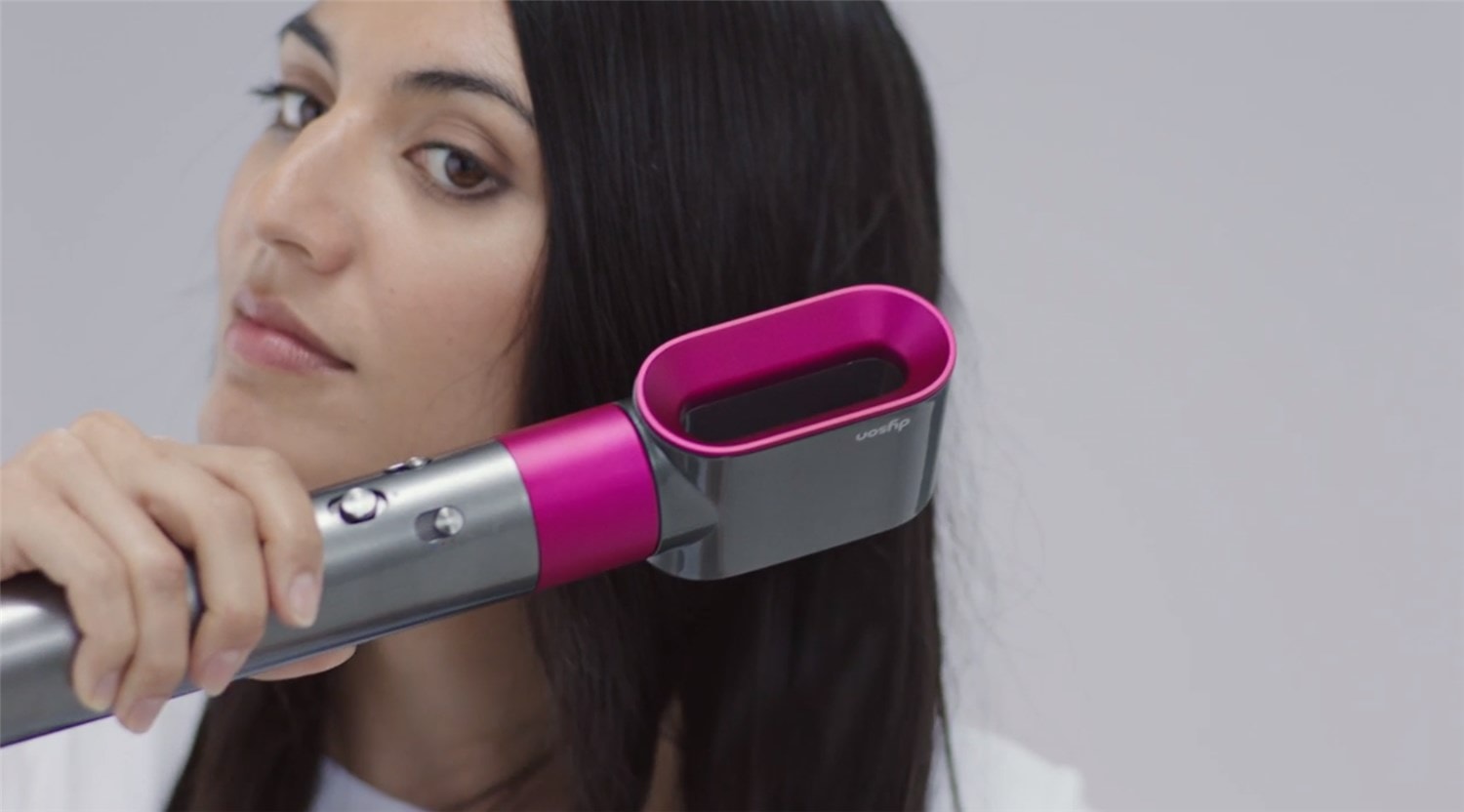 The firm smoothing brush gives a straighter hair style with an instant shine. If you have a dull hair look, this one might be suitable for your daily styling. I use this attachment each time I wash my hair before I go to bed, and I can feel the softening effects until the next day.
The soft smoothing brush is more suitable for those who have a dry scalp because it has ball-tips bristles at the end and works gently on the scalp. If you want to have a more natural hairstyle, this is the best one to go for. 
So now, let's move on to the amazing curling barrels attachments. The "Coanda Effect" in Dyson Airwrap curling barrels is definitely a genius idea from Dyson. The Coanda effect uses the air around your hair, attracts a section of hair into the barrel, then automatically wraps the hair for you. I guess this is why the product is called an Airwrap.
The Coanda Effect saves your energy while styling your hair as you just let it work by itself and the best thing about these curling barrels attachments is that it comes in two different directions which make your hair styling tidier and more symmetrical between the left side and the right side (a problem that most ladies can relate to. Thanks Dyson!)
The barrels comes in two different sizes, which are 40mm and 30mm. The 40mm is more suitable to those who wants to have a wavy, everyday, natural curl, and the 30mm to those who wants to have a more voluminous curl.
I always use the 40mm barrels for partying and 30mm for my day-to-day hair styling. My advice for you before you use these barrels is that it's a good idea to apply a mousse beforehand and a light hair spray after that. This is to ensure your gorgeous hair stay as long as possible, especially with Melbourne's unpredictable, strong wind.
The last attachment is a round brush which gives instant volume to those with a fine hair. I usually combine this brush with the soft smoothing brush to give my hair that natural, straight hair for my daily routine.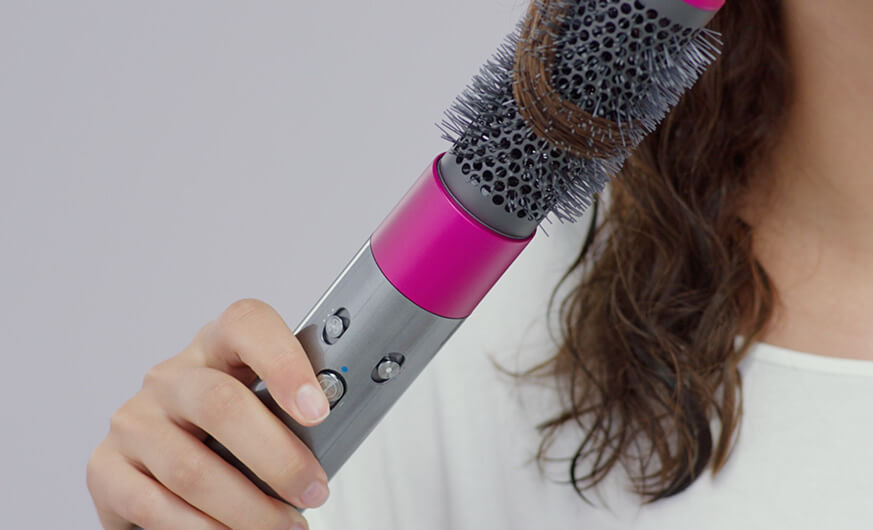 I've tried comparing the Airwrap barrels with a traditional curling iron for the past two months. The Airwrap definitely is more user friendly and quicker to style my hair with, however, it doesn't hold the curl for the whole day unless if I use a mousse. It does give an instant shine and healthier hair look compared to using the traditional curling iron.
If you have a special event, such as your wedding day or a birthday, or when you are going to have lots of movements, using a traditional curling iron seems to be the safest choice. But for daily hair styling and long term purposes, the Airwrap is definitely the best one to go for – because it is easier, quicker, and more importantly, does not damage your hair in the long run.
Dyson Airwrap Review – Conclusion
Dyson Airwrap styler is definitely a masterpiece of engineering. But if you are looking for a hair styler, you probably won't care how it works or whether the motor can spin 110,000 rpm inside. You want to know if it works and if it works good.
Thankfully, the Airwrap delivers by making hair styling so easy and fast; plus, it does that by not burning your hair to a crisp like a traditional curling iron. It sure takes some time to get used to using the "Coanda effect", but after some practice and resetting my muscle memory, Dyson Airwrap feels like home.
Dyson Airwrap seems to work best with a damp hair and an extra mousse if you want your hair style to last long. But compared to using a traditional curling iron and a hair dryer combination, I'd definitely vouch for the Dyson Airwrap, especially for doing daily hair styling.
It works fast, it works great, and there are plenty of attachments to change your hair style every now and then in an instant. And if you really care about your hair, you do not want to expose your hair to an extreme heat every day.
Sure, Dyson Airwrap is not cheap. At AU$699, it is a luxurious product and you'll be paying for all the research and design that Dyson has done for this wonderful product. But you will love it, and you will treasure it especially if you curl and style your hair every morning.
But if you don't have the money, your traditional curling iron will still serve you just fine. Or, wait until the Airwrap is on sale and start saving now.
You can register your interest to purchase the Airwrap at Dyson Australia (it's out of stock at the moment), and also at Amazon.
Disclosure: Dyson Airwrap review sample was supplied for reviewing but all opinions are mine and not paid