Note: This is a guest post written by Madison Parker
7 cool Home Security Gadgets that you may not know of – Are you looking for the latest, coolest security gadgets for your home?
Home security has come a long way since its early days, and there are more options than ever before. Here are some innovative security gadgets that give you a little glimpse into the future of home security.
[1] The Schlage Keyed Entry Lock with Built-in Alarm
The first door lock with a built-in alarm, according to the company. This battery operated lock includes three setting options, Activity, Tamper or Forced Entry alerts; you'll know when someone opens a door, tries the lever, knob, or forces their way in. This alarm is perfect for notifying you when someone is coming or going from the house, especially small children or elderly family members.
[2] iTouchless' Bio-matic Fingerprint Door Lock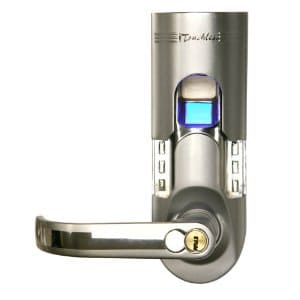 A battery operated and can be programmed for several fingerprint users. It comes with two back up keys or can be accessed with a pass code. Fingerprint door locks are increasing in popularity for the home especially since house keys may be the only keys some of us are carrying these days. With a handful currently on the market and homes becoming more tech-driven, you'll never have to worry about loosing your keys again!
[3] The Heavy Duty Siren Alarm Padlock
This is exactly what bicycle riders everywhere have been waiting for. This alarm padlock is made of heavy duty cast steel and has a high grade steel shackle. Its 98dB alarm sounds in two tones for 10 seconds when the lock has been tampered with.
After 10 seconds, the lock re-arms itself. There are a few different versions of this on the market, some with louder alarms than others. These are big sellers on security specialty web sites, and no doubt their uses go far beyond your standard bike lock.
[4] The Brinno PHV1330 Digital PeepHole Viewer and Recorder
It lets you view your front door peep hole clearly and brightly on a 3-inch LCD screen. You can record the visitor's photo with the push of a button and save it to a microSD card. If you want to keep track of who is coming to your door when you aren't home, the system has add-on motion detectors and even a knocking sensor that will activate the recorder automatically.
This creative product can take the place of a front door video camera.
[5]  The Streetwise Super Door Stop Wedge Alarm
This alarm emits a loud 120dB alarm when activated and is sure to scare away anyone trying to get through the door. The wedge has built-in motion sensors that trigger the alarm when moved, while it physically keeps the door from being opened.
The sensor can be adjusted to high, medium and low sensitivity and turned off when not in use. These low-tech devices are great for use at home or in dorm rooms and are small enough to be packed for use when traveling.
 [6] Minder Research's Memory Switch
The switch actually memorizes when you turn your lights on and off. This "smart" switch repeats learned patters while you're away from home. By randomly varying on and off times, either earlier or later than you normally use your lighting, the switch gives your home a "lived-in" look.  With built-in rechargeable batteries, your stored patters are saved in its memory in the event of a power outage.
Potential intruders will think twice when they see your lights on throughout your home. Use a second switch in another part of the house so lights go on and off at varying times.
[7] The Optex Indoor/Outdoor Wireless Infrared Transmitter
The transmitter uses built-in infrared sensors and a wireless transmitter that can send alert signals up to 2,000 feet to a compatible receiver. Just like in the spy movies, this high-tech security of the "future" is here today. With its long range beam, the system can monitor an area up to 50 feet away such as driveways or yards. In fan mode, its multiple beams can monitor a doorway or it can be used as a motion detector.
This system works with Optex Wireless 2000 and 1000 systems, but there are several IR security devices on the market including invisible fences that work as property perimeter protection.
[8]. USB Flash Drive with Built-In Spy Camera DVR 4GB
The flash drive is the perfect dual action spy device for home or office. It's activated by motion or records continuously and takes 5 mega pixel still shots. The tiny camera/DVR records for up to 90 minutes on a single battery charge.
The only thing it's missing is audio recording, but you'll be sure to capture any activity near the drive. Its 4GB storage space can be upgraded to 16GB by adding a microSD card and it runs on Windows and Macs. There are a lot of great mobile spy cameras out there, but unlike a spy pen, not many people will ask to borrow your spy camera USB drive.
We all love gadgets, and there are so many cool gadgets out there. If you've found a pretty cool security gadget, not listed here, I'd love to hear about it.
Note: This guest post was written by Madison Parker, a security expert whose passion for helping others stay safe led to the creation of homesecuritysystems.net. Get more tips and advice on her blog here!