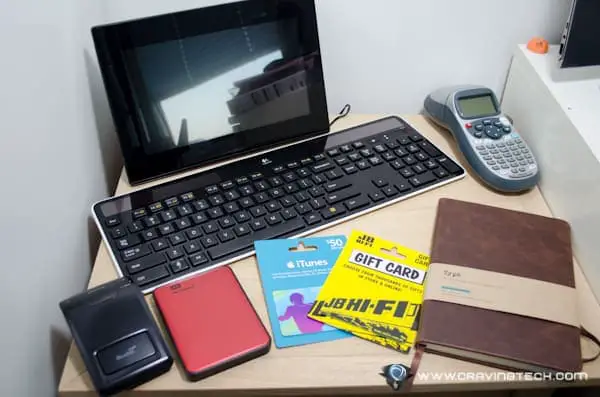 Note: ING DIRECT was kind enough to provide $1,000 to fund my experience, all opinions contained within this post are my own, and not that of ING DIRECT.
UPDATE 19/03/2013: The ING DIRECT Wave & Save Promotion has since wrapped up, but for more information about their Orange Everyday Bank Account, or Internet Banking in general visit the ING DIRECT website
Christmas may have passed, but that shouldn't stop you in giving great gifts to your loved ones. Great gifts do not need to be expensive and in fact, here are some of my recommended ones under $100.
[1] Logitech K750 Wireless Solar Keyboard  ($79)
Who does not love wireless keyboards? They keep the desktop area tidy and elegant. The only drawback of a wireless keyboard (or any wireless device) is that you need to replace the battery every now and then. With the Logitech K750, however, you can kiss the batteries goodbye because the keyboard auto-charges the battery by itself.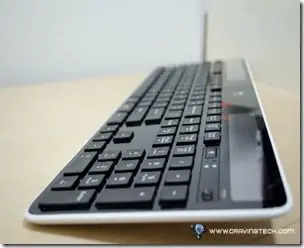 There is also a handy Solar App to check the battery level and measure whether the location is good enough to recharge (you don't actually need direct sunlight). Logitech promises that you can still use the keyboard even in total darkness for a few months when the charge is full. Now, that is awesome.
[2] Cute Piggy USB Flash Drive ($19.95)
If only words can describe the cuteness of this USB flash drive… unfortunately, they cannot. This piggy USB flash drive from EMTEC is uber cute has 8 GB capacity.
[3] Elegant Buffalo Journal from Typo ($14.95)
A simple, classy, and elegant journal can give a smile to those who like to write like this one from Typo.
[4] Plantronics BackBeat 903+ Bluetooth Headset ($94)
This Plantronics Bluetooth headset that I have reviewed before at Craving Tech is simply one of my most recommended Bluetooth headsets. It's stylish, handy, and sounds really awesome.
[5] Western Digital My Passport Essentials ($87)
WD My Passport Essentials is a 500 GB external hard drive and has a built-in software to backup your computer with ease. Anyone will appreciate you giving them a great tool to back up their important documents, photos, or other files. Not to mention that the drive supports USB 3.0 which gives a much faster read/write speed.
[6] BlueAnt Sense Speaker Phone ($99)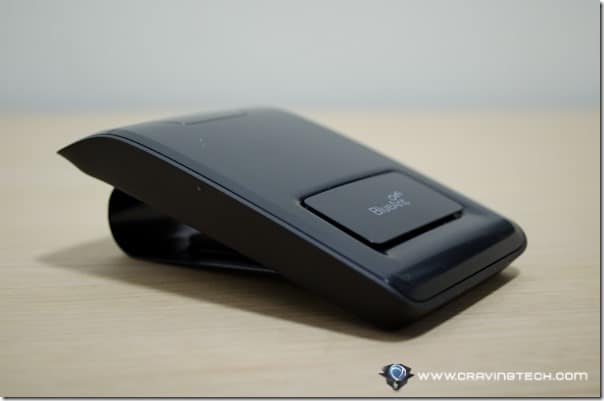 This wireless speaker phone is a visor-mounted car speakerphone that is easy to use and handy for drivers. You can focus your hands on the steering wheel while dictating commands to manage calls and also for music playback. BlueAnt Sense has up to 20 hours of talk time and 600 hours  of standby time. A car charger is also included in the packaging so you can always charge it on the go.
[7] Belkin Tunecast Universal FM ($59.95)
For travellers, this handy device will recharge and also play your songs through the in-car speaker system. A great gift to those who travel a lot by car.
[8] Dymo LetraTag Label Maker ($25.97)
To those who like to organise, this Dymo Label Maker should come in handy. You can select multiple font styles and formats to create amazing labels to organise everything at home.
[9] QPix Digital Photo Frame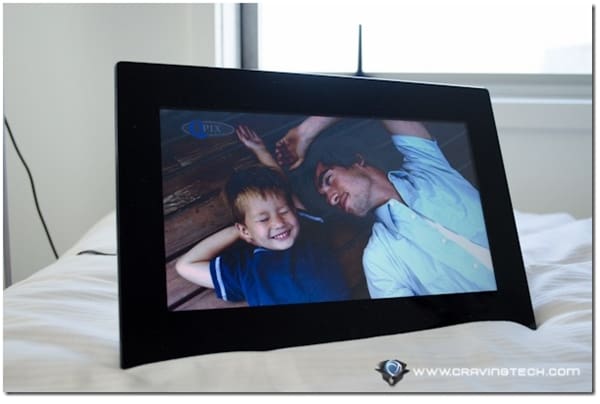 A 10.1" LED HD Digital Photo Frame from QPix with built-in 2GB memory and also supports USB flash drive and memory cards. A great gift for anyone, really.
[10] Gift Cards
If you are running out of ideas, you can always get a JB Hi-Fi Gift Card and fill it with any dollar value that you like. JB Hi-Fi has a variety range of goods, expire in 2 years, and can also be used online.
Giving a gift to an Apple-device lover that already has it all? Not to worry. Even if they already have fancy cases and accessories for their iDevices, you can always make them smile by giving them an iTunes gift card to buy games, music, movies, or some cool apps from the App Store.
Where and How I purchased these great gifts
Thanks to ING DIRECT who sponsored me $1,000 through the ING DIRECT Everyday Account (Orange Everyday), I purchased these gifts using the Orange Everyday Visa Debit card. The card is payWave enabled, so what I did was just tapped the card on the counter's card reader. The transaction went smoothly and quickly without the hassles of entering PINs or signing a piece of paper. The Orange Everyday account has no monthly fees and you can also withdraw your money at any ATMs in Australia without a fee as long as you withdraw $200 or more.
The first 30,000 customers who sign up for an ING DIRECT Everyday Account will also be eligible for a 5% cash back of all contactless purchases under $100 until 30th of June 2013.
The 5% amount of your ING DIRECT Wave & Save rebate will be put back into your Orange Everyday account after the transaction has been settled. Here are my transaction records in buying these gifts with the Orange Everyday card and also the 5% Wave and Save rebate details:
Note that I bought these great gifts at JB Hi-Fi, Officeworks, and Typo. However, the rebate offer stands as long as you are using Visa payWave on any retailer that accepts contactless such as Coles, Target, IGA, and many others.  Check out the Wave & Save Merchant Locations to find out about the other participating merchants.
Thanks to ING DIRECT Wave and Save 5% rebate offer, you can save heaps while buying groceries or gifts for your loved ones.
Note: The information provided on and made available through this website does not constitute financial product advice. The information is of a general nature only and does not take into account your individual objectives, financial situation or needs.