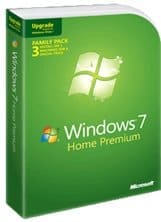 For a limited time, Microsoft Australia is offering a Windows 7 Family Pack promotion which includes 3 licenses of Windows Home Premium Upgrade (in 32-bit or 64-bit) for AU $249. That means AU $83 for a license – totally worth it! So if you are still using Windows XP, maybe it's time to upgrade?
Windows 7 Home Premium provides the best entertainment experience on your PC. Customers will find easy ways to connect to other PCs and devices, all in a visually rich environment that makes everyday use more simple and engaging.  In addition, because Family Pack lets people upgrade three PCs to Windows 7 Home Premium at the same time, customers will be able to unlock the easy networking features of Windows 7 and move the whole family to the latest Microsoft technology, while also getting a great deal.
Windows 7 Home Premium Upgrade Family Pack will be available at the following Australian retailers: Bing Lee, Dick Smith, The Good Guys, Harvey Norman, JB HI-FI, Officeworks and WOW Sight & Sound.
You can also grab the Windows 7 Family Pack at Amazon.