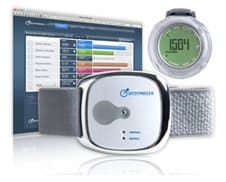 If you are serious about monitoring your health, your weight loss, and lifestyle in general all the time, have a look at this BodyMedia FIT Armband.
BodyMedia FIT Armband
The Body Media FIT Armband uses innovative new technology combined with stylish design to deliver a powerfully effective weight loss, fitness and lifestyle management system that delivers outstanding results in record time and is proven to deliver three times more weight loss than traditional methods.¹.
Sophisticated sensors measure heat exchange, movement and sweat to give an accurate and detailed picture of calories burned and physical activity.  The information is recorded in the Armband which is then up-loaded to the BodyMedia personalised on-line Activity Manager.
The online Activity Manager sets detailed goals for the individual and then charts the wearer's daily energy expenditure, providing an up-to-the-minute account of calories burned, calories consumed, exercise and sleep.  Recent studies have shown sleep has an impact on motivation, appetite and overall health.  All this information is then used to provide the individual with feedback against their daily targets to assist in achieving weight loss and fitness goals.
Heralded in the US, where it has won both industrial design and medical device awards, until now, BodyMedia technology has only been available in Australia to medical and research professionals.
"The BodyMedia FIT Armband is grounded in clinically proven medical technology.  It is not just a simple calorie counter or pedometer. Now this technology is available to the wider community, providing the only wearable body monitor that can give accurate calorie and activity measurements," said Mr Tim Gresham, director of health and medical products for Black and Stone, the Australian distributors for BodyMedia FIT.
Australian health and fitness professionals have been trialling the BodyMedia FIT Armband – with dramatic results.
"This amazing piece of equipment is set to revolutionise the whole approach to weight loss and fitness in Australia.  I have been using it in my practise and have achieved outstanding results," said Dr Joanna McMillan, nutritionist and celebrity weight loss consultant.
The applications of BodyMedia FIT are numerous – from managing healthy weight loss or gain; establishing a fitness regime; breaking through a plateau of a
regular regime; monitoring sleep and dietary patterns; understanding daily energy expenditure, or for athletes looking to increase their performance.
Anna-Louise Bouvier, celebrity physiotherapist and founder of Physiocise, said; "The BodyMedia FIT Armband is revolutionary in its ability to give quality, relevant twenty-four hour information about your physical life.  It presents you with the hard facts about how you sleep, move, sit and what you eat.  More importantly you can analyse the quality of that activity.  Understanding things like your sleep efficiency and your amount of sedentary versus moderate and vigorous activity, as well as your calorie balance, are invaluable in facilitating lifestyle changes and meaningful progression."
"We are extremely excited to be launching this innovative new technology in Australia.  Now everyone can have the personalised information they need to achieve their fitness, lifestyle or weight loss goals," said Mr Tim Gresham.
Stylish and sophisticated, the BodyMedia FIT Armband features a sleek contemporary design.  Choose as a stand-alone item or with an optional, wearable display for 'real time', minute-by-minute activity tracking. The prices below include three months free access to the BodyMedia Activity Manager, which costs approximately $8.00 a month for a 12-months subscription².
Prices:
Armband: $429, includes three months free access to the BodyMedia on-line Activity Manager
BodyMedia FIT Armband and wearable display: $499 special introductory price, includes three months free access to the BodyMedia Activity Manager
BodyMedia FIT wearable display: $199
Due to its unique abilities, the BodyMedia FIT Armband has been listed as a Class Two medical device on the Australian Register of Therapeutic Goods. The technology is also soon to be featured extensively on 'Making Australia Happy,' a documentary due to launch on the ABC in November and a forthcoming Channel 9 production on weight loss and lifestyle change hosted by Deborah Hutton.
The BodyMedia FIT Armband is available through leading sports stores. Visit: www.blackandstone.com.au for retail stockists and further information.