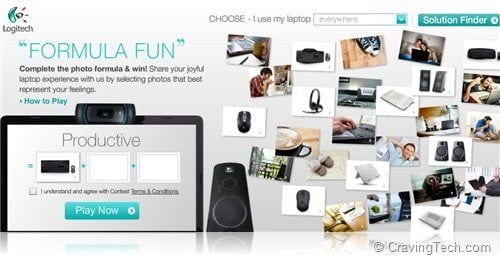 Remember Logitech's "My laptop gets spoilt" campaign some time ago where I was selected as one of 5 Australian bloggers to represent the campaign? Logitech is at it again. There's a new contest to win 8 Logitech Rechargeable Speaker S715i and 8 Logitech HD Pro Webcam C910.
To participate in the contest, here is how you do it:
Step 1 – An adjective and one Logitech product photo will be randomly chosen for you.
Step 2 – Drag any 2 photos from our collection that best match with how you feel towards the adjective.
Step 3 – Check the box after you have understood the terms & conditions and click 'Play Now'.
Step 4 – Fill in your personal information and using less than 50 words, enter a comment describing how Logitech products can make your laptop experience more joyful.
Step 5 – Click 'connect' if you would like to publish your entry onto FaceBook and share it with as many friends as you can!
To find out more about the contest, prizes, and rules, make sure you visit Logitech's Formula Fun Contest.