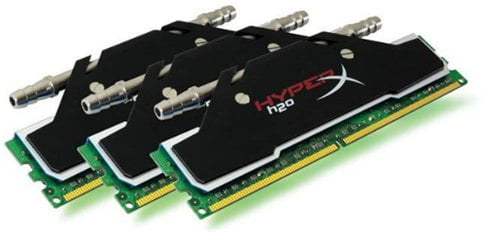 Honestly I'm still hesitant to get a water cooled CPU case. It's just the feeling of "What if something breaks and the water leaks out to the components?". I know I'm supposed to be a techie geek and know the answer to this. But until I embrace myself and try a watercooling solution by myself, I can never step into this geekier world. I wasn't even aware that the memory (RAMs) can actually be watercooled as well!
One day, I'm going to have a watercooled CPU casing, RAM, processor and graphic card, just wait! :)
Check out this Kingston HyperX H2O watercooled DDR3 memory kits press release from Kingston Australia.
Sydney, Australia: August 11, 2010 – Kingston Technology Company, Inc., the independent world leader in memory products, today announced the release of HyperX H2O water-cooled DDR3 dual- and triple-channel memory kits. With frequencies up to 2133 MHz and capacities up to 6GB, H2O is the newest addition to the HyperX product family and supports the needs of enthusiasts building with water-cooled systems.
Water cooling is desirable for its quiet operation and long-term reliability. We are bringing HyperX H2O to market as a solution for PC enthusiasts who want to build water-cooled systems using high quality Kingston products, said Ann Bai, DRAM Memory Sales Director, APAC Region, Kingston. HyperX H2O is a natural extension of Kingston?s offerings for performance users. Our goal is for users of all levels and interests to have a Kingston product that meets their needs.
Kingston is debuting three HyperX DDR3 products in the new H2O line: two 4GB dual-channel kits (2000MHz, 2133MHz) and a 6GB triple-channel kit running at 2000MHz. H20 is available through Kingston's channel of authorized distributors, resellers, e-tailers and retailers.Kingston is also proud to announce that the original HyperX module is now called Genesis. The core of the HyperX family is the blu, Genesis and T1 series as they offer solutions in a range of densities and frequencies for enthusiasts of all levels. For system builders with specific requirements, H2O adds high performance in a water-cooling environment while LoVo is the perfect choice for an energy-efficient build.
Kingston HyperX memory is backed by a lifetime warranty and free technical support. For detailed information please visit the Kingston Web site at www.kingston.com/anz